Tri-Anglia (Men) and Greenlight PT (Women) look set for Championship victories with one race remaining
Just one more event to go now, which comes up on Friday. The penultimate races in the Super League Triathlon Arena Games Club Championships took place on Monday evening, and while there were plenty of battles going on in the individual races, the picture at the top of the standings looks pretty secure now in terms on club positions.
REPORTS: RACE ONE | RACE TWO | RACE THREE | RACE FOUR | RACE FIVE

With the rotating weekly structure, on Monday we were back to the Men racing on the bike and Women on the run.
A difference to previous weeks however, as rather than a road race this was a pure individual time trial effort on the Fuego Flats of Zwift's Watopia world.
Topping the men's standing's was a name that has been part of the sport for most of the 30 years or so I've been around, Peter Younghusband. An ITU Age-Group triathlon world medal winner as far back as 2002 in the heat of Cancun, Peter is clearly still fighting fit. Behind Peter, David Glossy (Greenlight PT) and Matthew Ellis (Tri-Anglia) also tick the 'been around the triathlon block several times' description. Long term dedication, indeed.
David's second place combined with 8th from Jonathan Hoggett plus a huge turnout further down the field, mean that the Greenlight PT men have leap-frogged up to second place overall. Tri-Anglia look untouchable ahead, but the Greenlight PT squad, men and women, have consistently shown strength in numbers through this series.
There was a familiar name at the top of the women's run standings, where Leanne James (Tri20 Triathlon Club) repeated her wins in race and three. This time however, Sarah Ritchie (GreenLight PT) took second, which meant that it wasn't quite the same podium across all three run events, Rachel Hillman (Tri Tempo) and Debbie Clarke (Serpentine) pushed down one spot to third and fourth, respectively.
The Experience
As he's done through each of the cycle events, Doug Hall, updates us with how his race went. Let's just say, a flat TT is far removed from his usual Cross Triathlon riding…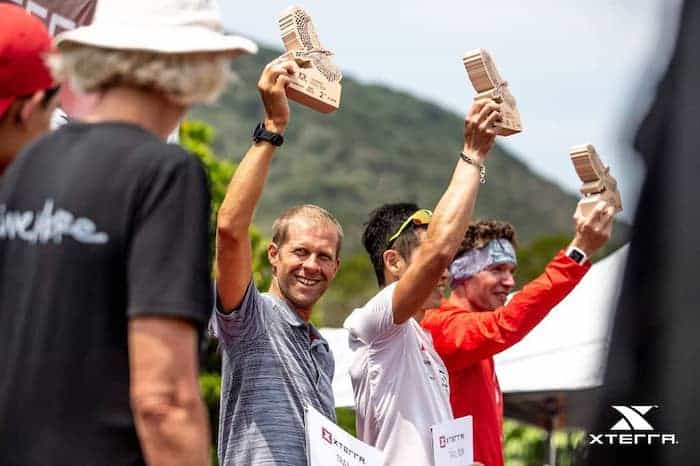 "Zwift TT is a whole other animal! This was my first virtual TT event and maybe my last!
"I was in the hurt locker from the beginning and it didn't get any better. As most of my training is geared around the constant changes of effort on the MTB, I found the holding of a constant effort a real struggle. Without knowing where the rest of the race was, I just put my head down and ground it out. Good enough for 14th provisionally, including a few ringers who we hadn't seen previously in the series.
"Without a treadmill, that concludes the Super League series for me, so a big thanks to all involved. It's been great fun!"
Men – BIKE – Tempus Fugit (19.7km Time Trial) – Race 5
Top 10 below / FULL RESULTS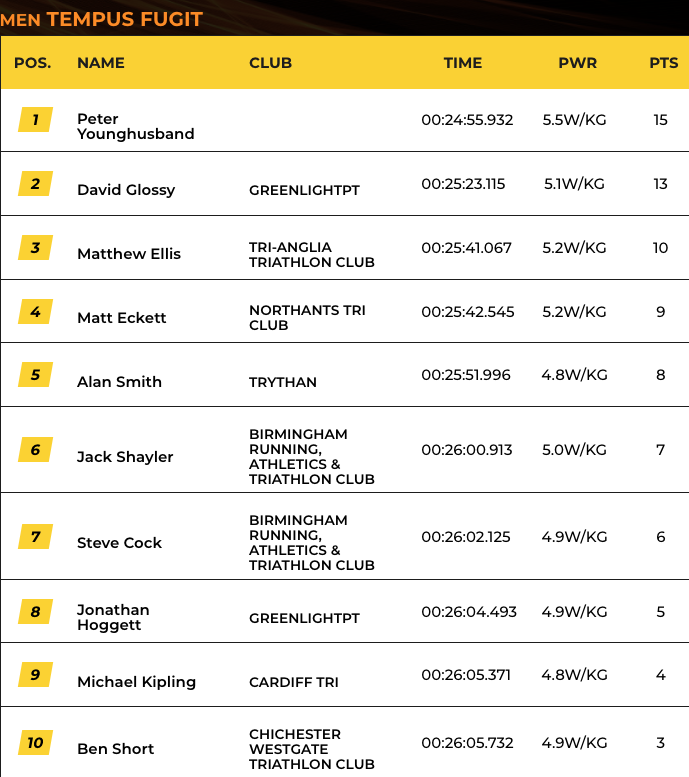 Women – RUN – London Classique (8.25km) – Race 5
Top 10 below / FULL RESULTS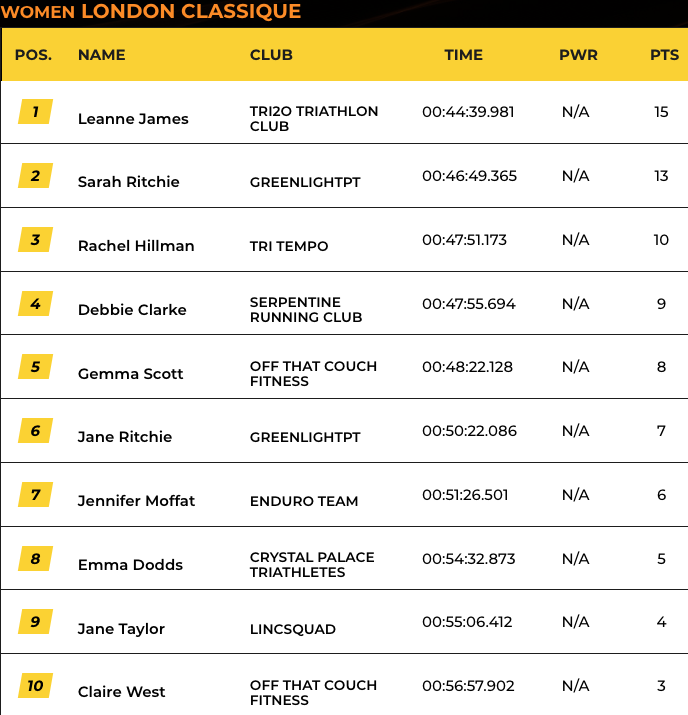 Club Standings after Race 5
Click HERE for the full standings.