The six race SLT Arena Games London Club Championships concludes
Attracting up to 400+ athletes/race, the SLT Arena Games London Championships – powered by Zwift reached its finale on Friday with the sixth event in the three week series.
Announced at relatively short notice, congratulations to Super League Triathlon, Zwift and British Triathlon, for pulling together something new (and potentially administratively complex) in these strange times that has garnered excellent traction within the domestic club community. There's been plenty of social media posting and banter online, and combined with the feedback I've had directly and seen from athletes and clubs that have taken part, it's been an enjoyable experience and helped create some (virtual) club bonding, when there's little or no opportunity to compete in conventional format.
Given all of that, overall a win-win all round for everyone involved and no doubt some learning points for the future. Super League Triathlon have indicated that the Arena Games format is one that will remain on their portfolio beyond COVID, so look out for future opportunities.
REPORTS: RACE ONE | RACE TWO | RACE THREE | RACE FOUR | RACE FIVE | RACE SIX

With all that said, how did Race 6 go?
We start with the cycling, and for Friday that saw the women take on the TT format on the flat desert roads of the 19.7km Tempus Fugit course (that the men experienced last Monday). Ellie Gosling (TRI2O Triathlon Club) was the quickest, just 13 seconds faster than Andrea Vaughan (Berkshire Tri Squad), who also won the Race 2 cycling event. Third was Rachel McKnight (Redcar Triathlon Club) – who was also the winner of Race 4.
While none of their athletes featured in the top-10, the strength-in-depth combined with their lead coming into the final round, means that Greenlight PT are the overall women's series champions. Congratulations to them for their consistency all the way through.
It was back to the treadmills for the men, where Mark Mccluskie (Trythan) continued his streak, to clock the fastest time in each of the three men's running events. Dennis Chalmers added the Trythan points all in second – and second is where they finished the overall series. The individual podium was completed by third-placed Steve Clark (OffThatCouchFitness), who is one of our regular ride leaders on the TRI247 Wednesday Group Workout Series.
Overall Men's winners was never in doubt though, as Tri-Anglia had started strong and never given up top spot in the rankings. As with the Greenlight PT women, they didn't score and top-10 finishes in the final race, but they had already given themselves a cushion over the first five events.
Congratulations to everyone who took part, coordinated and helped make the first attempt at the format and series a success.
Women – BIKE – Tempus Fugit (19.7km Time Trial) – Race 6
Top 10 below / FULL RESULTS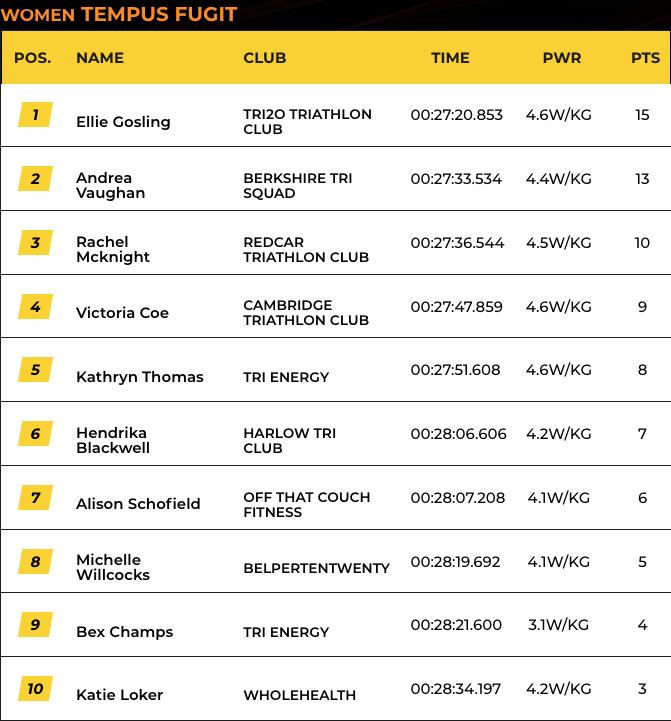 Men – RUN – London Classique (8.25km) – Race 6
Top 10 below / FULL RESULTS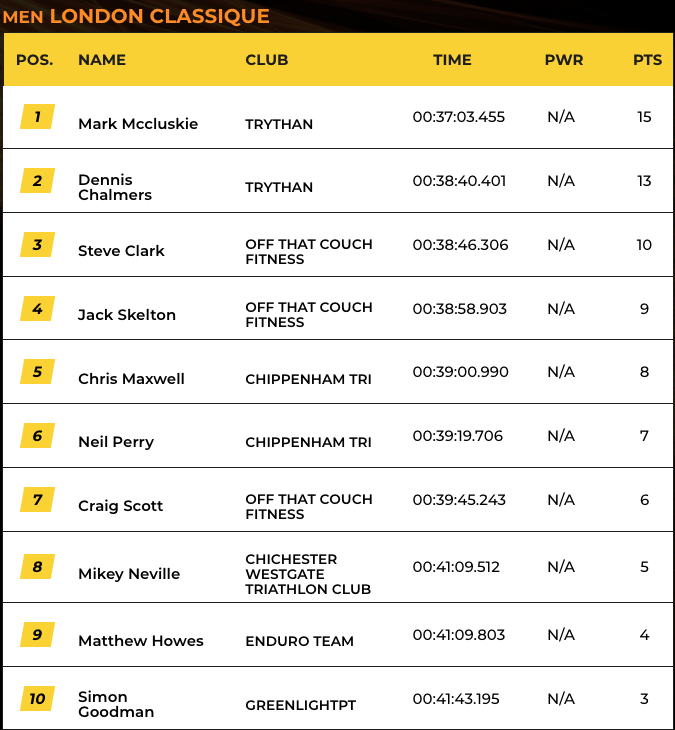 Club Standings after Race 6 – FINAL
Click HERE for the full standings.