Ben Kanute, runner-up in the IRONMAN 70.3 Worlds late last year, feels he's going into his season-opener at Oceanside – where he's a two-time winner – in similar training form compared to that St George showdown.
Kanute took the fight to Olympic and IRONMAN World Champion Kristian Blummenfelt in Utah, pushing him all the way on the run before having to settle for second.
Moving through the gears
And chatting to Bob Babbitt on 'Breakfast With Bob from Oceanside' [embedded above], he said: "Finally everything collided in St George [in terms of] my mental and physical preparation and I finally got to show everybody what I'd been hoping to all year."
He described the season up until than as "frustrating and mentally tough", starting with Oceanside 12 months ago.
He came into that race as defending champion but was fifth to Jackson Laundry, explaining: "It wasn't a bad race but I definitely wasn't happy with it. I kind of felt stuck in one gear."
But this time he says things feel good: "It's always interesting at the beginning of the year as a lot of guys start off super-hot and then they sort of fade away. And some guys kind of build in.
"I've always been one of those who kind of build in but I'm feeling I'm almost in as good a position as I was going into St George so it's going to be interesting to see how that sort of training translates to the Oceanside course."
Taking it 'to the next level'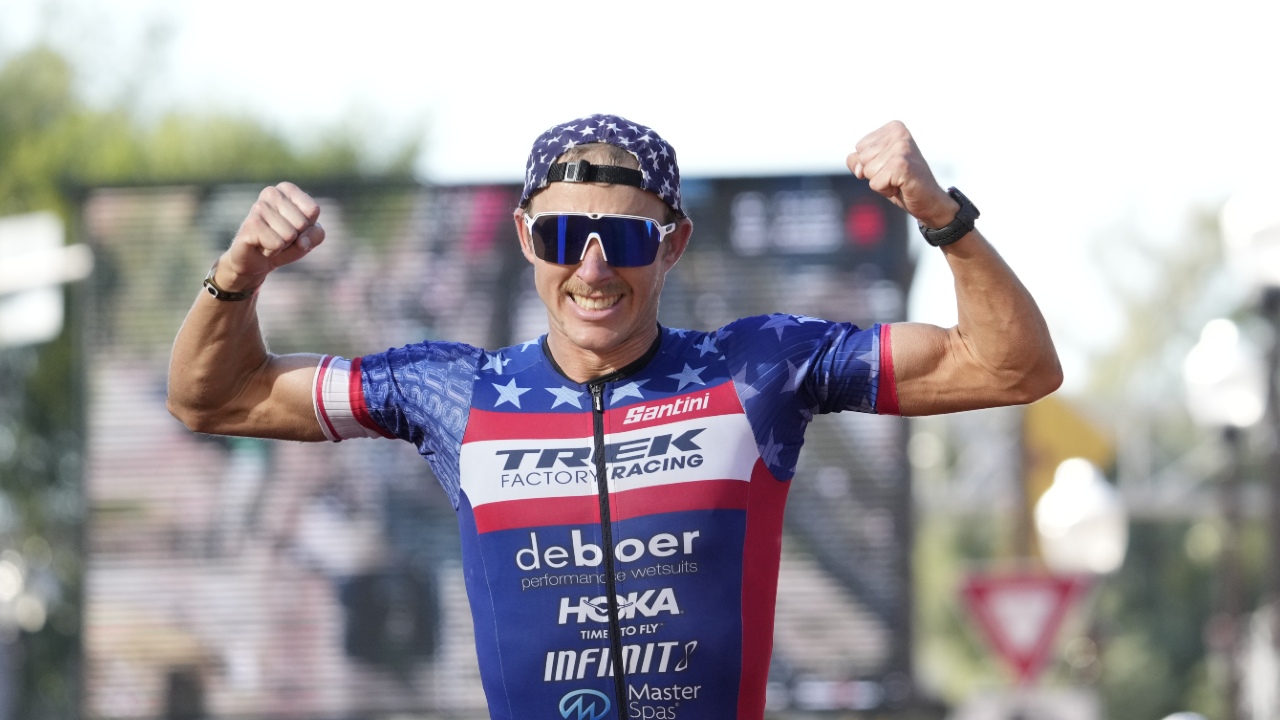 Kanute is a 2016 Olympian but last year saw him step up all the way to IRONMAN, booking his Kona / Nice slot at the very first attempt with third place in Arizona.
He's deferred that to Kona 2024 as the Nice event clashes with his brother's wedding this year but he told Babbitt he's looking forward to continuing to push himself at the longer distances.
"My physiology lends itself more to middle and long-distance racing – I just really like hanging out at one super-solid pace for a long time."
Describing Arizona as "a solo endeavour", he added: "It was all about setting the bar, seeing what I could do. And then this year we're going to try and take it to the next level.
"I'm just taking in all the big races this year – this week at Oceanside, all the PTO races, trying to get the slot for 70.3 Worlds in Finland and Challenge Roth.
"I'm super-excited to go to Roth. All your hear is how great the crowds are, the start list is amazing so that's my World Champs for the full-distance this year as I can't make it to Nice. Then all eyes on Kona in 2024."
But don't rule out a surprise appearance at Super League Triathlon in the shortest format of the sport: "I'm still looking for an opportunity to make it back, I love that suffering in those races!"
It's all in the video above and well worth a watch.