William Shakespeare once famously wrote: "All the world's a stage, And all the men and women merely players", and it fits nicely for any analysis of IRONMAN California 2021 this weekend.
What a stage and a cast of players we have for Sacramento this Sunday, proving that thankfully the absence of the 'Big Island' and the annual pilgrimage to Kona this year does not mean a vacuum in terms of long-distance triathlon racing.
The dress rehearsals are done, the costumes are fitted and the curtain is about to rise… all eyes on Cali this Sunday.
The Scene
'The Showdown in Sacramento'
'The Clash in California'
'The King vs. The Prince'
'The Master vs. The Apprentice'
Just a selection of the narratives used so far to build excitement in the countdown to this Sunday's debut edition of IRONMAN California. Several of them – tbf – by us.
The Players
The three-time and reigning IRONMAN World Champion, Jan Frodeno will go head-to-head with the two-time and defending IRONMAN 70.3 World Champion Gustav Iden.
Unbeaten for four years and having set an iron-distance world best time already this year, Frodeno finds himself ranked #2 in the PTO World Rankings, courtesy of the proprietary algorithm and 'best three to score' method employed. Second-best won't sit well on the shoulders of the German triathlon legend.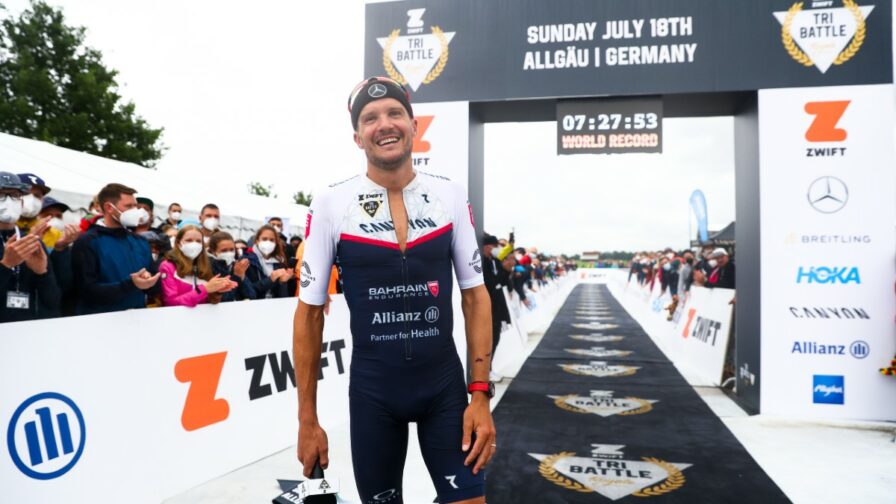 Iden is, in theory, a draft-legal Olympic-distance specialist who considered eighth place in Tokyo as a big disappointment. Is his real calling elsewhere though? Sebastian Kienle certainly thinks so – backed up by the relative ease which which he has won in Nice (2019), Daytona (2020) and St. George (2021). The most important middle-distance races of the past three years.
Of note, Frodeno did not race any of those three events (not something under Iden's control) and so they are yet to meet over any long(er)-distance race. They did technically race the same middle(ish) distance course on the same day at The Collins Cup, but given that was a match-race format, drawing any conclusions there probably wouldn't add much into the analysis. As it was, they were just seconds apart in overall and individual discipline times – and comfortably the two quickest athletes on the day.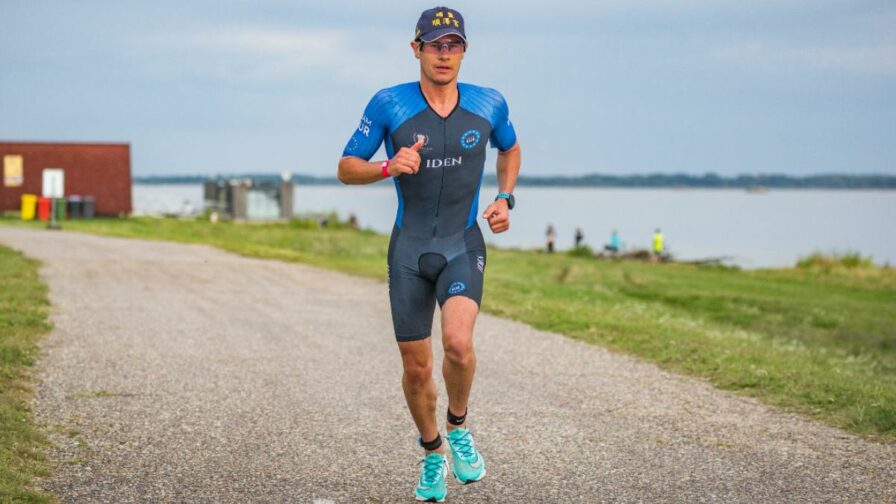 Add the enigmatic Lionel Sanders into the mix – with everyone wanting to gatecrash this particular party – and despite the cancellation of the 2021 IRONMAN World Championship, we still have a 'must-watch' event in the United States in October. Even more positive, for those of us in UK/Europe, the race will start just before 3pm in the UK on Sunday, so it won't even need the typical 'up all night' Kona experience to watch it all!
Can Lionel be a factor? I tend to agree with our expert panel of Craig Alexander and Tim Don on this one. Given his (busy) season of long-distance racing already, a Best Supporting Actor role is likely his best shot of success here, rather than walking away with the biggest prize of the day. As I've also said before, Lionel also loves being the underdog and will be more than happy to steal the show…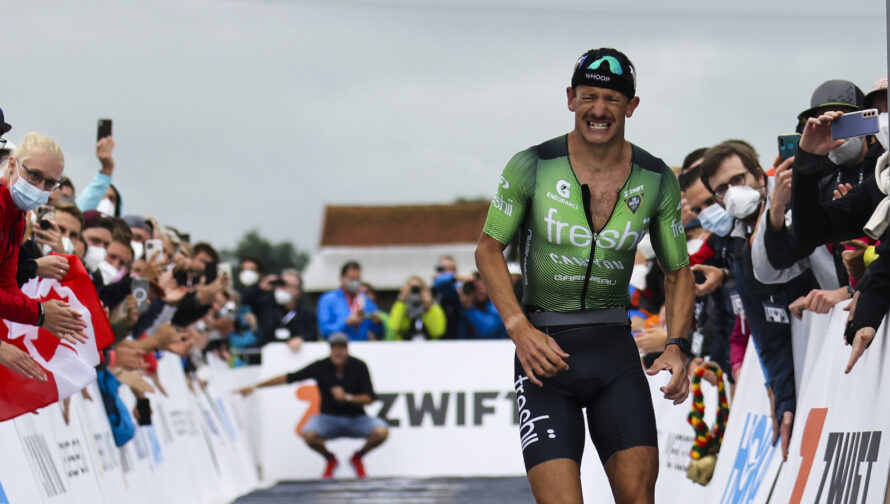 Act One – The Swim
All logic suggests that Frodeno is the quickest swimmer in the race. Typically only the likes of the true 'uber' swimmers – Lukasz Wojt basically! – have any chance of gaining more than a handful of seconds on Frodo.
While swimming is not Gustav's strength, you can't compete at the top-level of WTCS racing if you are a bad swimmer. A point-to-point downriver swim is going to play into the Norwegian's hands. The swim times will likely be quick, relatively.
The gaps therefore between athletes will be slightly smaller than on a regular course – and it's quite possible, using his WTCS-honed take-out speed, that Iden will be able to get very close to the front of the race within the first few hundred metres.
He might not last 3.8km with the German, but it's going to be tougher to pull away if the current is giving those behind a helping hand. IRONMAN Chattanooga proved something of a template in this regard, where the likes of Sanders, Long and Skipper were far closer to the front than normal when they reached terra firma.
Swim course = Advantage Iden
Act Two – The Bike
Frodeno set that iron-distance best time (including a bike split of 3:55:22) in July on a made-for-speed, flat and fast, course in Allgäu, Germany.
Iden meanwhile has proven he can win – over a shorter distance at least – on the flattest of flat courses (Daytona 2020), but he also described the hills of the IRONMAN 70.3 World Championship in Nice (2019) as, "so perfect, it was made for me."
Frodeno has proven time and again his abilities over the 180km format – and as Tim Don highlights, his strength in the back end of the race is exceptional. He looks totally at ease on this Canyon Speedmax, with every element honed, optimised and tested.
By contrast, Iden hasn't even raced over the distance once, and while the Norwegian's scientific approach will leave little to chance, it seems unreasonable to think that he will be quite as comfortable on his Giant Trinity when the T2 dismount line finally comes into sight.
Bike course = Advantage Frodeno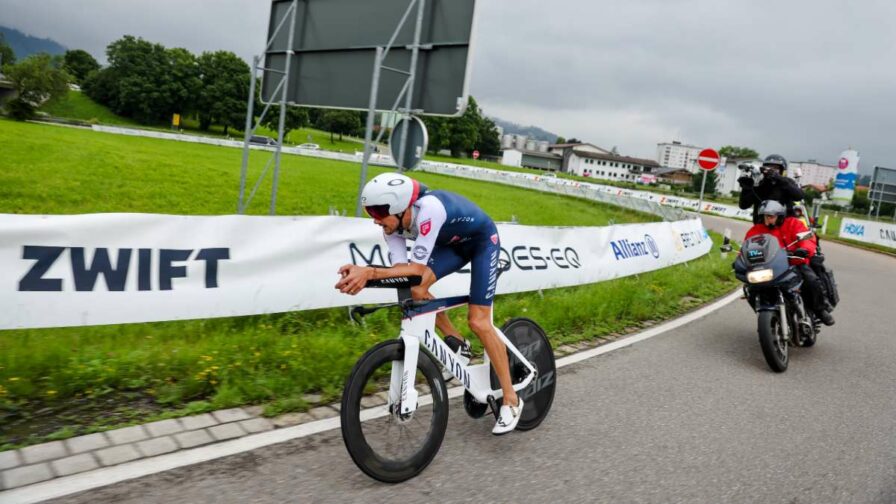 Act Three – The Run
Flat, flat, flat. This should be a course, depending on the conditions, which is made for speed.
While he won (and set the fastest run split!) at the IRONMAN 70.3 World Championship in St. George, Gustav will be more than happy to see the terrain for this Sunday's race. Speaking to me in Samorin as The Collins Cup, he said that while he relishes the hills and descents on the bike, his run-course preference is flat and fast. He's got his wish here.
Will that be an advantage? Probably not. Frodeno has won on courses like this – and every other type of course too – for several years. He probably doesn't have the 28:XX fresh 10km speed these days that Gustav would be capable of given his Olympic Games focus, but that is unlikely to be a key factor… unless we see a sprint finish!
Frodeno has proven his abilities to master whatever the course offered requires – so it seems folly to suggest that Sacramento will provide a disadvantage. Heading into hours five, six and seven for the first time and dealing with that, will likely be Gustav's focus.
Run course = Neutral
And the Award goes to…
I've got to go with my head and say that Frodeno will come out on top. Why doubt him now?
He has won the biggest races in the sport (all of them…), and he doesn't put himself on the line unless he is absolutely ready. This was no last-minute addition to the schedule either, it had been in the works for months.
I really am excited to see Gustav race over the long course for the first time. His dominance of those races in Nice, Daytona and St. George was incredibly impressive, and we have not yet even seen him pushed to the max over that middle distance. Training hours won't be an issue – the Norwegians have had that base covered for years – and they also have that youthful confidence and belief that anything is possible. They have also proven time and again that it is.
Finally, this race for me has some of the elements of the 2018 IRONMAN 70.3 World Championship in Port Elizabeth, South Africa. All of the pre-race hype was about three legends – Frodeno, Brownlee, Gomez – all going head-to-head for the first time in years, all at the top of their game.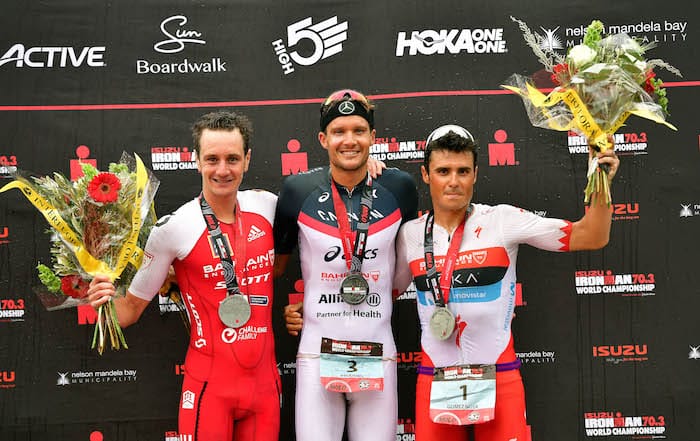 How did that hype pan out? Well, the race surpassed expectations and many still regard it as one of the greatest triathlon races in history. Frodeno won that one too!
If we can get just an element of that on Sunday, it will be one not to miss – and could well dominate awards season!