This is a preview feature written ahead of the 2022 Paratriathlon World Championship. You can check out how the racing all played out, in our extensive race-roundup – on a day where the favourites delivered in Abu Dhabi.
Racing at the World Triathlon Championship Finals Abu Dhabi 2022 kicks off on Thursday 24 November – and first up is the subject of this explainer, the 2022 World Paratriathlon Championship.
While there is a World Triathlon Para Series (with the UK leg this year held in Swansea), unlike the WTCS (points from which accrue and ultimately determine the World Championship podium for the season), for para athletes, Abu Dhabi remains as a single day World Paratriathlon Championship.
Start times and how to follow live
The sprint distance race based at Yas Marina comprises a single lap 750m swim, five-lap bike course of 20km, and then finishes with a two-lap run of approximately 5km.
The schedule (all local times) for the Para races, all taking place on Thursday 24 November, are as follows:
0800 – PTVI Men
0807 – PTVI Women
0845 – PTWC Men
0850 – PTWC Men
0945 – PTS5 – Men
0950 – PTS5 – Women
1000 – PTS4/3/2 – Women
1010 – PTS4 – Men
1015 – PTS2/3 -Men
The timing of the first start (0800 local time in Abu Dhabi), corresponds to 0400 in the UK, 0500 CET, 2300 Eastern (Wednesday), 2000 Pacific (Wednesday)).
The event will be broadcast live via World Triathlon's TriathlonLive.tv streaming service.
Categories – a reminder
With the growth of the sport and the consistency of the categorisations for several years now, familiarity with paratriathlon racing is gaining traction. Of course, a reminder of how it all works is never a bad thing and we are happy to help with that. Here is a high-level summary of the six categories that will be raced in Abu Dhabi.
| | |
| --- | --- |
| Category | Description ** |
| PTWC | Wheelchair |
| PTS2 | Severe Physical impairment |
| PTS3 | Significant Physical Impairment |
| PTS4 | Moderate Physical Impairment |
| PTS5 | Mild Physical Impairment |
| PTVI | Visually Impaired |
(** Note 'layman's terms' used above for brevity and clarity – full details of the Paratriathlon ITU categorisation methodology can be found HERE).
The 'PTS' designation represents the standing / ambulant categories, with the number representing the degree of impairment. Of note, it is the impact of an impairment which determines which category an athletes races in, not the nature of it. For example, you will see athletes within the PTS5 category with arm and/or leg impairments, racing against each other.
PTVI athletes complete the whole race with a mandatory guide (same nationality and gender), with the bike segment on a tandem. Athletes who are totally blind (PTVI1) start first, followed by the partially sighted athletes (PTVI2 / PTVI3), but compete in one single medal event – first across the line. For the Men this offset is 2min 46 seconds and for the women this is 3 mins 19 seconds.
PTWC athletes swim solo, complete the bike leg with a handcycle and the run segment with a racing wheelchair. In a similar manner to the PTVI example above, the most impaired wheelchair users (PTWC1) do start first, followed by the least impaired wheelchair users (PTWC2), bug again it it one medal event, first across the line. For the Men this offset is 2min 59 seconds and for the women this is 3 mins 42 seconds.
Men
Three of the four Paralympic Games gold medallists from Tokyo will be in the UAE, including Jetze Plat (PTWC), Alex Hanquinquant (PTS4), Martin Schulz (PTS5).
PTWC: Plat hasn't been beaten in triathlon for so long, that perhaps only his recent forays into the World Marathon Majors and a slightly different focus can – perhaps – give his opposition a hint of belief that they can finally topple the mighty Dutchman. Unlikely!
PTS4: Alexis is similarly all-conquering in the PTS4 category, and seemingly on a winning streak of several years already that will lead him to Paris.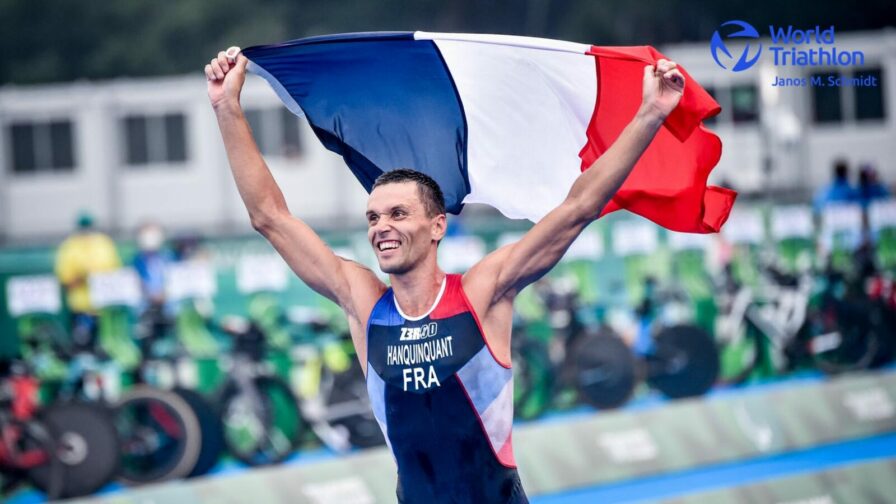 PTS5: The PTS5 division, very sadly, will be missing the presence of Great Britain's George Peasgood, who has a different sort of battle to deal with right now, but the competition will still be strong from the like of Stefan Daniel (CAN) and defending champion Chris Hammer (USA). You can be sure that the athletes racing will do so with the popular Peasgood very much in their thoughts.
PTVI: The visually impaired division will see the British, European and Commonwealth champion pairing of Dave Ellis and Guide Luke Pollard as the ones to beat – something nobody has managed this year. Thibaut Rigaudeau (Guide, Cyril Viennot) and Antoine Perel (Guide, Yohan Le Berre), are likely to be amongst those closest to challenging the impressive British duo.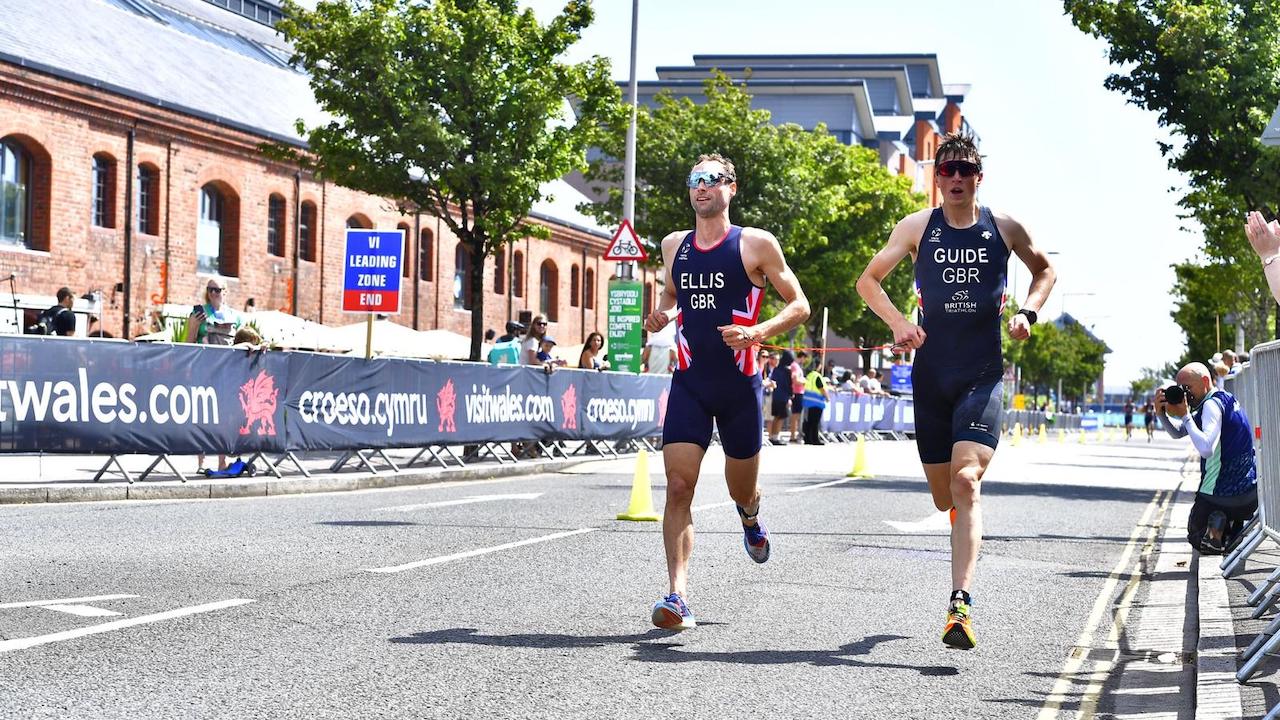 PTS2 / PTS3: Jules Ribstein (FRA) is the defending PTS2 champion, and he has been in strong form this year, including a clear win at the WTPS event in Swansea, while Spain's Daniel Molina tops the current World Triathlon Para Rankings in PTS3.
Expect a tough battle between him and Nico Van Der Burgt (NED), that duo were separated by just 35 seconds at the World Championship, also in Abu Dhabi, last year.
Women
Two of the four Tokyo 2020 Paralympic medallists start in Abu Dhabi – Kendall Gretsch (PTWC), Susanna Rodriguez (PTVI).
PTVI: Much like Plat and Hanquinquant, Rodriguez has looked close to unbeatable for several years now.
Significant British interest here with Commonwealth Games gold medallist, Katie Crowhurst (plus new Guide, Ella Beard), and Alison Peasgood (Guide, Brooke Gillies), who took bronze in 2021. Medals won't come easy, with Annouck Curzillat (FRA), an impressive winner in Swansea and bronze in Tokyo, and Francesca Tarantello (ITA) among several athletes likely to be contending for podium honours.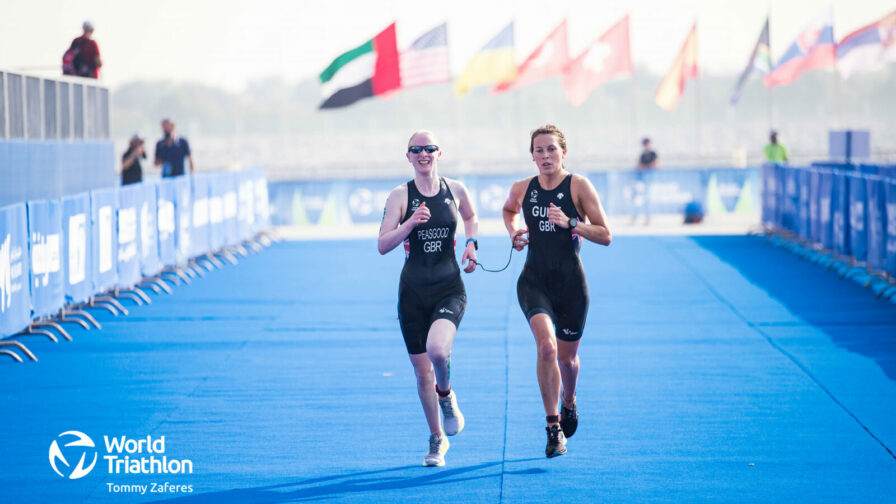 PTWC: The multi-talented Gretsch will once again face Lauren Parker, with whom she had one of the greatest finishes I've ever seen, in any sport, at Tokyo 2022. The Aussie has however had the upper hand since then, is the defending World Champion, and managed significant wins over the U.S. athlete this year in both Montreal and Swansea.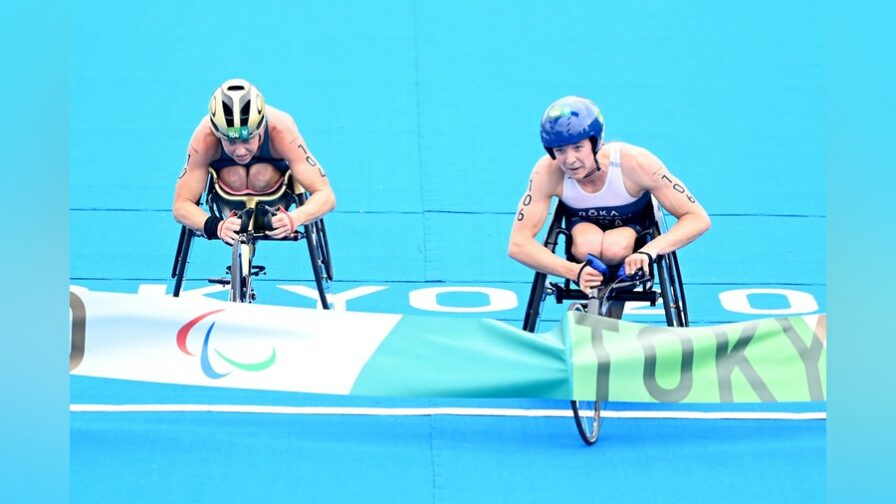 Look out for Great Britain's Melissa Nicholls, who made her debut in the sport with third place in Swansea. She comes into triathlon with a strong para-athletics background, and is making rapid progress.
PTS5: Absent Paralympic champion, Lauren Steadman, another head-to-head between Grace Norman (USA) and Claire Cashmore (GBR) would be the obvious call here. Cashmore beat Norman to gold last year in Abu Dhabi to start as defending champion, but the Rio 2016 gold medallist turned to tables twice in June this year, in World Triathlon Para Cup races. No reason to expect anything other than another close race.
PTS4: Not part of the medal program in Tokyo, the PTS4 World Champion last year was Kelly Elmlinger (USA). She defends, with Marta Frances Gomez (ESP) likely to be one of her closest challengers.
PTS3 / PTS2: Just two entries for the PTS3 division (Elise Marc (FRA) / Sanne Koopman (NED)), but PTS2 – which was a Tokyo 2020 Paralympic event, includes the silver and bronze medallists, Hailey Danz (USA) and Veronica Plebani (ITA). As reigning World Champion, Rankings leader and unbeaten all year, Danz will start as favourite.
Full British Paratriathlon squad
Claire Cashmore (PTS5), 34, from Kidderminster, trains Loughborough
Katie Crowhurst (PTVI), 18, from Maidenhead, trains High Wycombe
Guide: Ella Beard, 19, from Nottingham, trains Nottingham
Dave Ellis (PTVI), 36, from Derby, trains Loughborough
Guide: Luke Pollard, 31, from Telford, trains Loughborough
Finley Jakes (PTS4), 22, from Eastbourne, trains Loughborough
Oscar Kelly (PTVI), 21, from Woodford Green, trains Loughborough
Guide: Charlie Harding, 19, from Carlisle, trains Nottingham
Mel Nicholls (PTWC), from Tewkesbury, trains Tewkesbury
Alison Peasgood (PTVI), 35, from Dunfermline, trains Stirling
Guide: Brooke Gillies, 24, from Gleneagles, trains Stirling
Megan Richter (PTS4), 21, from Birmingham, trains Birmingham
Michael Salisbury (PTS5), 35, from Bath, trains Newcastle upon Tyne
Colin Wallace (PTS3), 37, from Aberdeen, trains Aberdeen