Young Brit has eyes set on the hills of Nice, France
First stop, Buffalo City, East London, South Africa…
At 5 feet 6 inches tall and barely 60kg soaking wet in his HUUB wetsuit, Great Britain's Elliot Smales is never, physically at least, going to be a 'giant' in triathlon.
That said, having won no less than three of the four IRONMAN 70.3 races on the UK & Ireland Tour in 2018 (and he was fourth in the other one) – in just his second season at the distance – the 24 year old is a name you can expect to hear a lot more about over the coming years.
After fifth place in his debut season at IRONMAN 70.3 Dublin in 2017, I said of Elliot's racing – already a strong swimmer / runner – "a step-up in his TT riding over the winter should net him some even better results in 2018." That assessment has proven correct, with cycling transforming from a weakness he is quickly turning into a strength. His wins at both IRONMAN 70.3 Staffordshire and IRONMAN 70.3 Dun Laoghaire last year were built upon solo rides to T2, after leading the way in the swim. With another winter of training in his young legs, will he be stronger still in 2019?
Back to South Africa
We'll get the first glimpse of that very soon, as Elliot will be racing IRONMAN 70.3 South Africa in Buffalo City, East London on 27th January. That is the race that Great Britain's Jodie Swallow dominated for seven consecutive seasons between 2011 and 2017. Can Elliot add British male success to the 2010 victory of Fraser Cartmell nine years ago?
One thing he won't have to worry about immediately prior to the race is a long trip to the southern end of the African continent, as he's already there training and has been for about 10 days already. It was from the stunning location of Stellenbosch that I spoke to him earlier this week. Alas, I was at the other end of a Facetime Audio call in London…
"I've been here for a week now, I arrived last Tuesday and will be here up until the race, before returning home after that. With the timing, it was a great opportunity to combine the training camp with the race."
Elliot is in South Africa training with many of the British Triathlon Elite ITU athletes, several of whom will be racing themselves at the opening ITU World Cup event of the season in Cape Town. While not part of that British Triathlon squad, it's an opportunity that's come up through his housemate and often-time training partner, Tom Bishop.
https://www.instagram.com/p/Bslh5SnhJlS/
"My training complements some of the endurance elements that the ITU squad do – it means there's always someone for them to ride / run with for the longer sessions. It's a good opportunity for me… though I'm spending a lot more time swimming than I might normally do!"
Club swimmer to Elite triathlete
Swimming is where Elliot started his sporting endeavours, and triathlon was actually a relatively recent addition.
"I started out club swimming, I hated running to be honest at the time and I did a little bit of triathlon. When I started University in 2013, I started running a bit more and I joined the triathlon club. It was really then that I started actually enjoying running… and I think that is really the single biggest factor and most important thing in order to improve. I've been able to progress consistently with the running so that it is now a strength – you can't really rush with running, I've been consistent and steadily built the mileage and I've had almost no injuries by doing that."
Going long
Despite his success and apparent fit with the middle distance, his previous experiences of racing in ETU European Cup (draft-legal) events gave little indication of his potential, with modest results. Elliot had some interesting thoughts on that.
"I think those ETU Cup races were too early for me and I just wasn't ready for them to be honest. I was trying to develop as an athlete and particularly as runner while racing, and that's just not really a recipe for success. Ironically, although I'm doing longer distance races, I think I would probably do much better and be quite competitive in those sorts of races now. I'm a much more rounded and stronger athlete these days."
The typical path of a young Elite athlete, particularly through the strong British 'system', is to move towards middle and/or long distance racing after an extended period in the ITU-style races. Still 24 and about to start his third year of IRONMAN 70.3 racing, 'going long' was always the primary objective for Elliot.
"I always knew I wanted to do longer distance and thought it would be better suited for me. I had the opportunity to do that in 2017, and to have had some good results that year and then won three 70.3 races in 2018, my second year, I'm really pleased with how it has gone."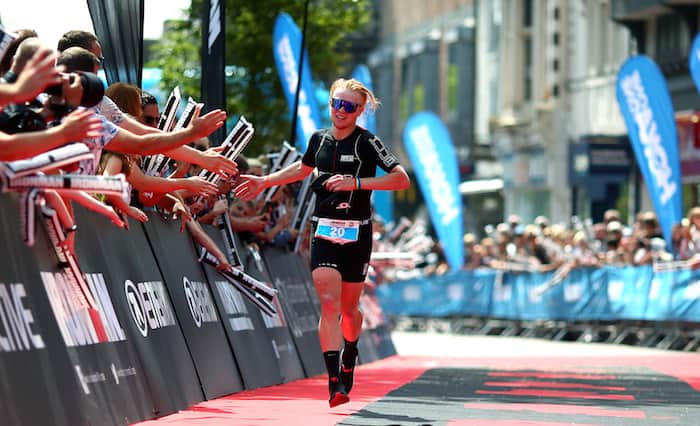 Best performances of 2018?
Looking back on 2018, he regards IRONMAN 70.3 Staffordshire (his first big win as a Pro) and IRONMAN 70.3 Dun Laoghaire, Ireland, as his best performances. That, despite getting off the bike in Staffordshire convinced he wasn't even going to finish… I spoke to him about those races, where that new bike strength proved crucial to his success.
"At Staffs I knew there were some fast riders so I wanted to try and break things up from the start and push the swim hard. I lead out of the water with a small group, and I knew it was quite technical riding for the first five/ten miles, so I suppose you could say I took some calculated risks there and that allowed me drop everyone and get away at the front. I think that probably surprised people as last year I was better known for swim / run and sitting in a bit on the bike, and now I was leading on the bike. When you are the front you just push. I wasn't sure how I was doing relative to those behind, but there was a section at around 45 miles where I could see that the main pack was around three minutes down.
"In truth I felt absolutely shocking on the first lap of the run. So bad I didn't even think I would / could finish the race! I only carried on as I thought that I might be able to perhaps hold on to a top-three, and it was only really on the final lap when the gap to second wasn't really coming down much that I thought I might actually win it…"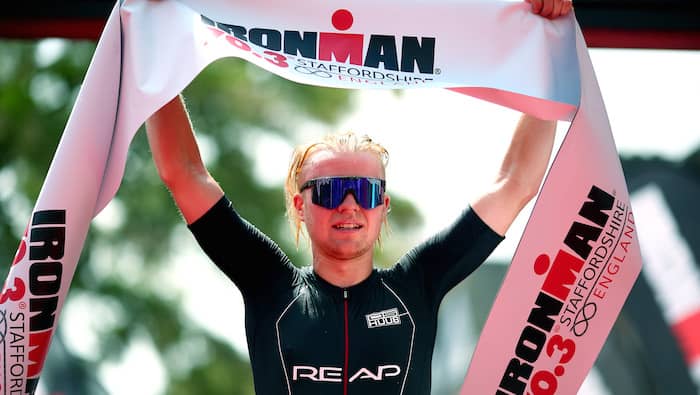 Same tactics again in Ireland (where Elliot pushed former IRONMAN 70.3 World Champion, Andy Potts, into second place)?
"It was similar tactics to that at IRONMAN 70.3 Dun Laoghaire – but much better paced that time. There was Andy Potts there and an Icelandic guy, Ragnarsson, and so it was another fast swim and we were clear at T1. I biked really well there to have a nice lead at T2 and the run was solid too. That was probably my best overall performance of the year."
Surviving as a Pro
Life as a young 'Pro' athlete is certainly not the glamorous / cool life that some may assume. Prize money is not vast, sponsorship – especially financial – isn't easy to come by, and the rent, bills and more still have to be paid. It's not a subject that too many reveal much about publicly, but it's a tough reality that has to be faced.
"I don't mind talking about it – it's definitely not easy. I think sometimes people see you winning a few races and assume, "you must be doing alright", but that's not the case. It's certainly difficult to get by and in a way, it's a trying to survive year-to-year basis. I'm trying to think of it a bit like building a portfolio. Having only really been a Pro for two years and with some wins in the second, it takes time to build those connections and get know people in the industry. I'm still only 24, progressing on the course and so it is going in the right direction."
Who are those supporting him currently?
"I'm still riding the REAP bike (Ed. more on that HERE), which is still being developed and improved which is good. There's a lot of feedback and communication between us on that.
https://www.instagram.com/p/BnJftYJFeK8/
"I'm still with HUUB – the new aero suit (the Anemoi, which you can see HERE) is definitely an improvement on the previous one and is super fast, while my new wetsuit (Ed. which Elliott confirmed as the Brownlee Agilis model), honestly, is amazing. I thought I was cheating the first time I used it.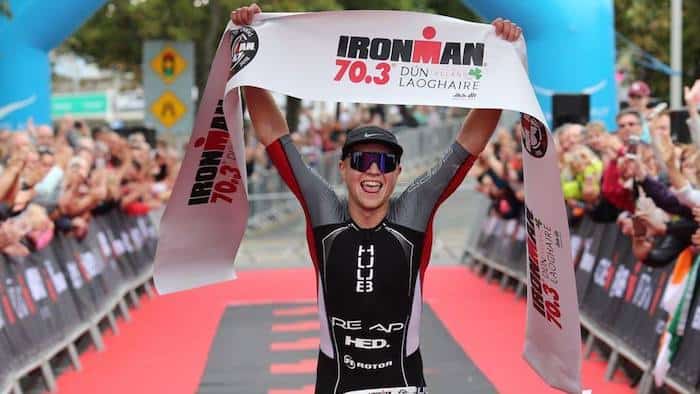 "HED Wheels are continuing to support me, while I've got a power meter – which I really needed to step up my bike training – from Rotor / Velotech. The bike and all of those things around it are really important and so I've been really focussed to have those great products that I know give me the best performance, than searching out a 'deal' and have to use something inferior."
So, there are a few holes in the Smales' product portfolio / opportunities for to support a young and fast-improving Brit. Brands, take note…
Plans for 2019?
"I'm interested to see how South Africa goes as I've never raced off of a training camp before. I'm planning to do IRONMAN 70.3 Barcelona again [Ed. where he crashed, and finish sixth in 2018], followed by IRONMAN 70.3 Staffordshire and then IRONMAN 70.3 Lahti, Finland. I've been to Scandinavia a few times and enjoyed it, plus that looked really interesting with the 4 pm start time because of the midnight sun!
"After that I'll regroup, take a bit of a break and then be training for the main goal of the year, the IRONMAN 70.3 World Championship in Nice, France. I'll probably race Dun Laoghaire again – because I want to qualify for the 2020 World Champs and go to Taupo, New Zealand."
Qualification to race in Nice isn't something Elliot needs to worry about, his win in Ireland last year having already ticked that box under the new qualification system.
https://www.instagram.com/p/Bmti1hwF6Av/
Preparations for France
While I've mentioned his improved biking, he is particularly looking forward to Nice and thinks the course will be one that suits him.
"Nice will be a proper climb with proper descents too. There could be 30 minutes of climbing in that race. Because of my size I struggle a bit in terms of power, so those rolling courses with big carriageways can be difficult for me relative to the bigger athletes. I will definitely do some specific preparation and go out to Nice to ride the climbs. I'll also be doing the descents multiple times (and get driven back up, and repeat), because I think there will be a lot of time to gain / lose by being confident and skilled at descending too."
Looking at the results from the 2018 edition of IRONMAN 70.3 Nice (HERE), the fastest Male Pro bike ride was over two hours and 20 minutes – there certainly won't be any two hour / 45km per hour rides around the Alpes-Maritimes in September.
How was his first IRONMAN 70.3 World Championship experience in South Africa last year?
"I think if I'd have been swimming just 10/15 seconds quicker at the time I'd have been able to make that front pack. I was on Javier's feet for the first 200/300 metres, but racing is also about positioning and I wasn't able to stick with that group, which had all of the top names in it. There was no chance to get back with all of the quality up at the front. I knew the pace would be on from the start and that it was likely to be more of a power course. I didn't have my best day on the bike anyway, I was a bit flat, but I was able to run ok off it [Ed. Elliot ran 1:13:35] and I passed four people in the last few kilometres."
https://www.instagram.com/p/BnOve4WFQ1U/
Do all race plans for 2018 stop at that World Champs date in Nice, France?
"I've got nothing planned after that, but I will definitely race. Depending how things have gone, I'll either be looking to pick a race(s) to qualify for 2020, or of that it secured already, have free reign to chose. Perhaps Weymouth again. Fortunately there are plenty of racing options available around that time."
I'm personally looking forward to seeing Elliot's progress as he starts the third year of his 'Pro' career. You can expect to be hearing even more of his name in 2019.
Elliot Smales – Racing Highlights
Winner – IRONMAN 70.3 Staffordshire 2018
Winner – IRONMAN 70.3 Dun Laoghaire 2018
Winner – IRONMAN 70.3 Weymouth 2018
3rd – IRONMAN 70.3 Staffordshire 2017
4th – IRONMAN 70.3 Edinburgh 2018
4th – IRONMAN 70.3 Edinburgh 2017
4th – Challenge Rimini 2017
5th – IRONMAN 70.3 Dublin 2017
6th – IRONMAN 70.3 Barcelona 2018
16th – IRONMAN 70.3 World Championship 2018
You can follow Elliot's progress on these links: