"Next time you see my name crop up on the TRI247 pages, it will be my final blog. Success or failure, I'll do my best to share the experience with you." That's how Robbie MacNab signed off his penultimate update before his Solo English Channel Swim attempt in his last update. So here we are.
Right, now grab yourself a tea / coffee, set aside 10 minutes and get the inside track on Robbie's attempt to prove that a full-time working, age-group triathlete could swim the English Channel. Trust me, THIS IS A MUST READ!!!
(Links to all of Robbie's Channel Series: #1 | #2 | #3 | #4 | #5 | #6 | #7 | #8 | #9)
---
Triathlete vs. The Channel – August 2020
Robbie Conquers the Channel thanks to Covid-19
With my swim planned for the week of 27th July, it was time to think about taper, pre-swim nutrition and finalising all the logistics for the big day. With the ever-changing and unpredictable weather, this is not quite as easy as you would think.
As we approached the week of the 27th it was clear from the weather forecast that it was very unlikely that we would be going at the start of the week, so, I started to adjust all the logistics involved. Cancelling and booking different nights at the hotel, adjusting my food intake accordingly and with the re-opening of pools, planning a few extra swim sessions to keep things ticking over.
Last minute doubts…
The feeling of getting back in the pool for the first time since March was amazing. The ability to just turn up and swim for an hour or more provided a bit of a confidence boost as I was able to really see what sort of pace I still had. Whilst my outdoor swimming had been essential, and I'd clocked up a couple of 'long' swims, I'd lost a bit of confidence in my pace. Battling the elements and some loss of swim fitness were going to impact my per/100m times outside, but my personal perception of the size of the reported drop in pace was bugging me.
Totally aware that finishing the Channel was the aim rather than a time-based goal, it was nice to be able to get in and do some efforts at close to the kind of pace I was hitting in February/March. This was a good reminder that sometimes you need to trust your coaches who had no such concerns re my fitness and ability to complete this challenge. Their faith saw me through a tough period of doubt during the restart period.
While it was nice to be back in a pool, referring to May's update where I joked about missing pool rage…. As predicted, all was back to normal and as sure as people still have no idea what two meters is, they still do not know that walking backwards is really not what the fast lane is for.
Date set, it's on…
Unfortunately, though the weather was nice and sunny in the UK, there was only one really good swimmable day and an okay'ish day in my window that week due to the winds, particularly the strength of gusts, in the Channel. I was the second swim for that neap tide with my pilot and boat and he didn't feel pressured to take us out on the okay-ish day, but rather decided to wait for a better day. As such, the swim itself did not go ahead during the planned week.

Normally this would cause a long delay to the end of the season, however, fortunately this was not the case. Though there is not much to be thankful for during Covid-19, the inability of foreign swimmers to get to the UK meant my fantastic pilot (Stuart on Sea Leopard), was able to fit me in on the next spring on a better day, eventually getting the go-ahead for an overnight start on Thursday 6th August.
With the bags having been packed for a week, and passport ready to go, I headed to the hotel on Wednesday early afternoon with the hope of getting some sleep before having to leave for the boat just after midnight. One thing I've learnt while competing in Ironman and big age-groups races etc., is that I rarely sleep well the night before and to not stress about not sleeping. At around 10pm I got up and had another bite to eat and started to get myself ready to go, ensuring my bag was now packed in a way to make it easy for my team to get anything that I might need easily; spare goggles and asthma spray within easy reach and a stack of dry, warm clothes for post-swim.
Now some of the following timings may be a bit hit and miss as even a few days later things still seem a bit of a blur, but effectively we met up with our Pilot Stuart and boarded Sea Leopard about 00:30, covered off the formalities of passports, enhanced Covid safety briefing and a run down of how the start, etc. would work and we were heading off to Samphire Hoe Beach for the start.
And so it began. In the dark.
I already knew Stuart and the Sea Leopard boat from the relay I did a couple of years ago, so I was feeling relaxed until we got the 10 minutes to go shout, which is where it really hit me. My nice warm clothing had to come off and time to expose my body to the elements with just the trunks to keep me warm, apologies, probably an image no-one needs. Coaches Ryan and Tim attached the required lights to my goggles and trunks, and ensured I had plenty of Vaseline around my shoulders/chin, and plenty of high factor sun cream. Despite it being pitch black the forecast for later in the day was bright sunshine, and with no breaks you really need to get plenty of these things on at the start.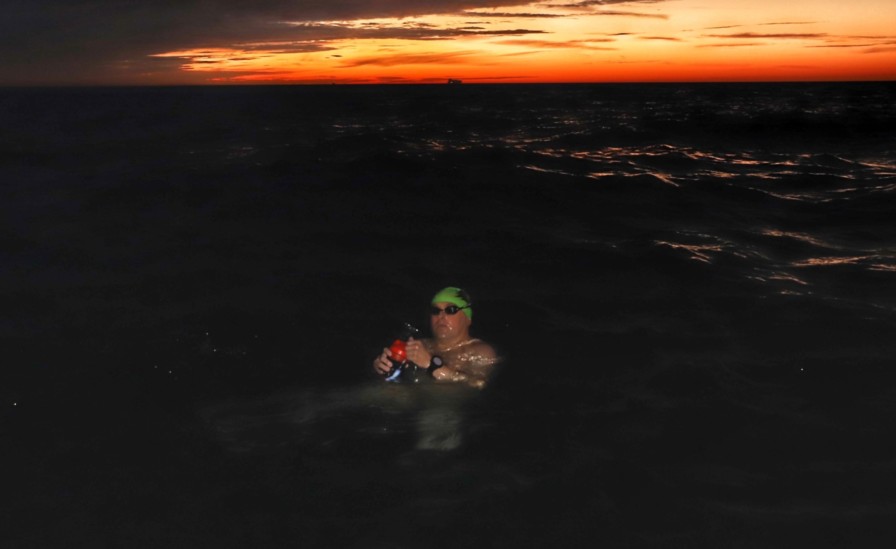 With Sea Leopard now about 100 meters from shore it was time for me to jump in and swim to the beach, ensuring I was completely on dry land ready for the flash of lights from the boat as they started the stopwatch. As I waded back into the water I remember talking to myself saying something along the lines of… 'well this is mad, I'm swimming to France'… and with that, I was off.
As well as being pitch black and a little chilly, the waves that I knew were due at the start really were battering me in the English Inshore Waters and I was having to work harder than I'd have liked. Not only that, but I was being tossed in all sorts of directions and this definitely highlighted I should have listen more to my coaches (!) and worked harder my on my flexibility. I got on with it nonetheless, and every 30 minutes, Ryan or Tim would give a sharp blow of the whistle to signal to me it was time for a feed, a hot drink that warmed me up and fuelled me up. My feeds, started with OTE Energy Drink, then another lower electrolyte drink, followed by protein drink, cordial and others things, each feed giving me energy but also other nutrients, minerals and other things I would consume on a daily basis such as caffeine.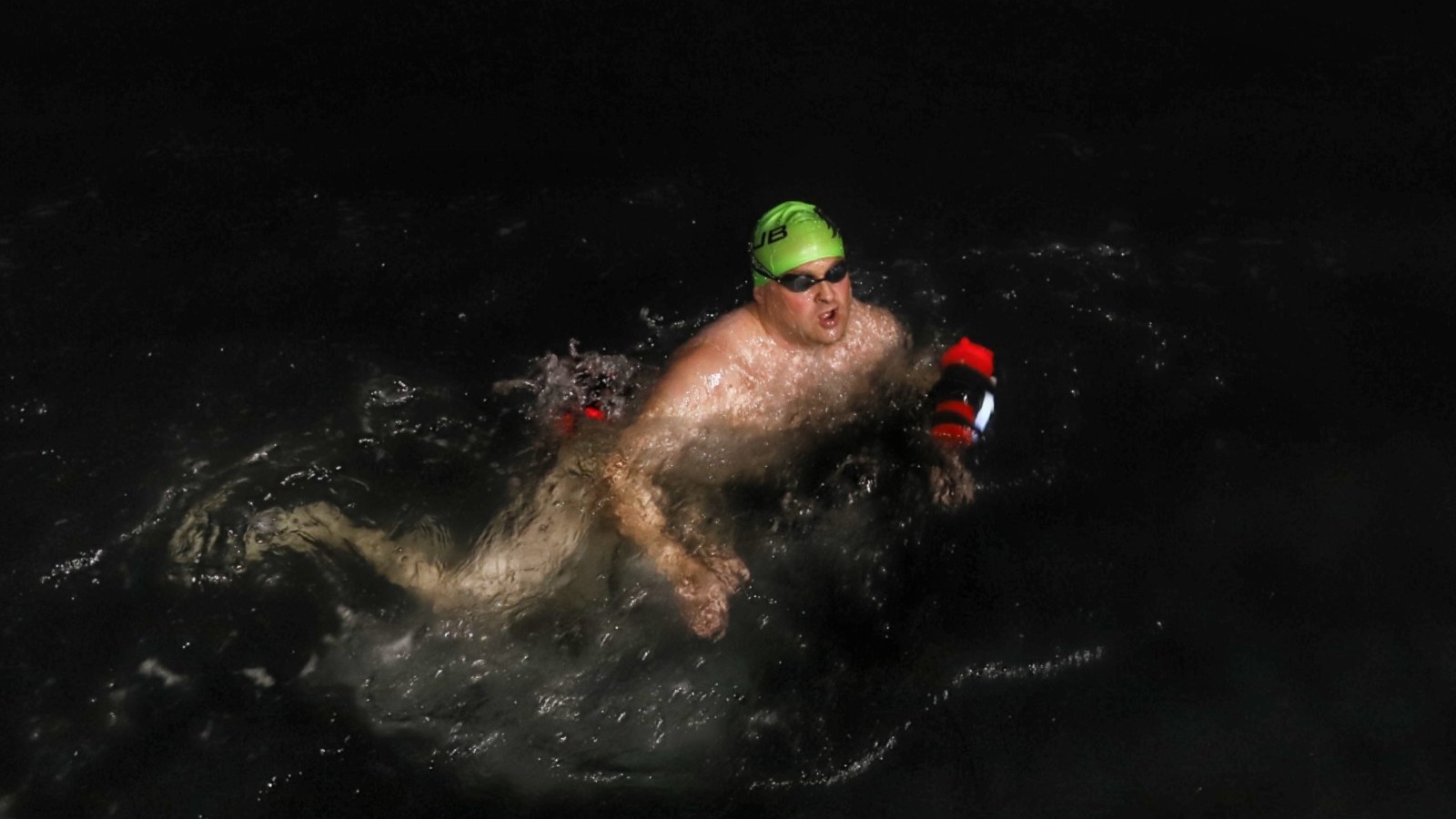 Emotional Highs and Lows
Three and a half hours in, I started to have a head full of negative thoughts. It was still pitch black and I was still getting battered and I was thinking there is no way I can quit while its still dark and return without even seeing any sun. At this point I had to remember I had been through worse in training, I had dozens of people tracking me that had sponsored me and this was going to be a one off chance so I kept going hoping the sun would soon appear.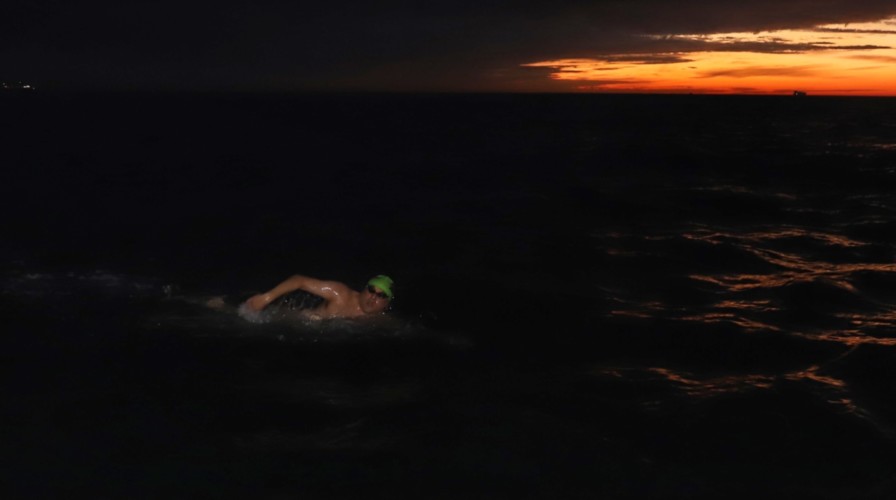 A few hours later the sun of course started to appear, and the swell did ease a bit. Without getting too poetic, it really was like a fresh start, a new dawn, a ray of…. sorry… basically having got through the hours of darkness I started to feel better in my head. I got a shout from Tim urging me to give it an extra 5% as my pace had dipped a bit and I obliged for what felt like an amazing couple of hours with Tim and Ryan both giving me the thumbs up again and I actually had a little smile to myself and for the first time actually believed that I had this. I gave myself a bit of a reality check reminding myself there was a long way to go, but I had this!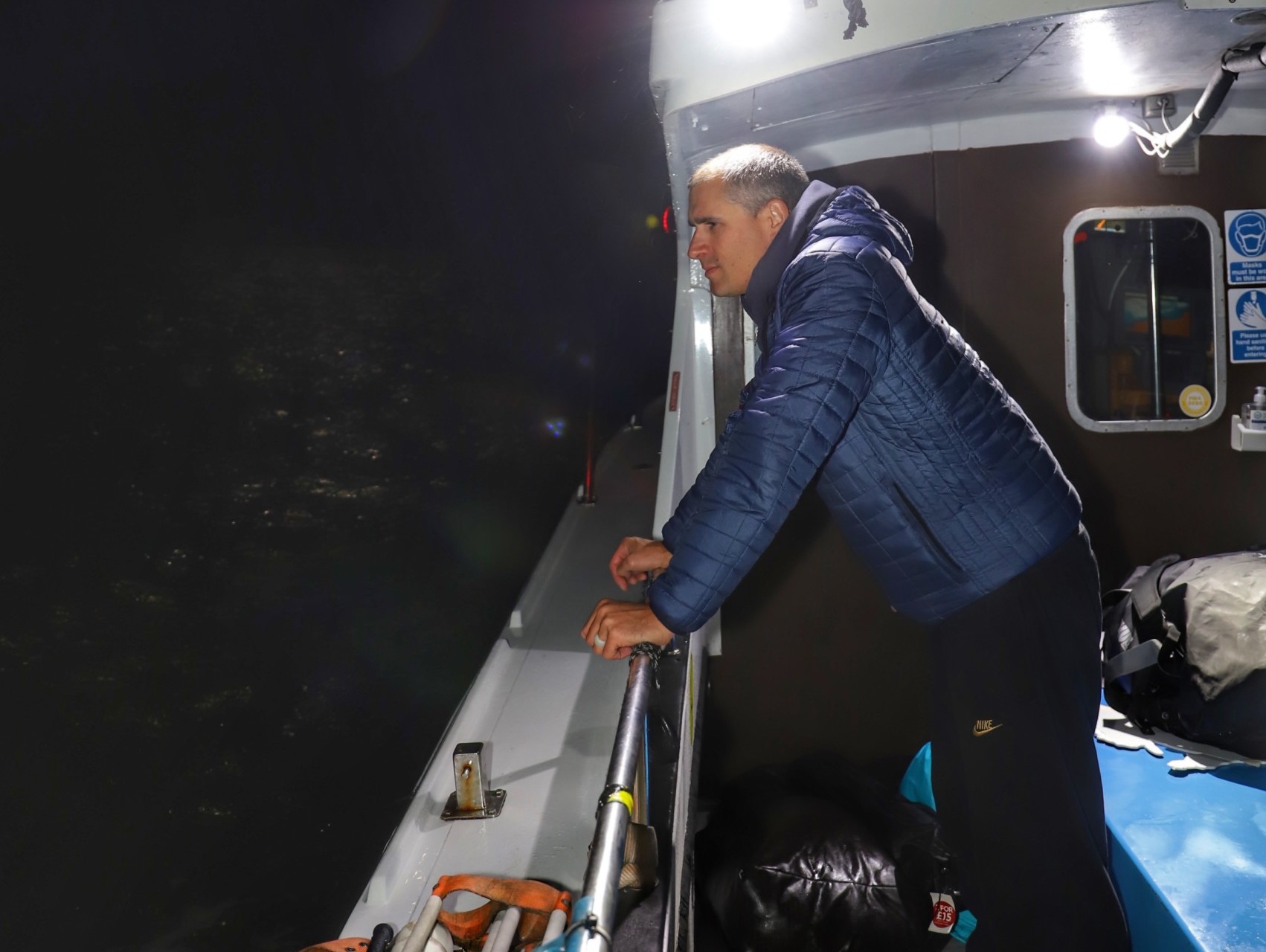 Swearing at Jellyfish…
I made it through the South West Shipping Lane, and into the Separation Zone at which point mentally again, I figured I'm on the homeward stretch, but the positivity soon dropped a little and the language got a bit more industrial as I encountered some Jellyfish that clearly did not like me invading their space. Numerous stings later and some choice language aimed at them, I completely lost my rhythm and was trying to spot them ahead which I knew was the wrong thing to do but guess my head just went into some natural desire to avoid getting stung. A blast on the whistle and shout from my coaches to get my head down and stop trying to sight gave me a bit of determination to just plough through.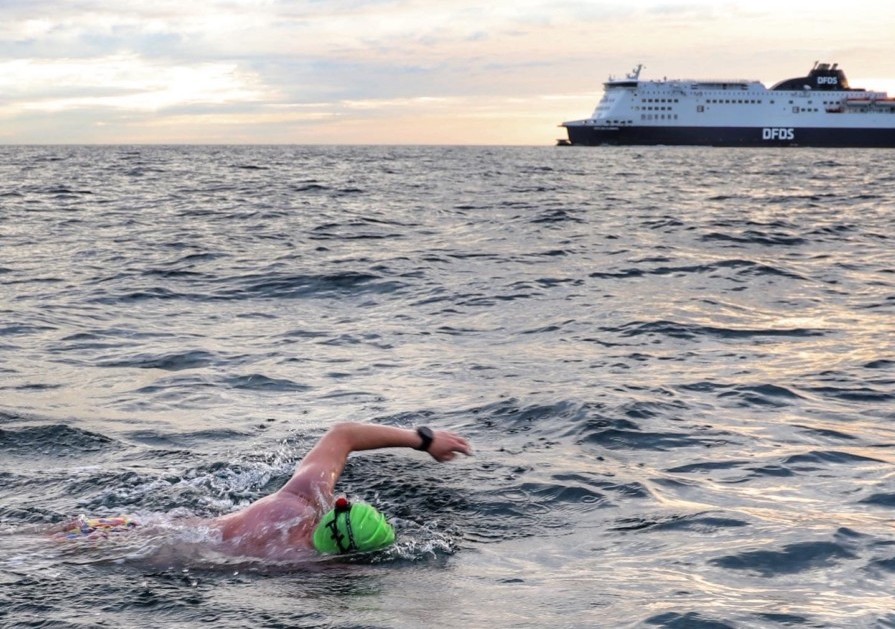 If I remember rightly, the next few hours in the North East Shipping Lane went by continuing my half hour feeds, getting feedback from Ryan and Tim and the occasional shout to give it that extra 5% to make life easier towards the end. Timing is everything to make sure you hit the tides at the right time otherwise it's just a lot more effort, which you really don't need to be adding to the challenge.
I can see France…
Around hour 12 of swimming, I reached French Inshore Waters and I could see the French coast clearly. It seemed so close, however as the half hour feeds continued It just didn't seem any closer. I think this was the first point that I had a bit of a moan to the team asking if I'd messed this all up and was I not going to be able to make it; I generally felt disillusioned at this point and angry with myself for not seeming to be doing well enough.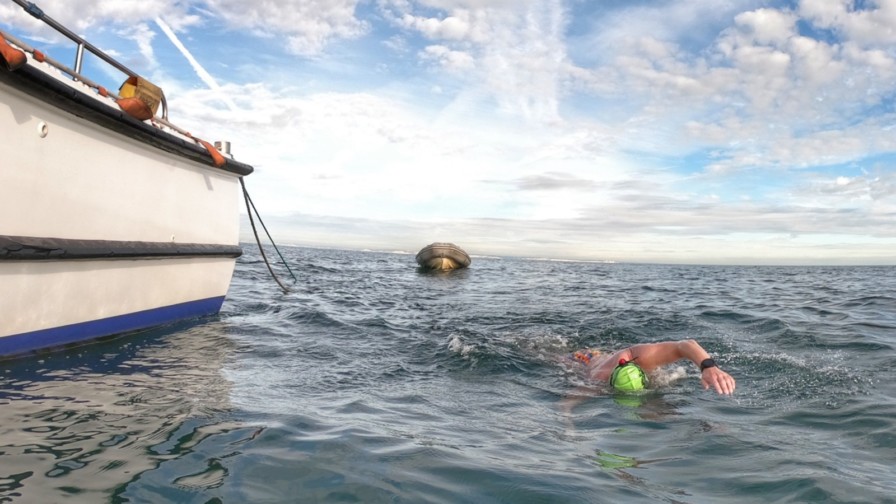 It's here having an experienced, strong and honest team that you trust on the boat helps. They re-assured me I was getting there and with a few words of encouragement I got my head down again and tried to stop looking up to see where the coast was and trust that I'd get there. A few hours later I spotted some movement on Sea Leopard from the crew, and this was what I'd been waiting for; they were preparing to get into the tender. As the main boat can't obviously go into shallow water, this meant I really was close.
I can TOUCH France!
If I'm honest there may have been a small tear in my goggles and as I looked up. I could see I would be landing on a packed beach full of people enjoying the sun. Pictures of other swimmers finishing I've seen have always been on deserted rocks or beaches, so this was a bit of a surprise and I suddenly started thinking about rules and regulations making sure I didn't touch anyone and making sure I walked all the way out of the water etc.
As I hit the shallow water I managed to get myself to my feet. I took a little stumble due to the fact I'd been horizontal for some 14 hours plus (I didn't really know how long at this point), and I waded out of the water to applause and cheering from the local beach goers and for some reason this prompted me to even attempt a little jog all the way out to dry sand!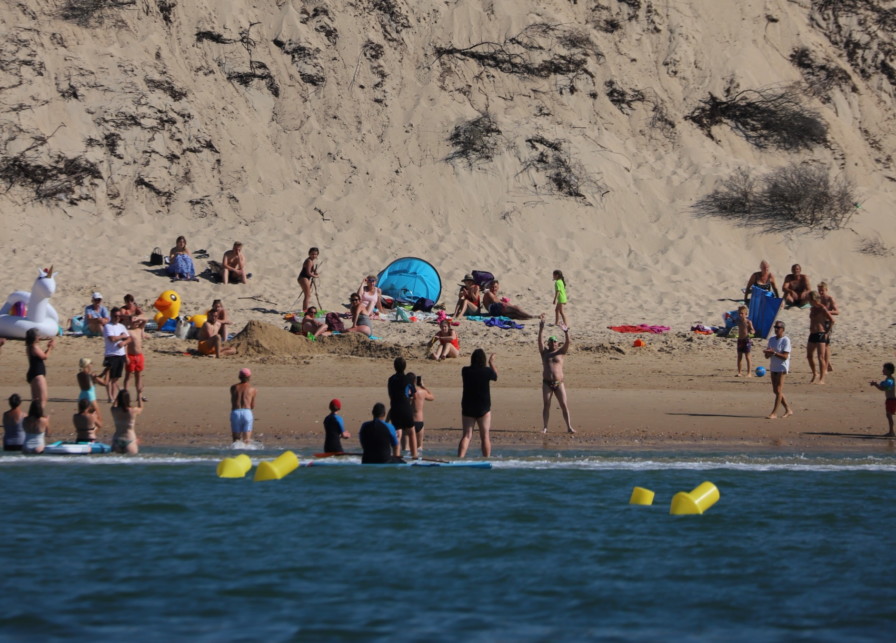 I'd done it, I raised my arms to signal the boat and the hooter sounded, it was over! It was lovely to have so many people coming up and congratulating me, asking how long, clapping etc. I really wish I'd spent some of the time in the water practising my French as I mumbled in an attempt to reply in French to them. That was it, all over, and 30 seconds later I had to wade back into the water, swim to the tender, and then the team hauled me back onto Sea Leopard.
And quickly, it was over
I do not really think at that stage It had really sunk in, and it was all about getting dry and warm clothes on and some food into me as Stuart pointed Sea Leopard home. That's kind of it really, just like that you get to the end of your adventure.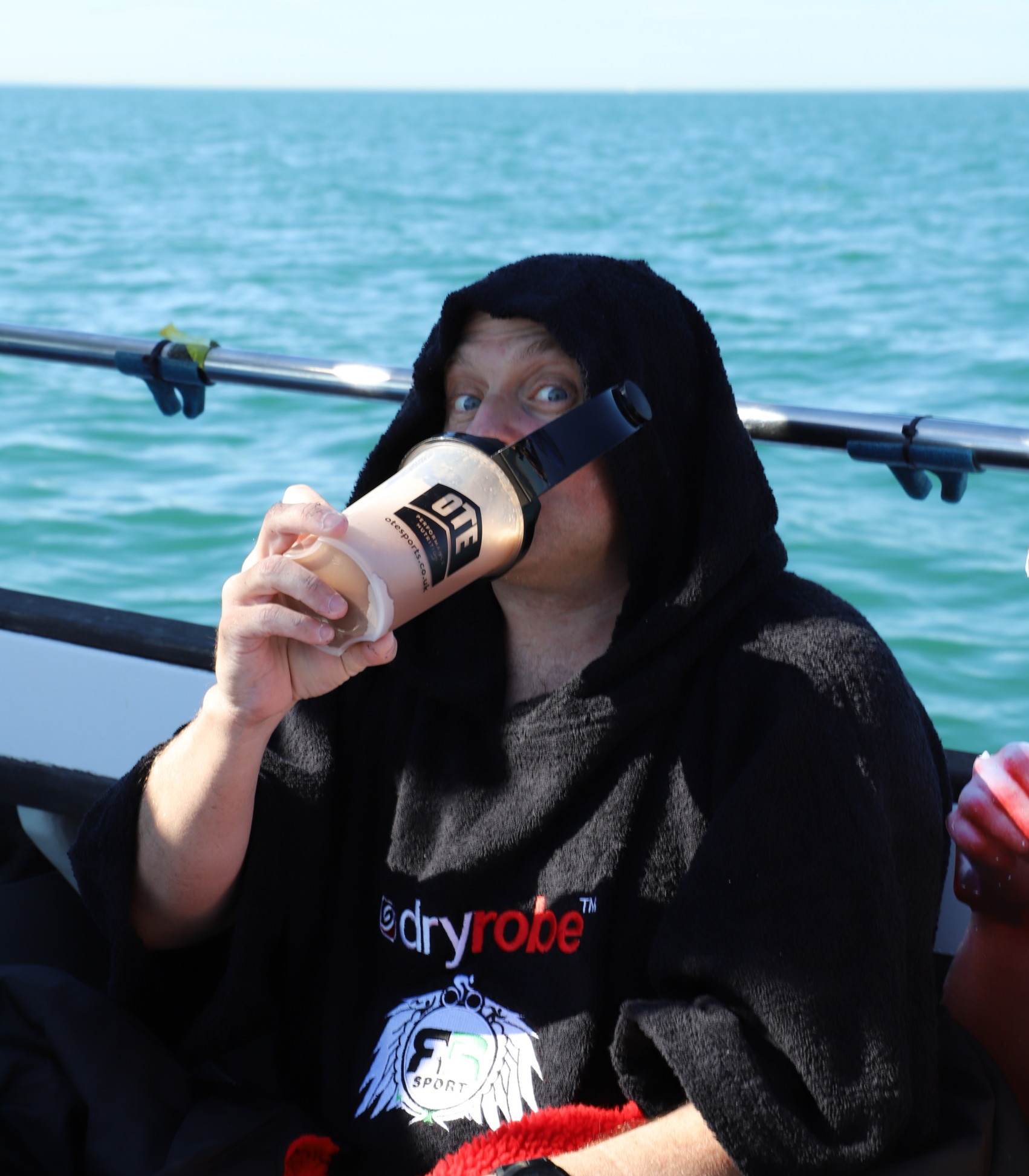 Once back in UK we headed back to the hotel, and myself, Ryan, Tim and the other coaches, who had been out with other swimmers that I'd got to know, sat and had a quick socially distanced drink to celebrate and recount tales from the day, then we all headed our different ways for food of choice and bed.
It seemed a strange end to such a massive project. Due to the nature of the event and not really knowing timings of the start or end I hadn't arranged for anyone to be in Dover so there was no fanfare or party, but this was my choice as I didn't want to inconvenience anyone if things got rescheduled.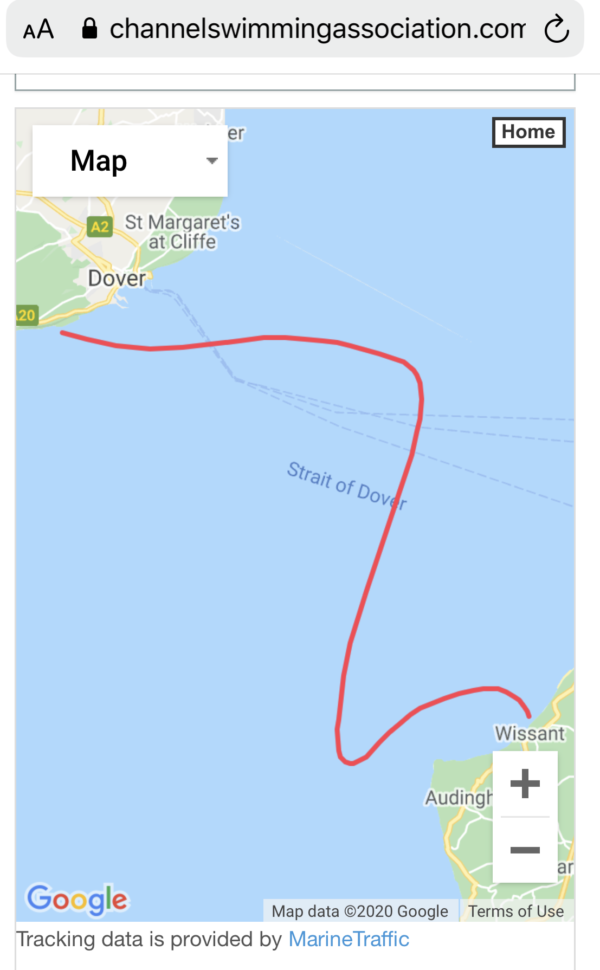 The Aftermath
Thursday night's sleep was non existent, I guess the adrenaline had gone and suddenly my shoulders and arms were screaming with pain, the kind of pain I have honestly never experienced before. Friday morning, I packed the car rather gingerly and headed home, I had to be logged back on for work and on-call by lunchtime…. Normality had well and truly resumed.
It's safe to say I'm not sure that it's really all sunk in yet. At the moment it feels like I've just finished another event – but that's kind of just my personality, I'm probably the least impressed by my own work. The only thing that has sunk in is the toll the day has taken on me. As I write this, it is three days since I finished and I'm still in a lot of pain. I cannot lift my left arm above my shoulder and there is some great bruising… funny how I never noticed any real discomfort that I recall while swimming?!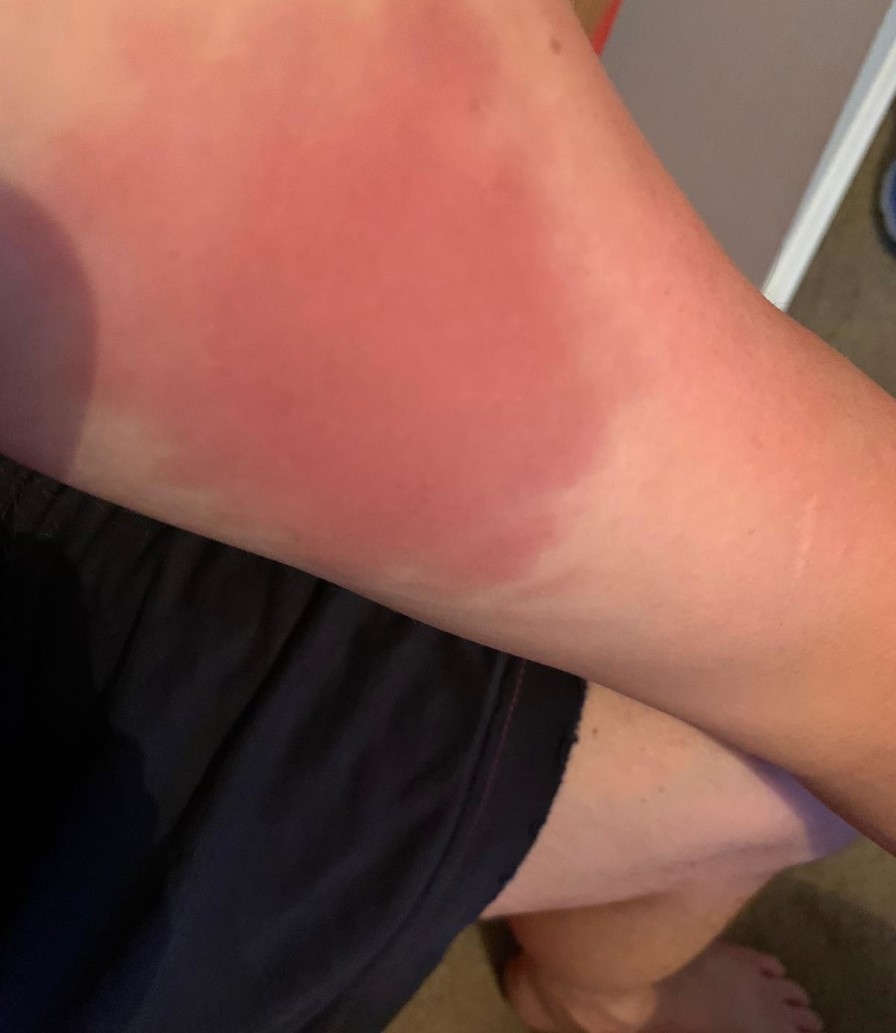 I'm making sure I do nothing physical for the next week, allowing myself to eat and drink what I like for two weeks, and then I guess I'll have to think about what I train for next. Maybe I'll just train to stay healthy, but somehow, I doubt it. Everyone I know are already asking what I have planned next…. suggestions on a postcard please.
Thanks…and a final charity plug!
Finally, without going all 'Oscars', I really do need to make sure I thank everyone for their support, the amount of sponsorship, interest and well wishes have been truly humbling. Special thanks to Emma for suffering the smell of chlorine pre Covid, and now having to deal with a broken Robbie, and Ryan (RnR Sport) along with Tim (Red Top Swimming) for their work – and above all belief – during the process.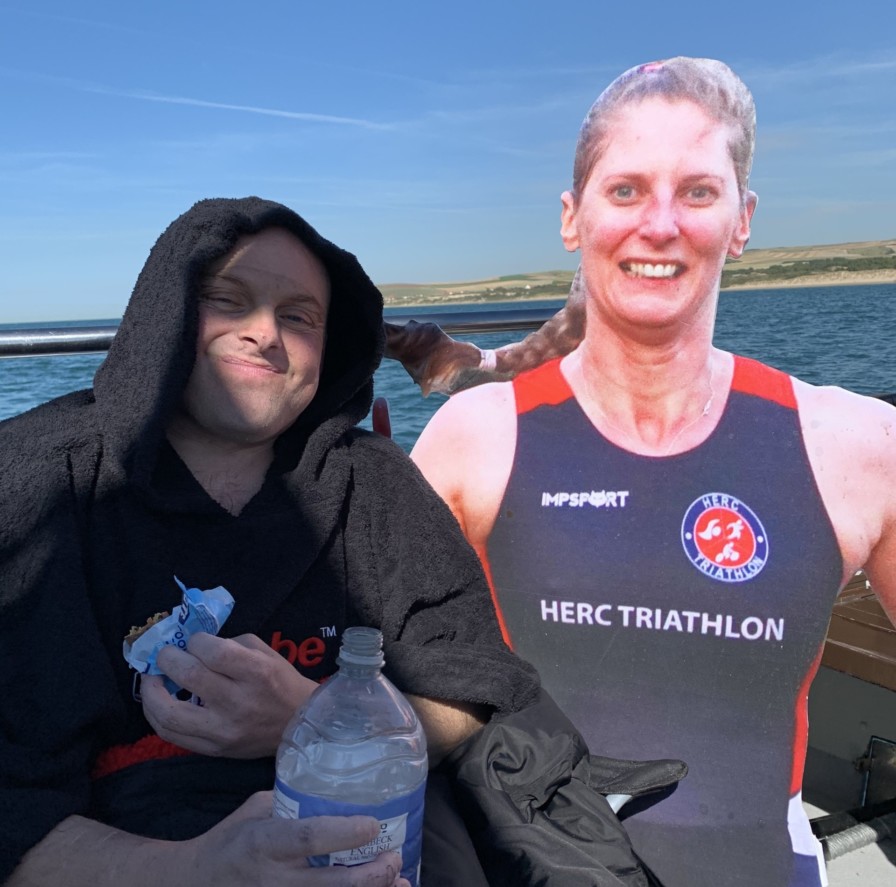 And on the way out the door of my TRI247.com column a final plug for the charities. Covid has been hard on all of us as athletes, but even harder on those who take care of and support those in need. If anyone has been inspired and can help, it would be much appreciated: https://uk.virginmoneygiving.com/RobbieMacNab1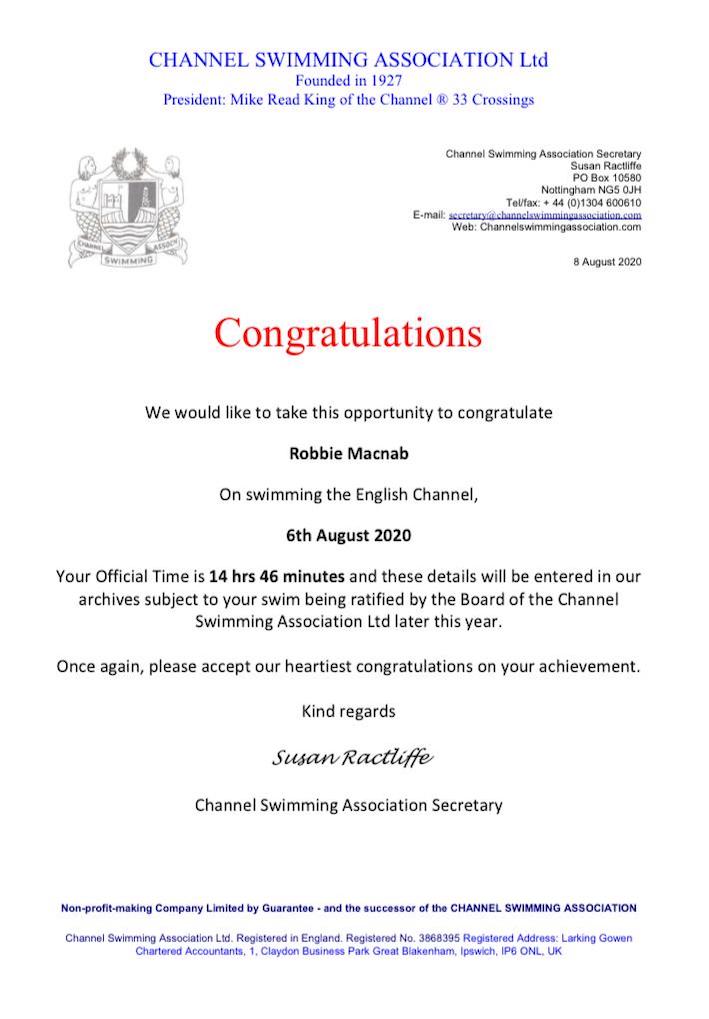 July/Aug Stats:
Swims: 16
Swim Distance (not including Channel): 67.4km
Dryland Swims: 3
Channel Swim: 1 (14h46m and 61.2km including tidal movement)
Bikes: 6
Runs: 6
Strength/Yoga and Stretching: 6
Robbie's Tip of the Month
I guess with any project you look at what you could have done better, done differently and with 2020 being as it is, there's probably too many things to mention and some of which would be out of my control. I think two easy things I could have changed even with lockdown would include flexibility work. I think this would have paid off during the rough start of the swim. The second thing would be to spend more time in the sea in the colder temperatures. There were definitely too many times I found an excuse not to do this, be it travel time, how busy it was timings etc., you really need that time in the sea for sure.
Robbie's Coaches Tip of the Month
Well this month, it is not so much a tip but a statement.
Firstly, on behalf of Tim and I, a huge congratulations to Robbie for his hard work and dedication. Completing a solo Channel swim is an immense accomplishment in any year. Tim often comments, that Channel Swimming is a professional sport done by amateurs and this is all too true. The time, dedication and commitment to train is huge, as well as the sacrifices that this brings in terms of social and even family time, not to mention the ability to treat yourself to a beer or two along the way. But in 2020, this feat is even more so. Covid-19 meant that Robbie lost two and a half months of any swimming, other than the dry land (which I know he loathed, as he loves the water like a fish… but he did them), and also the ability to put in pool sessions, working harder efforts easily to specific paces. That makes the accomplishment of Robbie and all those who finish, even more impressive.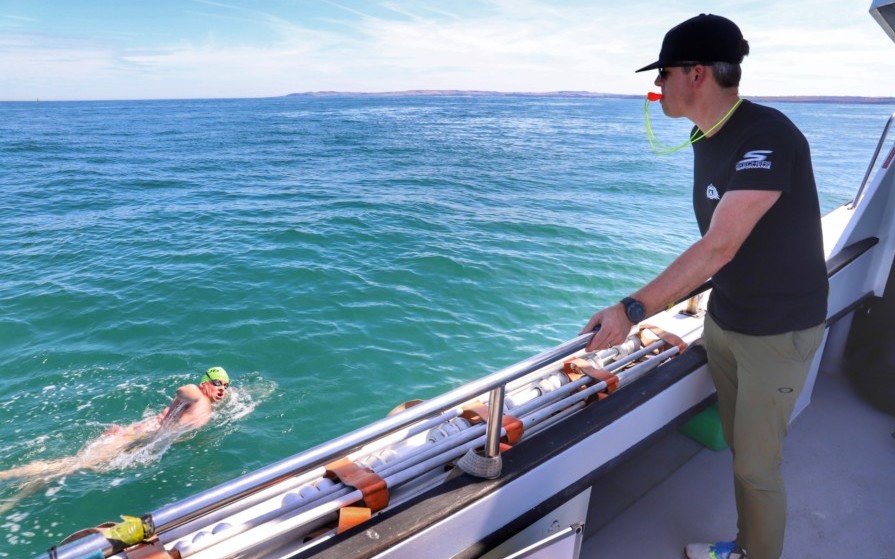 The perseverance and commitment of these athletes, to train even though they did not / don't know, for sure they will be able to even start a Channel attempt is a quality for all to aspire to. It also highlights that when doing these challenges, you need to find joy and reward in the process as well as the end outcome. The outcome can never be guaranteed with variables such as the weather or Covid to contend with.
This marks the end of Robbie's column as a swimmer but Tim, Robbie and I will be following up with one final piece next month. A triathletes road map to swimming the channel as a relay or solo…Lookout for it when it comes!