Alex Yee, winner of three of this season's WTCS races, goes into this week's Championship Finals in Abu Dhabi excited, focussed – and relaxed – as he seeks to round out a memorable season.
The clear priority for him in 2022 was the Commonwealth Games on home turf in Birmingham, which was ticked off in style with both individual and Mixed Team Relay gold medals.
We sat down with him to look ahead to Saturday's showdown in the UAE, reflect on the campaign as a whole and hear how he's continually looking to improve ahead of the Paris Olympics in 2024 in what he feels is a vintage time for the sport – across all distances.
Golden double
The Commonwealths saw him claim individual gold ahead of Hayden Wilde and Matt Hauser and then set Team England on their way to a dominant success in the Mixed Relay.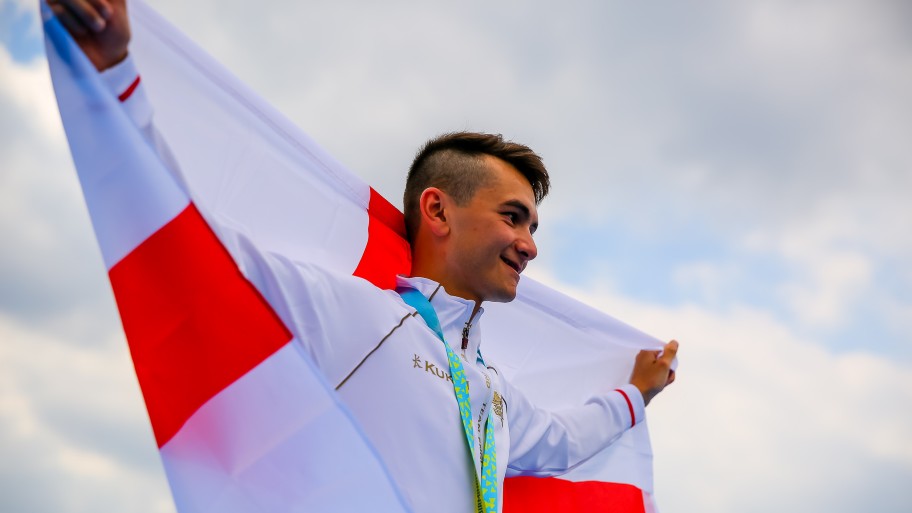 And even a few months on, it's clear how much that meant to him.
He explained: "The Commonwealth Games is probably the first time I've ever put an outcome goal on something. I really went in there wanting to win the event.
"I think that was especially important because last year with the Olympics in Tokyo, we didn't get an opportunity to race in front of loved ones, fans, or family. So for me, to be able to do that in a place that's just an hour away from where I live now was a bit of a fairytale.
"It was a no brainer to target that. And, yeah, it was amazing to be able to come away with two gold medals from there. And that kind of took the pressure off for the rest of the year.
"But more than that, having that huge focus on it has since allowed me to really delve into the specifics of what I'm doing and try and develop stuff in races and enjoy it as well."
Valuable lessons
He goes into the Abu Dhabi Finals very much in the mix after wins in Yokohama, Montreal and Cagliari – but with the overall title not in his own hands following that crash in Leeds and his fifth place last time out in Bermuda.
And it may come as a surprise to learn that his performance in Bermuda, in a race won by a resurgent Vincent Luis and featuring the WTCS return of Olympic and current World Champion Kristian Blummenfelt, is seen by Yee as potentially the most significant of his campaign.
He told us: "Though Bermuda probably on paper doesn't look like my best result, I think that's by far going to be the race I learned most about myself and about what I need to do and what I need to achieve during the winter to be competitive next year.
"And I think for me that's a positive because if you're having success at everything, then you're never going to develop and you're never going to grow. That was important and a nice reminder that there's still a long way to go.
I certainly still don't feel like a finished product.
"And I think that's kind of my big goal, to be able to be present at all three disciplines. So definitely a lot of work to go and that's really exciting."
Asked to expand, he adds: "I actually had really good start to my swim. I was kind of in the top 15, top 10 for three quarters of the first lap, which for me is really big. I probably can be there and do that hopefully for a bit longer in the future.
"And I got to experience certain things which I hadn't before, like coming off the bike and just being absolutely gassed and not really having anything – but to then work through those feelings, knowing that even if I do feel bad that I can kind of strip things back and be like, right, this is how I feel. And I kind of have a bit of a strategy to deal with it."
'Fired up and ready to go'
Yee battled to fifth in Bermuda, a spot ahead of Blummenfelt, and now it's all eyes on Abu Dhabi where he'll again take on the Norwegians who have swept all before them in longer course racing as well as great rival Wilde, a back-to-form Luis and many others on a stellar startlist.
So no wonder Yee says: "I'm excited. I think for me, it's just another opportunity to do what I've been training to do this year, which is execute my processes and be a better athlete than I have been on the start line before. I feel like I'm in a good position to do that.
"There are obviously some specifics towards Abu Dhabi with the heat and stuff, so I feel like we've prepared the best we can for that. I'm fired up and ready to go but we'll have to see what happens on the day."
Looking back at the rest of his WTCS season so far, it's clear that his victory in Cagliari last month, the scene of his horrific bike crash five years earlier, stands out.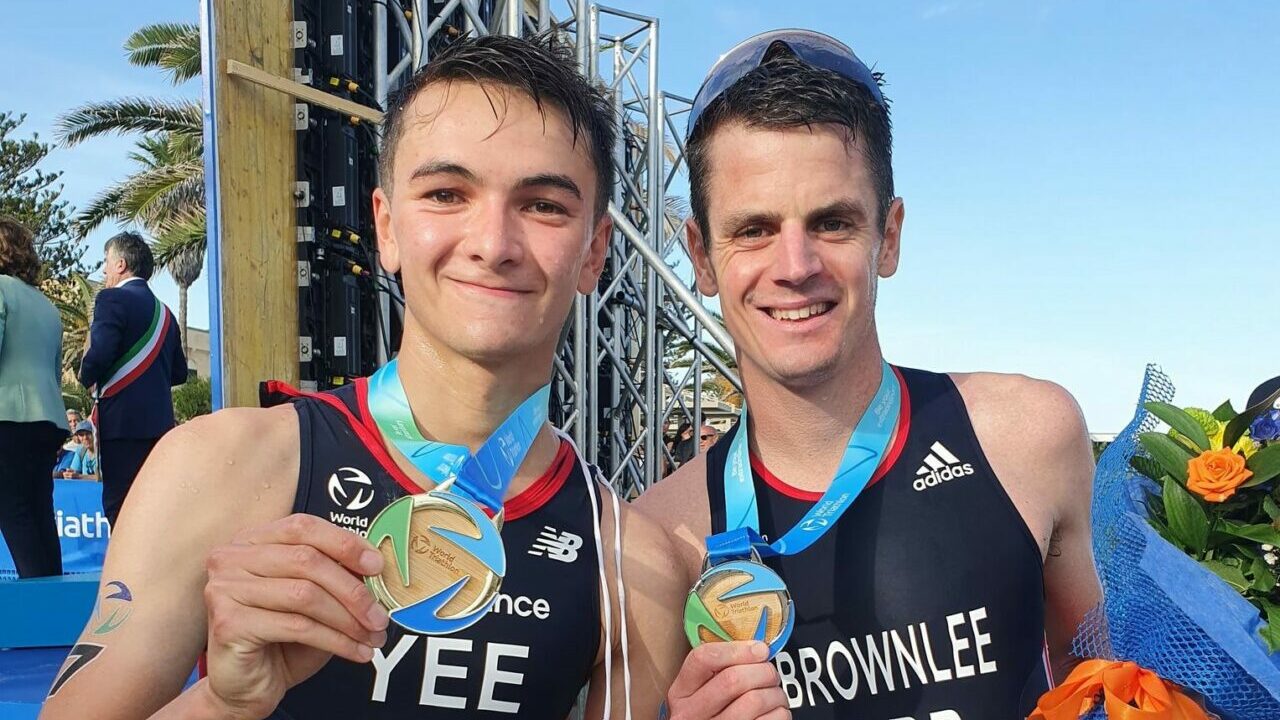 "That meant a lot to me. I think just given the situation and then to be able to stand on top of the podium there and just see lots of people who'd helped me along the way whilst I was there for a bit longer was really special."
All about progressing
But turning attention back to Saturday and Yee knows that beating Wilde won't be enough for the title, unless someone else beats the Kiwi too.
However, that doesn't appear to be causing any undue stress: "I'm not putting an outcome on the end of this year. I think for me, I want to race as well as I can and at the end of the day, even if I have the best race in the world, I still might not win the World Championships.
"And that's okay. But I would absolutely love to achieve it. I grew up watching the likes of Alistair, Jonny and Javier win World Championships and World Series races."
The Brownlees, Gomez and co are a legendary cast list but Yee also feels the current generation is pretty special too, adding: "I think we're part of quite a historic time with this. There's probably 15 guys that could win the Grand Final, which is ridiculous.
"So for us, that's really exciting to be a part of, and I think it's only a good thing for the sport. And it also means that races aren't predictable and you never know what's going to happen.
"And for us, truly to be the best athlete, you have to be able to race under any race circumstance and any outcomes. That's exciting and keeps us developing and evolving and hopefully will push us to be better. And I think that's always something which I appreciate because at the end of the day, I just want to be the best athlete I can be and those guys are pushing me to be better and I think that's really cool."
Putting everything in perspective
We'll be hearing more from Alex in the coming weeks, including his thoughts on that enduring rivalry with Wilde: "I think that friendship does trickle across to the race course," he says, perhaps in reference to that water bottle handover in Yokohama which went viral on social media.
We'll also find out why he hasn't been surprised at all by the Norwegian success in 2022 and why it's led to him being more engaged than ever by longer course racing. Asked whether it's something he might consider himself in the future he replied: "I haven't got a TT bike yet, so I'm a long way behind, put it that way!"
And we'll go into detail about the areas he's looking to work on over the next couple of seasons as he aims to make that move up to the very top step of the individual Olympic podium.
But for now his thoughts are very much in the present and with one man who sadly won't be on the start line in Abu Dhabi this week and instead has a very different battle to fight – George Peasgood.
"George is a very close friend of mine," says Alex. "We do a lot of training here in Loughborough and he was one of the first people to really welcome me into the community when I moved here.
"It goes without saying to say we were all devastated to hear what happened and it just doesn't seem very fair and right, but he is a very strong character.
"You have to focus on the recovery side of things for him and I'll be there as much as I can to support him. I wore him on my suit for Bermuda, and he's very much in my thoughts and I think in everyone's thoughts within British Triathlon and the whole triathlon community."