Team Jenkins (Jinx Sport) Monthly Column – June 2020
Let the E-Racing begin!!!
ITU Triathlon World Champion in 2008 and 2011, Helen Jenkins has also represented Great Britain at the last three Olympic Games.
Since then, she's had a child (Mali), had to go through major spinal fusion surgery (2018), and in 2019 she and her husband, coach and Olympian himself, Marc Jenkins, welcomed their second child (Max) into the world. Family life, time to move on, racing days over and time to reflect back on a great career? Absolutely not! Helen returned to racing in February at IRONMAN 70.3 Dubai.
Each Month, Helen and Marc will give us their separate and individual takes on the past month, as they strive for their next success in the sport they love.
Here's their latest update, which covers the month of June 2020, when lockdown has been eased… a little.
You can find previous updates here:
Aug 2019 | Sept 2019 | Oct 2019 | Nov 2019) | Dec 2019 | Jan 2020 | Feb 2020 | Mar 2020 | Apr 2020 | May 2020
Helen Jenkins
It has taken me so long to get started on this blog; June has been an up and down month and I didn't know where to start.
Let's start with exciting stuff… racing! E-racing to be precise. It was fun to line up with a small but extremely talented bunch of women for the Super League (www.superleaguetriathlon.com) series of racing. It obviously isn't like a normal triathlon race in real life, no swim or run, but the pre-race nerves were still there. The races were at 7pm in the evening, so I managed to do some of the kids' bed and bath time routine before the race, not something I'd ever manage in a regular race!
I have raced a bit on Zwift before and know how crucial the start is – go hard or be dropped straight away, I knew that – but a few minutes into the race, I was seriously wondering if the pace would ever settle. I got into it, and although I didn't manage to stay with the top women, I was happy with my effort and the power I held for the race. I ended up with an eighth place in both Super League races.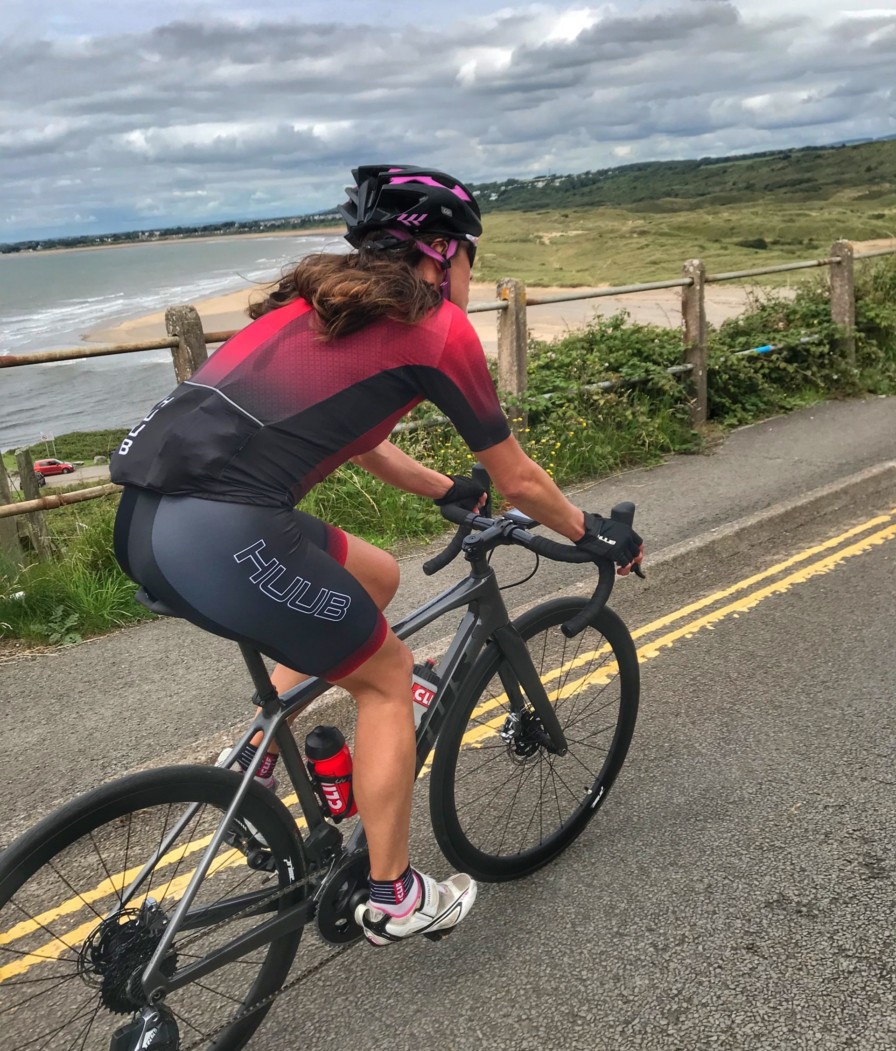 I find these races to be a fab training tool. I can be a bit of a numbers geek, I like looking at the watts etc, but it's so important not to fixate on them. It is not real life racing on the road, there are so many other factors that come in to play on race day. So whilst I enjoy it and do spend the majority on my rides inside now, partly because it's time efficient with two kids, it's important not to let the numbers dictate all training. I am a big believer in doing some of runs and rides without using the GPS functions, just by time and feel. I roughly know the time of a particular loop so who cares if it's a bit slower or faster one day.
The downside of June was not as much running as I'd hoped. After my back surgery I wasn't sure if I'd ever compete again and I feel extremely lucky to have been able to make a return to competitive triathlon. But, there are still a few unknowns with my back and this month I have had to bring the running levels rights down.
Thankfully all seems better now, but it's is a reminder for me that there are going to be ups and downs and keep doing the important things that keep my body working well. Carrying round a clingy one year old on my hip really doesn't help matters! There isn't too much I can do about that, other than keep strong and try to carry him correctly.
The kids have both had a good month. The easing of lockdown a little in Wales to allow us to meet friends and families more easily has been a welcome change. We were able to get to the beach! The car park has been shut for ages and not within walking range for us, so I was able to get some sea swimming done and the kids could play in the sand. Such small things that would normally be part of our everyday seem so special! It really makes you appreciate what you normally have. Parks open in Wales soon and I can't wait for Max to have his first time on the swings and slides, he was too young before lockdown to really appreciate it!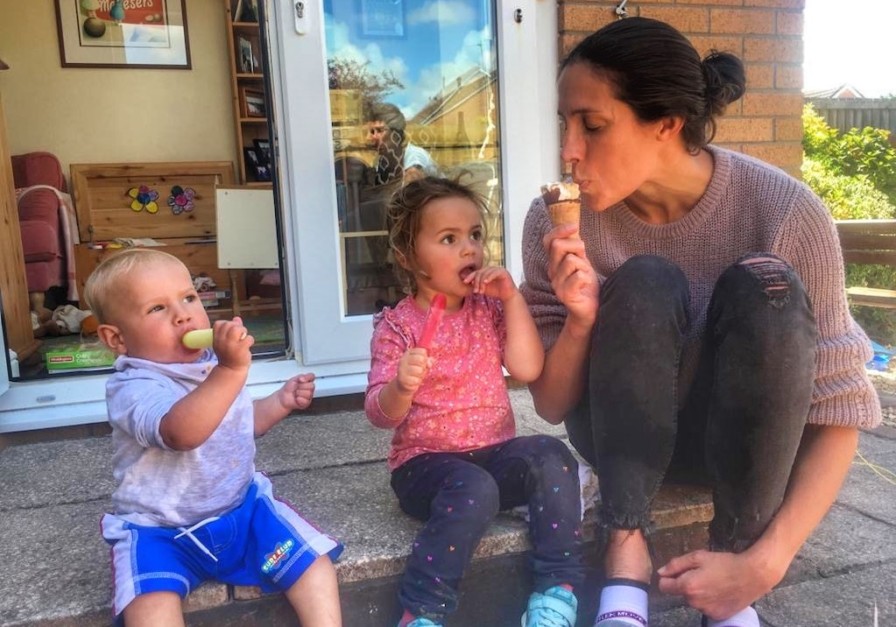 Hope everyone is staying safe. I'll try and update a bit earlier next month!
Marc Jenkins
June has been pretty much more of the same in this strange situation. Helen has been doing a bit more training so that's meant more daddy time with kids, but they are fun so never a problem. We have spent more time at the beach and at the local fields as Mali just loves to run while Max tries chasing the birds.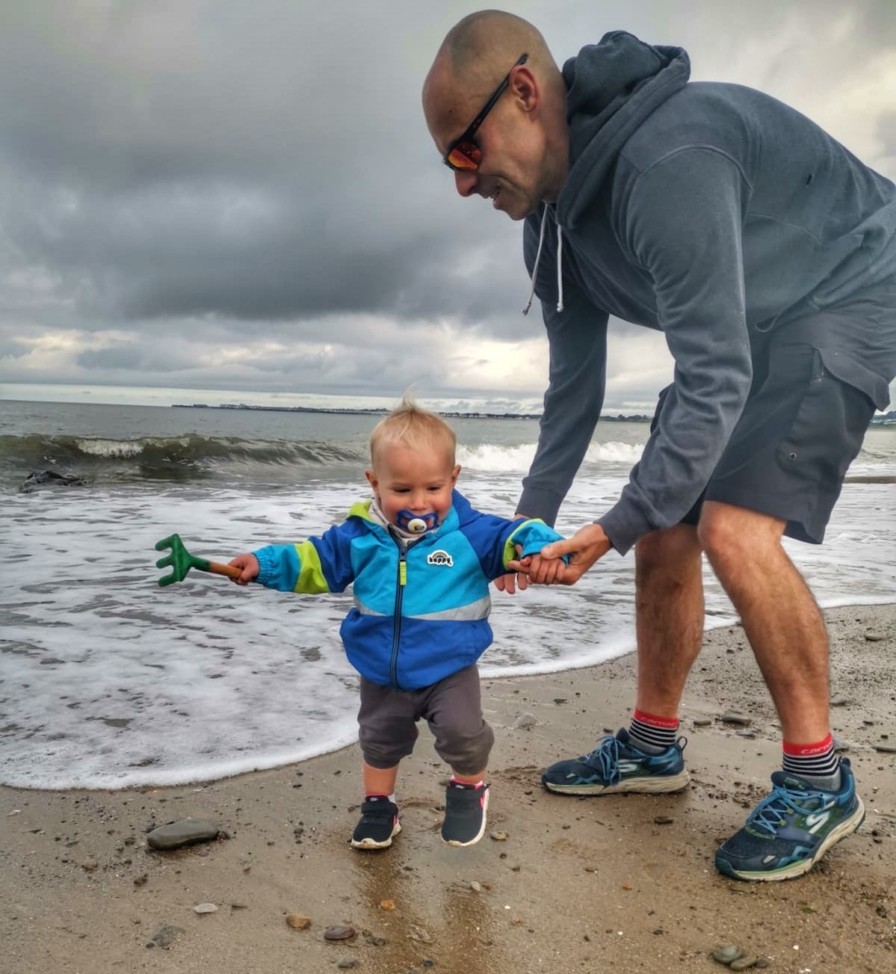 Fortunately, a few things relaxed in June and we were able to get to the sea a bit more and do some swimming – we even had a few days of good surf so that was fun. Given the choice, that's what I would spend most time doing. While training has been the focus of our lives, both Helen and I love to be in the sea and we will probably spend more and more time in the surf over the next few years. We hope the kids enjoy spending time with us in there too, but that's up to them.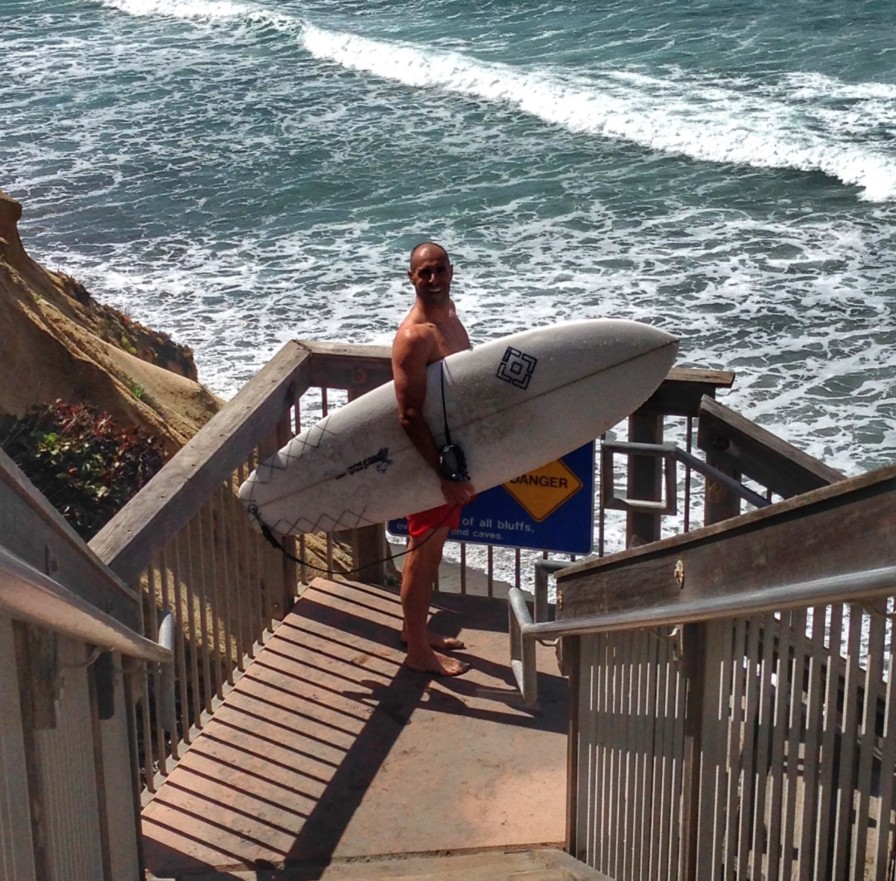 While Helen has picked up her training and is getting fitter she has also been doing some racing. Primarily Helen has still been doing most of her training indoors and rather than 'just riding' on Zwift, she has been favouring group rides, races or sessions to make the time go quicker. This has meant she is training a bit harder than she normally would and we've seen she isn't able to hit the high end power she normally would in specific sessions, but that's the price to pay for training solid all the time rather than hitting the hard sessions well and not pushing too hard in others. With no real world racing coming up we aren't worried about that and if there is an easier way to pass the time, then great. We've been comparing the Stages power meter on her bike and that on Zwift and they seem to be really close. Power starts off higher on Zwift than I see on the Stages Dash, but in the end it's almost identical.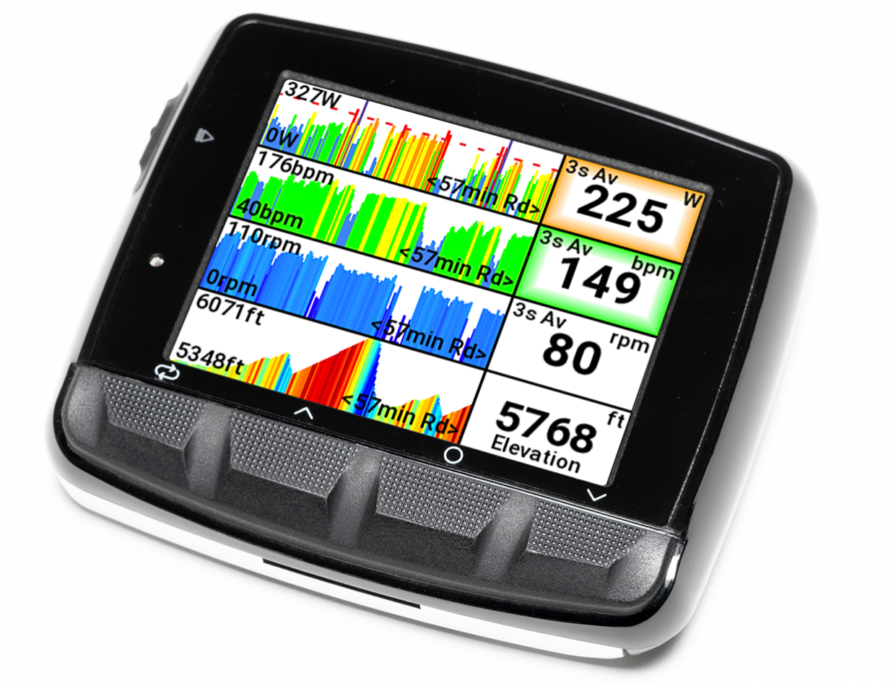 It's good to have a comparison as Helen likes to know she isn't cheating herself with a set up that is reading above where she really is. When Helen does have a race focus again, we will make sure we dial back the conditioning rides of the week so she isn't coming off them with too much fatigue and gives her more opportunity to get the most out of the more specific race pace and above type sessions.
The back has been a bit grumpy of late so running has been limited but Helen has replaced running with the cross trainer for a while. It's good to make gains where you can if there is a discipline you can't do and the cross trainer we have is a very similar action to running.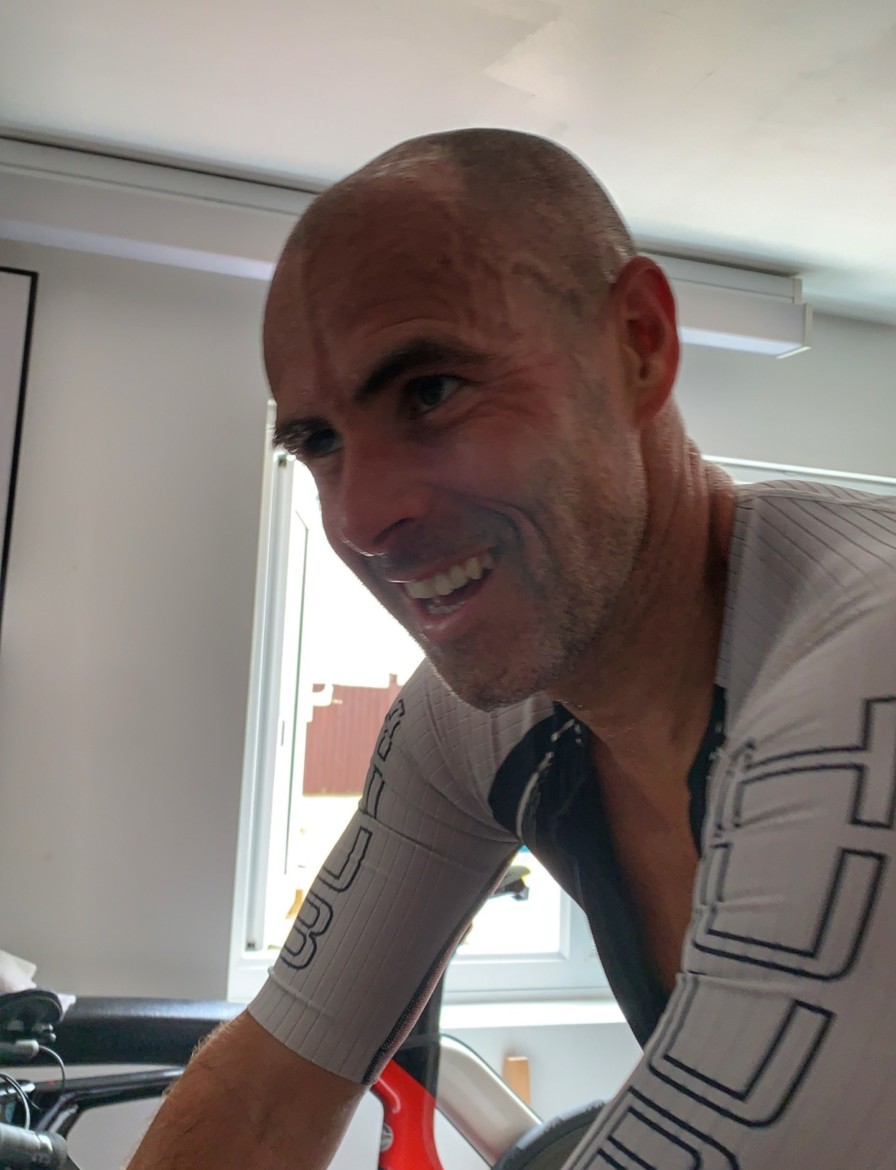 Over the past few weeks our Physiologist and long-time training partner Rhys Jones and us have been chatting about why we still do the sport, what we get from it, what drives us, what we are passionate about and why we still put ourselves through hard training every day. Rhys and I are looking at how we can add value to others with similar mindsets to us and help others achieve their goals using the same philosophies and principles that have helped us stay motivated and get getter. I will hopefully have some news to share on this front soon.
Also, as it seems like some kind of normality is returning. Hopefully we move away from lockdown never to be seen again but I'm not convinced that is going to be the case. Hope everyone in England has had a chance to enjoy, or at least think about enjoying, a night out.
Best Wishes everyone, time to ride outside for a change… we have child care for the day!
JINX
Marc's Coaching Tips of the month
Try and schedule in rest. It's better to take a break before your body forces it. During lockdown, some of my athletes have trained great and wanted to "crack on" once the rest was scheduled in…. it was needed!
Often when you are pushing for a goal, it's hard to go as easy as you need to on the bike. If you are in a hard block of training and really trying to hit some good quality work, then the easier, lower intensity rides should be exactly that. If you know what your Power is at first threshold then it's great to be able to stay below that on easy rides. It's one of the best uses of the Stages Dash and cranks to monitor the easy rides on the road so you don't push too hard so then…. Much more chance of nailing that hard session and getting the higher power out.
Programs need to be flexible, fatigue always catches up with athletes so it's knowing what's achievable. Some days if you can't hit it and the effort level you feel to get even close to your normal power is way too high, that's an easy way of knowing you are tired. It's good to know when to push through it and when you just can't and need to rest.
We are currently mixing our week up with hard sessions eg 6 x 3/5min reps at 110%- 120% FTP (vo2 max area).
Combine that with work at LT2 so 95/105 % ftp and work at LT1 65/80% makes for an effective plan. (Values based on FTP vary – we base all our power data off of a lactic profile)