The secret is finally out – Great Britain's Kat Matthews will replace the injured Lucy Charles-Barclay in early June for the Pho3nix Foundation Sub7Sub8 Project.
First announced back in January 2021 and taking inspiration from the likes of Breaking2 and the INEOS 1:59 initiatives of Eliud Kipchoge, the Sub7Sub8 project will see two men and two women try to break the seven and eight-hour markets respectively, for the iron-distance of a 3.8km swim / 180km bike / 42.2km run.
Olympic champions Alistair Brownlee (2012 / 2016) and Kristian Blummenfelt (2020) will go head-to-head under the adapted rules of the project in a bid to break the seven-hour mark, while the Sub8 attempt was due to see a clash of generations between reigning IRONMAN 70.3 World Champion Charles-Barclay and Swiss legend Nicola Spirig.
The recent news that Lucy would be out of action for several months – including missing the IRONMAN World Championship, Sub8 and more – left a big hole in the plans for the women's side of the attempt. It hasn't been plain sailing for Spirig either, who broke a collarbone and two ribs during a training ride in early February.
With Wednesday's news, organisers have reacted quickly to ensure that there will indeed be a race and not just a time trial when the event takes place over the weekend of 5-6 June 2022 at the Dekra Lausitzring motor racing circuit near Dresden in Germany.
Rapid progress for Matthews
The progress of Matthews in the sport has been rapid – and one we have followed pretty much from the outset.
Back in 2019, shortly after being announced as a new member of the high-profile amateur squad, Team Freespeed, Kat (under her maiden name of Kat Rye at the time) performed so well at Challenge Gran Canaria as an age-group athlete that only race winner Emma Pallant was quicker.
Less than two months later she was finishing third in the Pro ranks at IRONMAN 70.3 Staffordshire and shortly afterwards we got to use the 'Top Kat' headline as she became the ETU's Middle Distance Triathlon European Champion.
Even a global pandemic barely stopped that rapid rate of progression. Now a core member of the international BMC Pro Triathlon Team, she's a multiple IRONMAN champion, a winning member of the 2021 Team Europe Collins Cup squad and she finished last season with a fourth-place finish at the IRONMAN 70.3 World Championship.
Before she had even raced in 2022, we had included Kat in a very exclusive list of potential winners of that IRONMAN World Championship in St George next month. That could have been perceived as somewhat optimistic or through Union Jack-tinted lenses… but her race at IRONMAN 70.3 Lanzarote, perhaps the performance of the year so far, seemingly backs up the thought we put into that assessment.
Kat's Sub8 prospects
Clearly, the organisers of the Sub8 project have a similar belief in what Matthews could achieve in the sport.
It is quite clear that the strengths of the British star are on dry land. While she will certainly be many minutes behind the pace of a Lucy Charles-Barclay after the opening swim, there is reason to believe that she has some specific skills to succeed in this challenge.
During the lockdown-restricted racing season of 2020, Matthews included the National 100-mile Time Trial Championships in her schedule when options were limited. That was an event she won by more than six minutes. If she can apply that to what will effectively be a Team Time Trial format (with pacers allowed under the Sub8 rules), then Matthews has the capacity and mentality to excel in the relatively distraction-free surroundings of the closed-roads racing circuit venue.
I would also consider the military mindset of Matthews as a huge asset here. Coming into the project late will mean a significant degree of catch-up in terms of logistics, but Kat – a Physiotherapist Officer in the Royal Army Medical Corps – has spent many years in an environment where logistics and planning become second nature.
She will no doubt also be able to call upon the trusted support of husband Mark (a distinguished age-group triathlete and military man himself), alongside her coaches and the support of the BMC Pro Triathlon Team.
'Team Matthews', from our experience, will not have accepted this position without considerable thought.
Matthews is confident of success
Kat is full of admiration for the athlete she will be up against in Germany, "Nicola's accolades in the sport over the last 25 years puts her as a legitimate candidate as the sport's Greatest Of All Time across both male and female athletes. To race against Nicola here is truly a once-in-a-lifetime opportunity. I hope to be a worthy contender."
While recognising the magnitude of Spirig's achievements, she had no doubts about her ability to compete and achieve the Sub8 target. Speaking to Mark Threlfall today on GTN, she said, "I'm actually really confident. I know it will be a hard endeavour, but I think drawing together the strengths of other people in the team, I'm really confident of my own ability in the run element, but the swim and bike, I have absolute trust in the team and I think we are going to do it."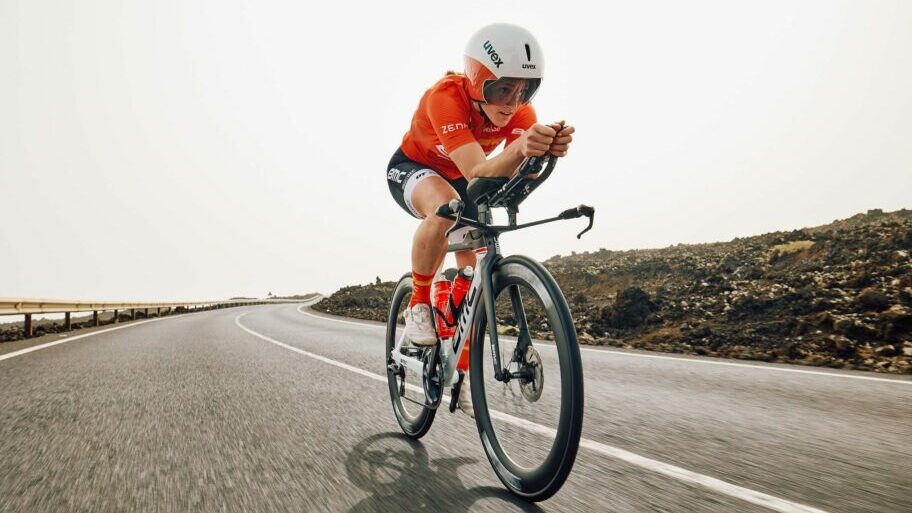 Pho3nix Foundation board member and MANA Global CEO Chris McCormack says, "Kat is a world-class athlete I've watched with much interest over the past few years. Getting herself and her 'tribe' of pacemakers together in such a short time frame is no mean feat, but she came ready and prepared. Kat has had a long-term alignment with the Sub8 Project: she was in early discussions with Lucy as part of her team and has also been engaged in a heavy training block with many of the pacemakers over the past six months. This made for a perfect transition into the lead racing role. With Kat's cerebral and disciplined approach to the sport I'm excited to see how she will tackle the puzzle that is Sub8 and the new race strategy she will bring in her pursuit to be the first to Defy the Impossible."