A week on from the exciting events in Ibiza, where we saw Anne Haug and Max Neumann take top honours at the PTO European Open, what's up next for RaceRanger?
The drafting-detection technology was implemented in the top tier of racing for both the PTO event and last Sunday's World Triathlon Long Distance Championships.
We've been following closely the development of this system in recent months, and sat down with Co-Founder, James Elvery, to get the latest news on the back of that huge Ibiza weekend.
How was drafting tech used in Ibiza?
In both events, the system operated in a simple 'lights guidance' mode. The lights on each rear device changed colour depending on the distance to the closest following rider, and this is visible to both the athletes and the technical officials.
"The way we've been explaining its application is that in the past officials used what they see in front of them, judging the distance with the naked eye, but also assessing the dynamic racing situation, the environment they are passing through, and their experience, to make their drafting determinations. Now, with RaceRanger they just have one more piece of information to aid them in arriving at their decisions. So, importantly, if an athlete drifts into the draft zone, it doesn't mean they are immediately going to get a penalty if they don't complete a pass."
"The other point that has come up around interpretation or application is slotting in. Currently an athlete can only slot into a paceline if the gaps are bigger than the legal limit. But with RaceRanger, every athlete is able to ride at just beyond the legal limit. It's no longer possible to be right on the limit, it's too clear now. You are either in or out, and it's quite black and white, or in this case red or blue. But this could be problematic, because if every light is blue, technically there's some real estate to slot into.
"Our advice to officials is to advise athletes that if there's a blue light (0-2m outside the zone) you see, that's not a gap you can slot into. You should only slot in when it is an orange light (2m-5m outside zone) or there is no light (beyond 5m outside zone)"
Ibiza done… but will PTO adopt moving forward?
The first topic we wanted to clarify was around the PTO race in Spain. Pre-event, we'd seen mention of RaceRanger being part of the World Triathlon plan, but were pleasantly surprised when we saw athlete interviews in race week, referencing the tech. Was this a late addition?
"I think understandably the PTO didn't really want to jump up and down about it pre-race [Ed. publicly], because they'd had some problems with technology being used for the first time in the past. It was actually confirmed about three or four weeks out, that it made sense because we were at the World Triathlon event, that they would also use it.
"At this point we don't have any confirmation that it's going to be used from here on at this stage, but we are definitely ready for them to use it in Singapore and Milwaukee if they would like us to be there. I imagine they will take a moment to evaluate how the weekend in Ibiza went. I'm off to another race, the TradeInn 140.6 Spanish Long Distance Champs, this weekend in a pace called Platja d'Aro – which is on the coast not too far from where Girona is – then heading home to New Zealand on Monday."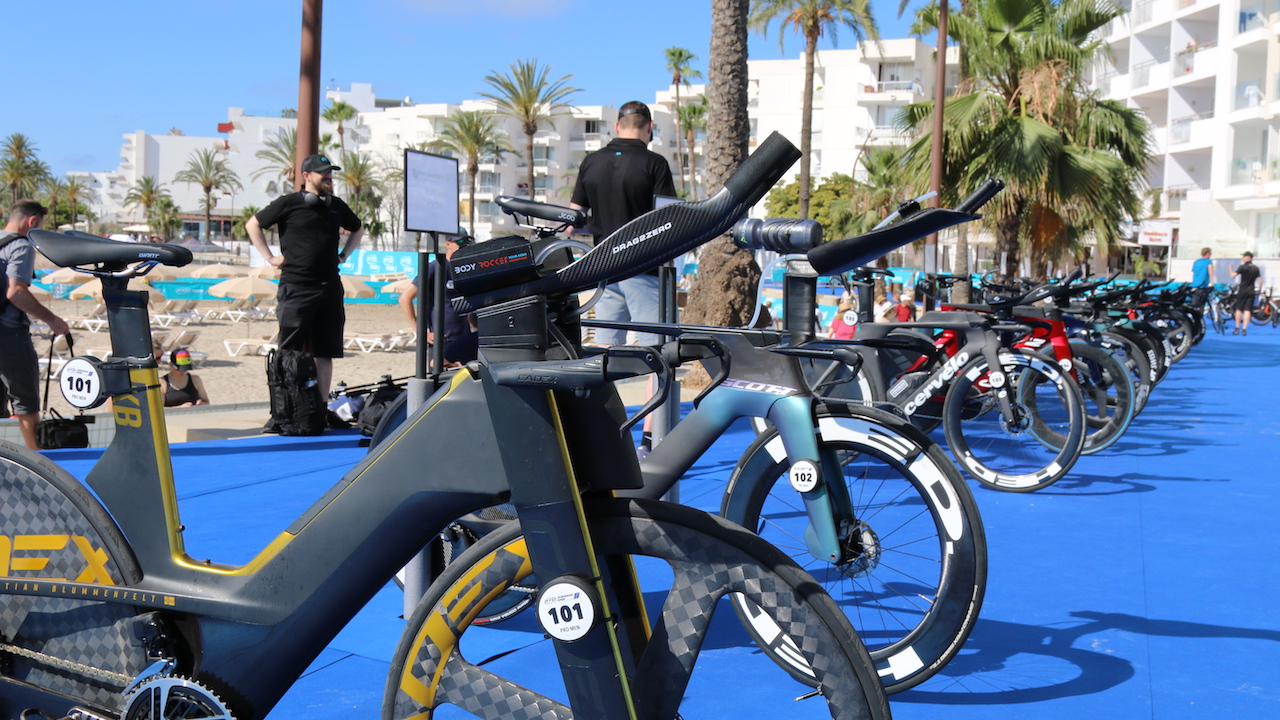 Progress made, developments to come
Having only had its first competition test in January this year at the Tauranga Half in New Zealand, there had already been significant athlete praise post Challenge Wanaka a few weeks later. Stepping up in profile so quickly is impressive, but James also highlighted some of the areas in which there would be further improvements to come too.
"In terms of performance over the weekend, when we found out there were tunnels on the course we had a bit of sigh as we knew it probably wouldn't work in there, but we hadn't really tested it. We kind of do have a plan to make it work in tunnels, but we haven't had time to implement it yet. It's a shame as the lights would have shown up really nicely on the broadcast in the tunnels!
"GPS satellites send a time pulse, as well as your position information, and this time pulse is really accurate to a high degree of precision.
"Every unit is basically waiting for that time pulse and resetting their clock every couple of seconds to this very accurate time reference, so if that is lost after a few seconds due to natural variances in the clocks between the units, they start to drift apart from each other. The fronts and the rears sort of tell each other exactly to the microsecond (0.000001 secs) – that 'hey I'm going to send you a message at this exact moment in the future, listen out for it send me one back'. If the timings are significantly out of that, the messages just don't get through. We saw that in the middle of the tunnel.
"Our plan to get around that is to just create an artificial reference. If we know there is a tunnel coming, we can nominate one of the units to become the reference that sends out the pulse that all of the others sync to for the duration of the tunnel, or the GPS loss situation through mountains or whatever."
Jan Frodeno is widely regarded as the GOAT, but in this instance, his RaceRanger set-up was the one which didn't go to plan.
"Unfortunately Jan's didn't work – it appears as if his rear unit bricked itself in some way and got stuck with an orange light on for most of the race. This would probably have also affected what he was seeing in front of hm on the back of athletes he was following as they work as a system. That's a bit of a puzzle still as we haven't seen it before.
"We don't have onboard data-logging going at the moment. We can listen to the messages when we are around them, but not when they are out on the course as yet, so we are going to do some digging to find out what that is. For now, we'll set that set aside and maybe they will be forever Jan's special set!"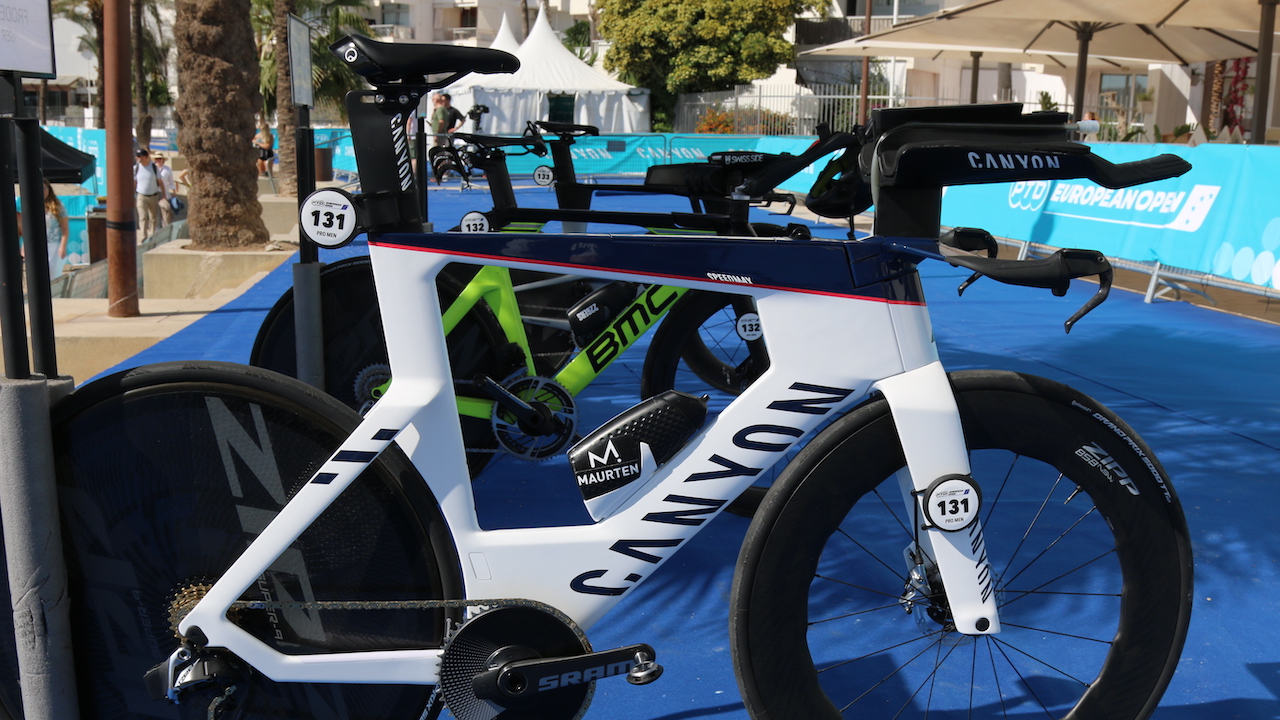 Logistics and learning
"Those aside, it was obviously a logistical challenge firstly airfreighting all our gear with Lithium batteries inside them from New Zealand to Europe, and then the events themselves being on a larger scale. We went from 30 athletes to about 56 I think on the Saturday, and then turning that around in the afternoon for another 65 athletes on the Sunday. So whipping the bulk of those units off, recharging and reprogramming, and then putting them on late Saturday for the World Triathlon bike racking. I beefed up my team for the weekend to what we would normally have, there were five of us there and it went really well.
"We had a great time, and a lot of great feedback from the athletes. The 20 metres is still not perfect all of the time [Ed. Drafting distance was 20-metres on Saturday, 12-metres on Sunday]. We figured out what's happening there is due to the way that the antennae is positioned, it's highly directional. The way we had it was actually the worst orientation on the front unit for good reception. We hadn't actually noticed this until about February because it was great still at that 12-17 metres range, where most of our testing has been done, so we didn't have a problem.
"We've figured out what the optimal orientation is, and with the hardware we have currently we can bake it better but can't quite get it to the perfect position. So, we basically had the front units on the right hand side of the bike for the PTO race, and the left hand side for the World Triathlon race, and this gave us the best performance we could get with the hardware as it currently is. A couple of the PTO athletes mentioned that they thought it was a little bit slow when they were dropping back especially, to go through the light colours, so it's still work-in-progress on that one, but most of the time it was pretty good, certainly at the important 20m threshold, and we were happy with that."
It fits!
"Happily we haven't had any bike that we couldn't mount on at all to date. There's been a couple where we didn't think that performance would be as good as it could be, because the unit was sitting a little bit below the tyre, or jammed underneath a drink bottle. The main issue is with the smallest ladies, where the saddle is low and there's not much mount space to begin with, and then they also mount a rear bottle that's super low as well.
"We've actually been sending out a leaflet to athletes, asking them to leave some space free. I think this is something going forwards that the athletes will have to adapt to a little bit. There are a multitude of different mounting systems, just a few adjustments for them to get a handle on. Ideally they would have a couple of months warning ahead of their event to be able to make any necessary adjustments.
"The Cervelo PX, the beam bike, if you get this kind of bike with very little seat post and a bottle hanging down as well, it can be a tricky issue as well, it can be a tricky issue as there's no seat-tube to mount to. We've had a couple of those now and and they've been ok – i've actually got some mouldable plastic that you can put into hot water and make things, like a prosthetic – but I haven't had to open the packet yet!"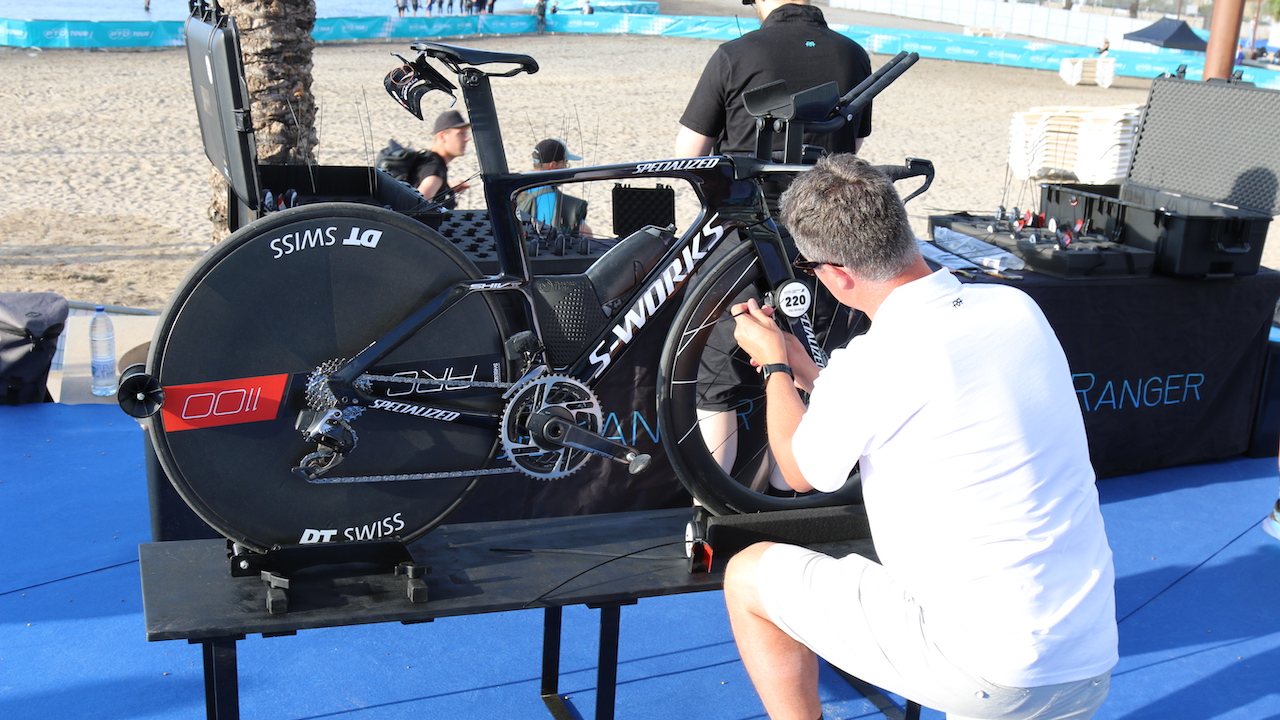 Any penalties in Ibiza?
Neil Armstrong was first on the moon, Kevin Moran was the first FA Cup final red card… but who will receive the first RaceRanger-assisted penalty? So far, the tech is seemingly changing the racing for the better, and that 'honour' awaits.
"No, no penalties issued yet.
"What we are hearing is that the gaps are a lot more consistent, and that athletes are generally happy that the people around them aren't pushing the limit. There were a couple of comments that people would still push it if there are no referees around and take those chances, but that's given us good motivation to keep going with that next connection to the referee, so that they can be seen wherever they are and you don't know when you are being watched, basically.
"At the pointy end on the broadcast you see that they are very, very evenly spaced. Even on those sections with lots of roundabouts, it was quite striking to me how evenly spaced they were and the guys and girls were sticking to it, and they were pretty complimentary about that.
"I started watching the replay of the PTO race last night, and there's one point where every single split down the leaderboard was two to three seconds apart. That's quite cool.
"The no penalties thing I think should be seen as a real positive. You ride along and see a light that shows you are not-drafting. The referee sees the same light – there's zero arguments. Hopefully instead of that moment of fear and uncertainty, now there's just a knowing no of thumbs-up and a smile between athletes and officials. I think it's going to be quite rare to get penalties, unless you are pushing the limits or don't think you'll be spotted and riding in the red."
Paris 2024 calling?
Could RaceRanger be at Paris 2024? The Olympic Games, of course, features draft-legal racing and thus the technology is not required. However, that's not the only global event happening in the French capital next year.
"World Triathlon are interested in using RaceRanger in Paris next year, for the Paratriathlon at the Paralympics. To make that happen there's a process to get included in the rules this year. That's probably our main focus for the rest of the year, getting that rubber-stamped, and into the World Triathlon competition rulebook. That will then help in getting a good number of races on board for 2024.
"This year's events got confirmed quite late, as it was only at the start of April before we could say yes, it's ready. A lot of events are in June, so it's quite late for those events to finds extra funds in their budgets to have us there for this year. It was just too late coming out of COVID, so we've got time to get ready for next year and book a full season and really make it happen in 2024."
If the Paralympic Games gets the green light, that would be a significant coup for RaceRanger. Of course, it also means lots of work in advance to make that happen.
"I'll be leaving 60 sets in storage in Europe on Sunday so we don't have to ship them back for Paris or other events that pop up. Pontevedra is the Grand Final for Para as well, so that's another one we want to be ready for."
Despite a date clash, James already has a plan in place, if the call comes in from PTO HQ:.
"Singapore (PTO) would be the same weekend as the Paris Para Test Event if that happens, so we are taking 30 sets back to New Zealand in case we need those to go to Singapore. So Matt, my engineer, and Dylan [Ed. RaceRanger co-founder, Dylan McNeice] would do that event, and I would come to Paris. It's going to be nice to have some quiet time actually for the next couple of months at least.
"This year has just gone so fast. I can't believe it's the middle of May, and my whole summer at home in New Zealand has gone! It's been getting to events, fixing, getting to the next events, fixing… it'll be nice to finally tidy up a few things that were rushed in terms of the code. A lot of non-mission critical pieces that do need to get done eventually. We are also wrapping up some fund-raising which we are trying to close out at the moment.
"It's all looking good, Ibiza was about as high of a competition level as you could hope for, outside of an Olympic Games. We just need to keep the momentum going now and get a bunch more events on board for 2024."
What's next?
"Pending the fund-raise, one of the first things we want to do is add on-board logging of data. A lot of people are asking if they can access that info after the race, and we see that being important stuff to gather anyway down the track. We are going to activate that in the devices and get that going in the coming weeks.
"The live-tracking part is actually not that hard to do as I understand it. The messages the devices are already sending to each other just need to be captured by listening stations along the road with quite simple hardware, with some large antennae and a decent-sized battery. The infrastructure that captures that also goes onto the motorbikes to capture the drafting information and display it to the officials."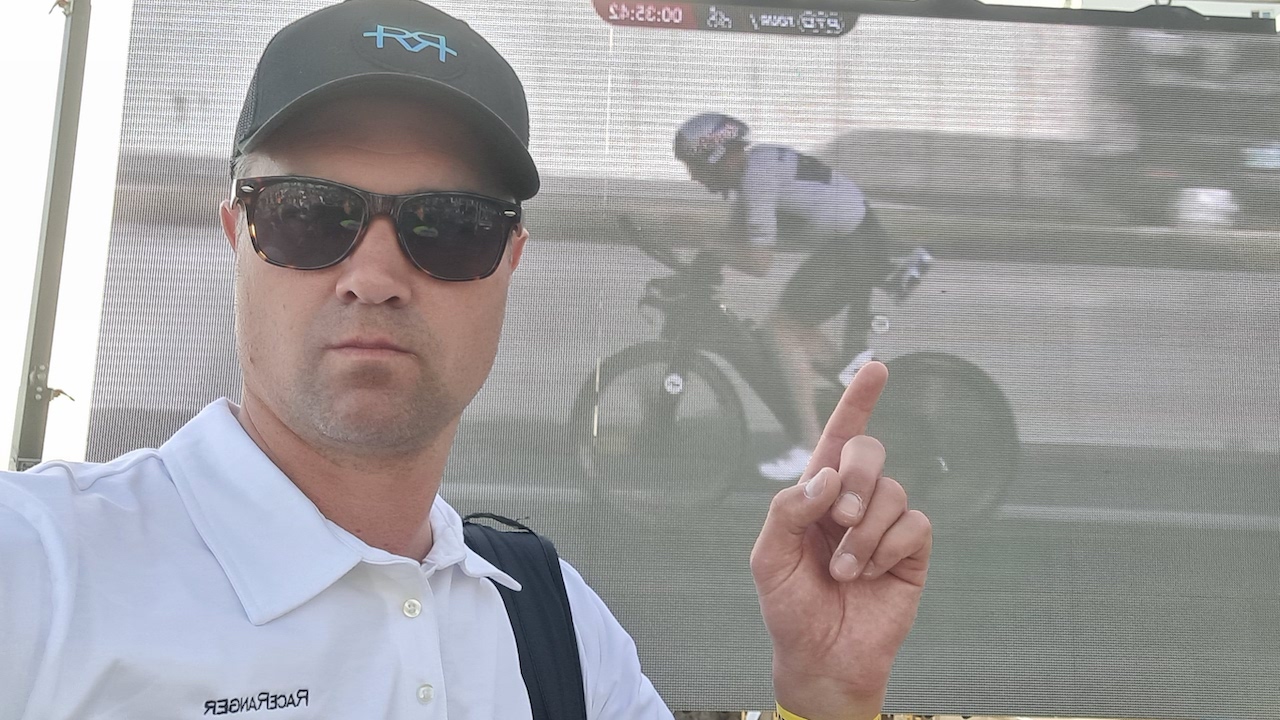 Pro Cycling next?
One of the questions many have raised around RaceRanger, separate from the product itself, is how the business element can work and be scaleable. Finding new markets then can provide new opportunities, and triathlon is not the only scenario in which the work done to date can potentially be utilised.
"In start-ups there is a saying; 'Do things that don't scale' (Paul Graham). The idea is to take a known and painful problem, and find a solution in a way that gets you as close as possible to the user / customer, so that you iterate and learn along the way, and the solution you ultimately create is as fit for purpose and delightful to the user as possible. Once you have that fit, you can then find a way to make it scalable.
"The other project we are going to attack pretty soon is the motorbike drafting, particularly in pro cycling. We think that what we have, in terms of the hardware in hand right now, we are pretty much 80% there to having a solution for that problem as well.
"Particularly in cycling, there are so many motos on the course, they are influencing the race by helping open gaps, closing gaps and just generally creating a lot of draft, which gets talked about a lot. If you put one of our front units on every cyclist, and then a rear unit on every moto and then modified the rear unit that's on the motorbike to display the lights to the driver on their dashboard, they wouldn't need to be looking in their rear view mirror or get a tap on the shoulder from the camera man. They would have a clear guide as to how close the closest following rider is.
"We think starting from scratch on that project would take a good two or three years and a decent investment, but because we already have the hardware in hand, with a few slight software modifications we are going to do that this year."
For the benefit of triathlon, the success of RaceRanger in potentially finding new addressable markets can only be a good thing.
What about Roth?
And finally… one of our last features on the site around RaceRanger was in the context of potential use at Challenge Roth, which this year boasts exceptional start-lists for both Pro Men and Pro Women.
Since then of course, the use of RaceRanger in large pro fields by World Triathlon in Ibiza – and news that the World Triathlon and the IPC working together could see the tech at the Paralympic Games next year – could remove some of the barriers, as rulebooks are rewritten accordingly. Could that open the doors in Germany? Turns out James was on the way back from Bavaria when I spoke to him…
"I'm in Germany! I went to see a couple of the key groups here this week to work on getting a calendar in place for 2024. Nothing to announce yet, but being here in Europe and being able to give demos in person is really valuable.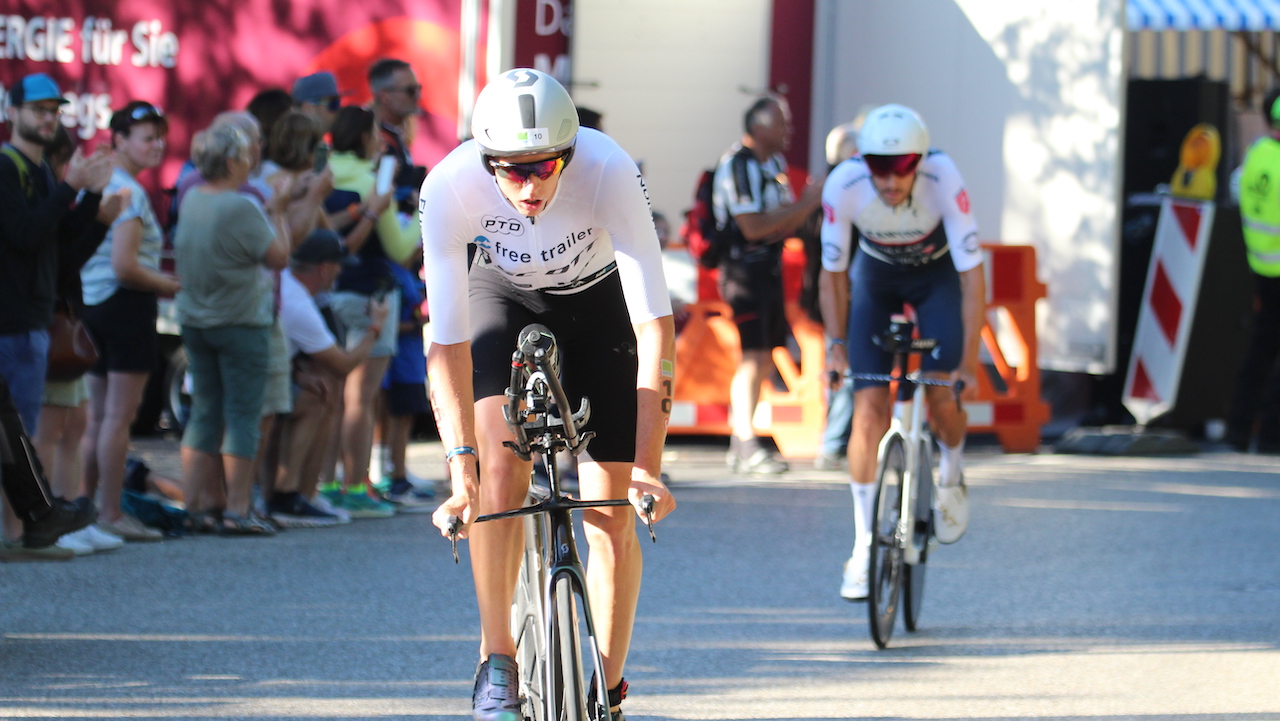 All told then, significant progress made, clarity on things that need resolving, a pipeline of development work, business opportunities and exciting projects ahead. In a short space of time, RaceRanger has made a significant mark.
We look forward to following this journey.