With more than just world championship titles on the line in Pontevedra this weekend, we look at which athletes can secure their spots at the Paris 2024 Olympic Games with a big performance at the WTCS Grand Finals.
Paris Olympic Test Event winner Beth Potter is within touching distance of securing her slot on Great Britain's team for next summer, with a whole host of other names hoping to book their tickets to the French capital as well.
With so much at stake, the racing is bound to be fast and furious. For a full breakdown of the action, you can check out our podium predictions for the men's race on Saturday here and our predictions for the women's race on Sunday here.
Elite Men Qualification Scenarios
Having won the Paris Olympic Test Event in fine fashion last month, Britain's Alex Yee secured his spot on next year's team, with returning Olympic medalists required to podium at the test event to guarantee their selection.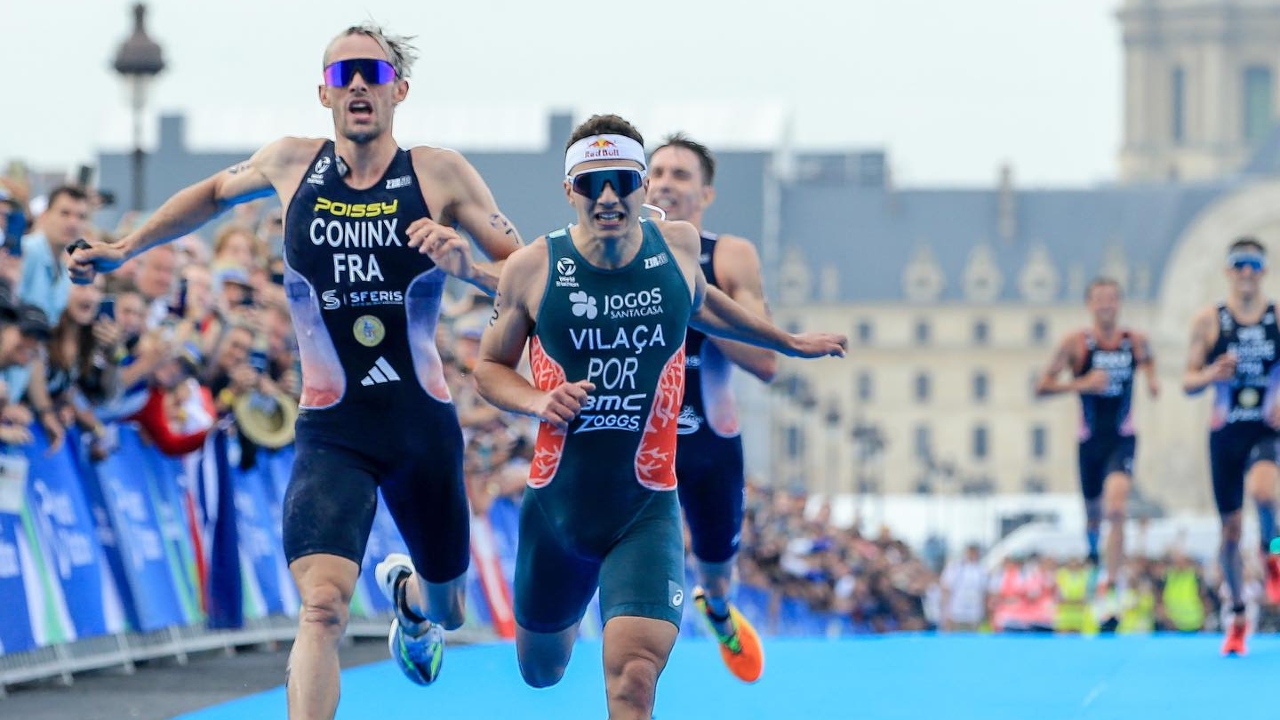 Frenchman Dorian Coninx, third in the French capital in August, also secured his spot with a podium, whilst compatriots Pierre Le Corre (fourth) and Leo Bergere (fifth) ticked off the first half of the second-tier selection policy by placing in the Top 8.
To secure a berth on the French Olympic team, Bergere and Le Corre now need to fulfil the second half of the selection policy in Pontevedra. To represent Les Bleus on home turf next summer, both athletes need to finish on the podium this weekend.
Canadian Tyler Mislawchuk is another athlete who can secure Olympic qualification in Spain. The 2020 Tokyo Olympic Test Event winner, who has the two top-12 WTCS performances required for tier two selection, can guarantee his spot with a top-five finish in Pontevedra.
The Germans chasing Olympic qualification in Pontevdra first need to be in the Top 30 of the World Triathlon Olympic Rankings to be eligible for selection. Lasse Luhrs at World #10 and Jonas Schomburg at World #13 satisfy this criteria and will be chasing a top-eight finish in Spain to qualify for Paris.
For the athletes from Down Under, Team Australia will select the first athlete to finish within the top eight at the Grand Final, with Team New Zealand selecting two athletes who have finished in the top eight at either the Test Event or in a WTCS Event.
For big Olympic Games selection favourites Matt Hauser and Hayden Wilde, the Grand Final not only gives the opportunity for redemption after sickness and injury blighted their races at the Test Event, but also a second chance to secure their tickets to Paris.
Finally, Portugal's Vasco Vilaca can secure qualification for the 2024 Paris Olympic Games if he holds onto his podium spot in the overall standings, but if not, is still likely to be selected as the top-ranked Portuguese athlete in the Olympic Rankings.
Elite Women Qualification Scenarios
In the women's race, Potter will be chasing Olympic qualification and a first world title on Sunday, as the 2016 Olympic track runner needs a podium finish alongside her win at the Paris Olympic Test Event to secure her spot next summer.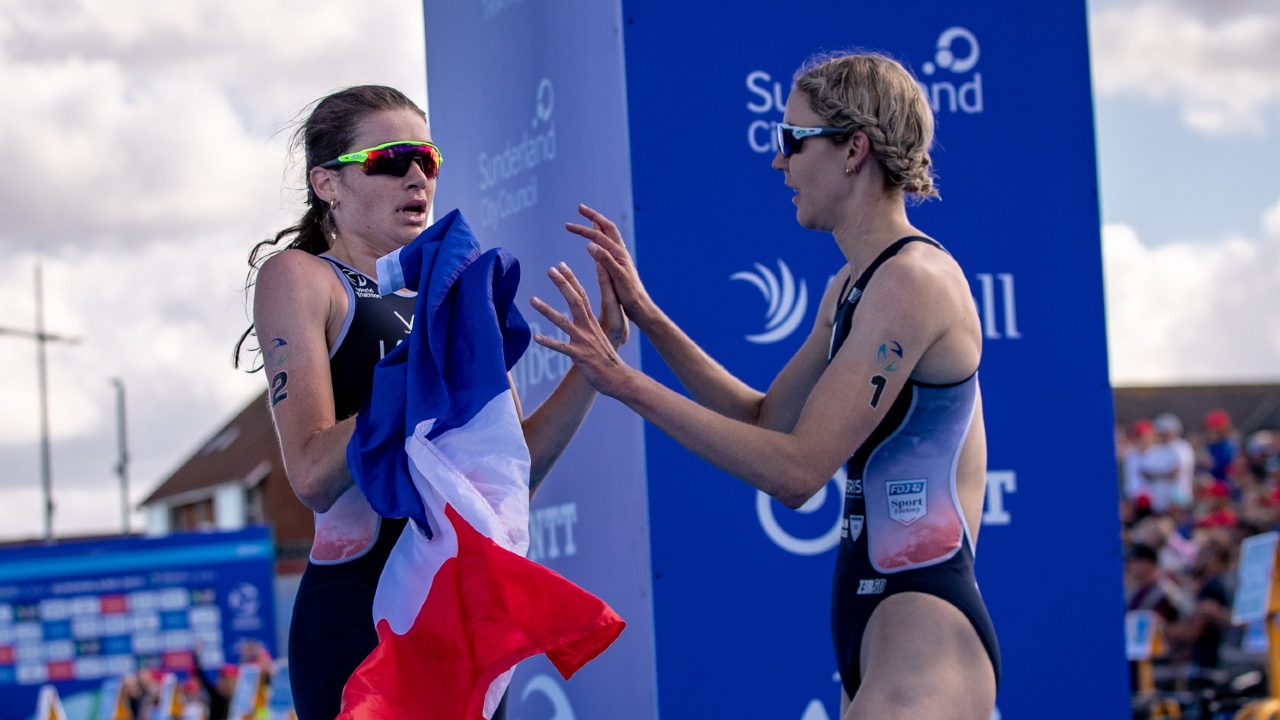 Having already qualified to for the French team in Paris, Cassandre Beaugrand can fully focus on the task of taking down Potter and getting her hands on the world title. Her compatriot Emma Lombardi, however, who finished fourth at the test event, will be vying for a podium in Pontevedra to book her Olympic ticket.
With Taylor Knibb the first name on the team sheet after a top-eight finish in Paris, the final two spots for Team USA will be hotly contested between several athletes, with a podium at the Grand Final enough to grant the likes of Katie Zaferes and Gwen Jorgensen a shot at a second Olympic medal and Taylor Spivey a debut Olympic Games.
After a tough day out in Paris, there are four Australians hoping to breakthrough and secure Olympic qualification with a Top 8 in Pontevedra, as the experienced Natalie Van Coevorden leads a team that includes Jaz Hedgeland, Charlotte McShane and Sophie Linn.
For the home athletes in Pontevedra, Team Spain has separate policies for the men and women's Olympic teams, with the Spanish women battling it out for the one spot given to an athlete in the Top 12 of the Olympic Rankings, where top-seeded Miriam Casillas Garcia currently sits at #14.
Olympic Games Triathlon: A Brief History
Despite only becoming reality in Sydney in 2000, triathlon has already produced some incredible moments and memories at the Olympic Games.
The 2024 Games will come round quicker than normal after Tokyo 2020 was delayed to the summer of 2021, and it will provide another breathtaking swim/bike/run spectacle.
Tokyo offered three triathlon events for the first time too, with the debut of the hugely popular Mixed Relay – won in thrilling fashion by Team Great Britain (Jess Learmonth, Georgia Taylor-Brown, Jonny Brownlee and Alex Yee).
Kristian Blummenfelt provided a lung-bursting run to glory in the men's individual race, while Flora Duffy claimed a first ever Olympic gold medal for Bermuda in any sport with a sensational performance to claim the women's title.
Before that Alistair Brownlee became the only athlete so far to claim Olympic gold twice, by prevailing in London in 2012 and Rio four years later.
2008 meanwhile saw current long-distance king Jan Frodeno claim gold for Germany, while his future wife Emma Snowsill won the women's race for Australia.
Perhaps the most iconic moment (so far) in Olympic triathlon history was the incredible run for gold between Nicola Spirig and Lisa Norden in London 2012, with the Swiss star just prevailing over the Swede in the closest of finishes, decided only following analysis of the photo-finish images.
Olympic Distance
The individual races take place over a 1.5km swim, a 40km bike and a 10km run. Drafting is allowed during the bike leg.
Things are slightly different for Mixed Relay, where national teams are made up of two men and two women. Each individual completes swim, bike and run legs before tagging the next athlete. The teams must complete the race in the following order: male-female-male-female.
The leg completed by each athlete completes consists of a 300m swim, a 6.8km bike and a 2km run.
Olympic Games Triathlon Winners
Individual Women
Sydney 2000: Brigitte McMahon (SUI)
Athens 2004: Kate Allen (AUT)
Beijing 2008: Emma Snowsill (AUS)
London 2012: Nicola Spirig (SUI)
Rio 2016: Gwen Jorgensen (USA)
Tokyo 2020: Flora Duffy (BER)
Individual Men
Sydney 2000: Simon Whitfield (CAN)
Athens 2004: Hamish Carter (NZL)
Beijing 2008: Jan Frodeno (GER)
London 2012: Alistair Brownlee (GBR)
Rio 2016: Alistair Brownlee (GBR)
Tokyo 2020: Kristian Blummenfelt (NOR)
Mixed Relay
Tokyo 2020: Great Britain
Triathlon at Paris 2024
There will again be three triathlon races in Paris in 2024 – Individual Women, Individual Men and Mixed Relay.
The number of athletes will also remain the same as it was in Tokyo with a total of 110 slots – 55 for women and 55 for men.