Round Seven of the 2017 ITU World Triathlon Series: Montreal
Will it be 'normal service' at World Triathlon Montreal this weekend? Flora Duffy (BER) and Mario Mola (ESP) are the defending ITU World Champions, 2017 Rankings leaders and both have won their last four WTS starts. With just a few changes, the start lists are very similar to last week in Edmonton, so will the results be the same too?
Blair Cartmell (www.newtriathlon.com) is back with his regular preview and predictions feature, looking ahead to this weekend's World Triathlon Montreal. And no, he is going for a different men's race winner…!
---
ITU World Triathlon Montreal – 5th/6th August 2017
Blair Cartmell previews and predicts…
Another weekend and another Canadian WTS. A Sprint World Cup last year upgraded to an Olympic distance WTS race this year. Montreal also played host to the World Championships way back in 1999 held on the F1 track. I think the only athlete who raced then (as a Junior), who is racing this weekend is Gillian Sanders of South Africa.
As you would expect, most of the athletes who raced in Edmonton last weekend will again be on the start line this weekend with a few athletes flying in just for this one race. Interestingly, the women race on Saturday and the men on Sunday; so they are afforded an extra day of rest.
I have enjoyed trying to call the races this year and it just proves how difficult it is but also shows that, maybe apart from Flora Duffy, the racing is not always that predictable. Ok, maybe you can throw in Mario Mola too!
The Course
An Olympic distance race over a potentially tough and at times technical course in the old town of Montreal. The weather is looking ok for both days, with rain on Saturday morning but it should clear up for the Women's race. Sunday looks cloudy. Temperature around 22/23 degrees.
Swim – 2-lap course within the harbour with the second lap being shorter than the first lap. The start and finish are at opposite ends. It will likely be borderline wetsuit. Pontoon dive to start.
Bike – 9 laps of 4.5k on an undulating and technical course. It starts with a climb up one of Montreal's oldest streets and also includes a long out-and-back section.
Run – 4 laps of 2.5k on the first part of the bike course.
Women's Preview
Not only does Flora Duffy come in as the red hot favourite, she also comes in as the defending champion from the Word Cup race last year in Montreal. There will be no surprises how she will race come Saturday. It will just be a question of who can hold her wheel on the bike. Taylor Knibb was the only athlete capable last weekend with her breakthrough performance. It may be possible the same happens again but I don't see her making the podium.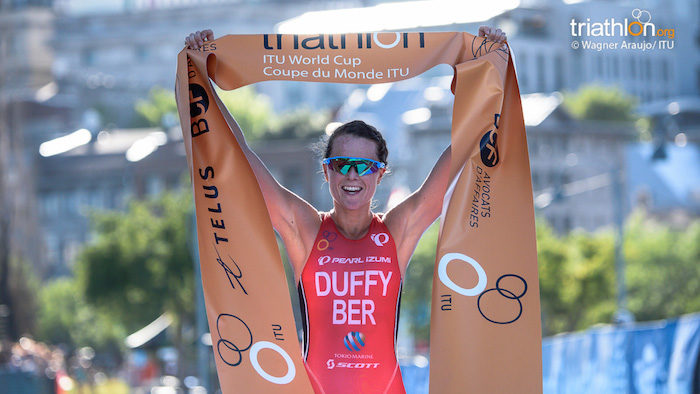 American athletes Kirsten Casper and Katie Zaferes were on the wheel of Duffy early on in Edmonton, but quickly got dropped. Zaferes will definitely be in the hunt for another podium. Renee Tomlin comes in fresh from her World Cup win in Tiszaujvaros a few weeks ago, but can she step up and perform at an Olympic distance WTS?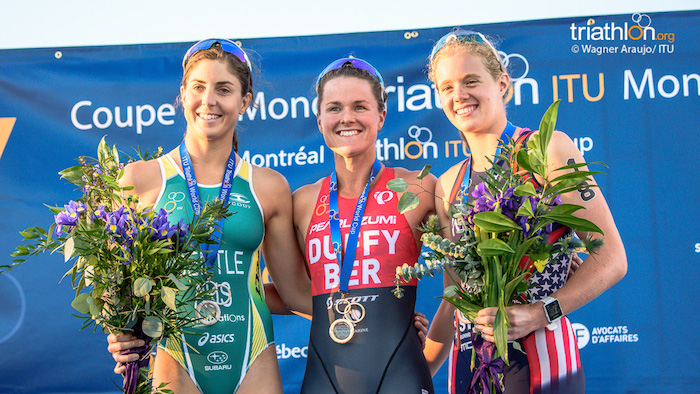 Fresh athletes coming in for this race include the Australian pairing of Ashleigh Gentle and Charlotte McShane. Both in good form, they will be in confident spirits and relaxed with Commonwealth Games selection secure.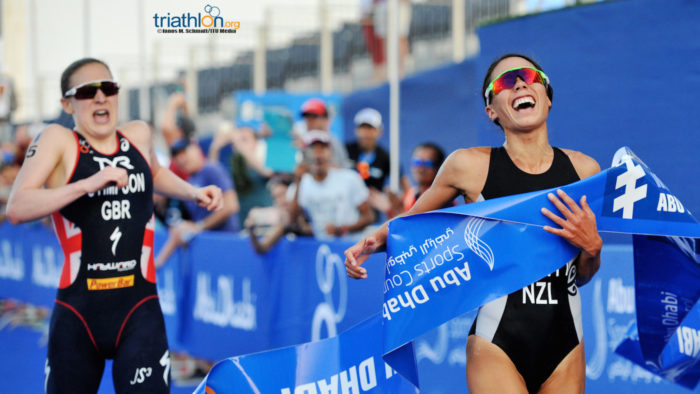 Andrea Hewitt is another athlete flying in just for this race. She may feel at home in this French speaking part of Canada and comes off a good result in Hamburg plus her two other WTS wins this year in Abu Dhabi and Gold Coast.
There are no British girls racing.
Women's Podium Prediction
Flora Duffy
Ashleigh Gentle
Andrea Hewitt
Men's Preview
The field is pretty much unchanged from the lineup in Edmonton, with only Ryan Sissons coming in to race fresh off his first ever podium in a WTS race in Hamburg.
Mario Mola will come in super confident having won his last four WTS races and if it comes down to a running race, he could well make it five in a row. I thought Jonny Brownlee was really impressive in Edmonton considering his prep leading into the race and I feel that with a race under his belt and another week of training, he will be very dangerous.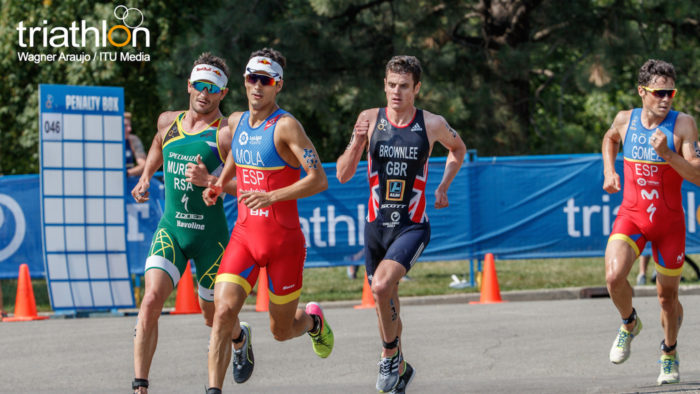 For the likes of the podium trio of Edmonton it will be a case of not letting a breakaway go up the road that will likely include Brownlee and Javier Gomez (although he had a poor swim in Edmonton) and the other usual suspects such as Richard Varga, Aaron Royle and Ben Kanute.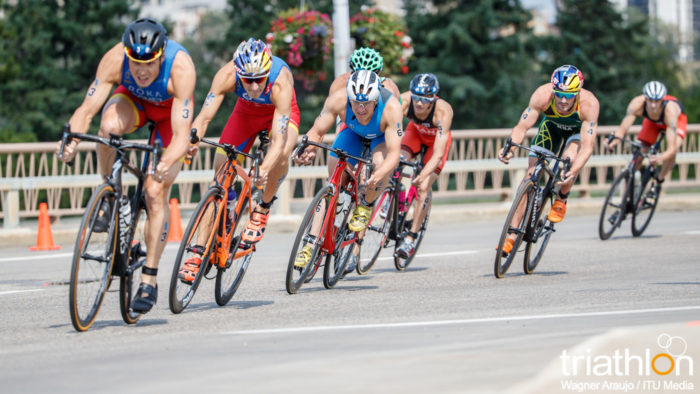 Jake Birtwhistle has shown recently how good he is over a sprint WTS with two consecutive second place finishes, but has yet to show his form this year over a full Olympic. Hopefully he remembers it is four laps on the run this weekend!
An athlete who knows this course well is the Champion from last year, Kristian Blummenfelt,  and he comes off a solid eighth place finish in Edmonton and is having a really consistent season.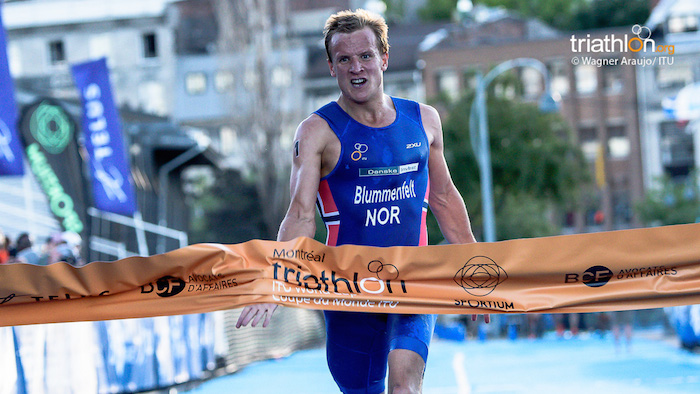 The rest of the Brits include Grant Sheldon and Gordon Benson. Grant will be looking to cement his Commonwealth Games selection with another top-10 performance after a very respectable tenth place in Edmonton, whereas Gordon will be looking to improve on his performance in Edmonton where he was outside of the top-20.
Men's Podium Prediction
Jonny Brownlee
Javier Gomez
Mario Mola