Chris Standidge – fast, getting faster
Time stands still for no one. However, some individuals seem to manage to fight back against nature and continue to produce stellar age-defying performances. As part of Tri247's 'Holding Back the Years' series we shall be speaking to such individuals to gain insight into how they do what they do!
We kicked-off the series recently by speaking to Michelle Dillon. Here's our next feature.
---
It is not out of the ordinary, in fact it is a path fairly well trod, for an individual to excel in age-group racing and then decide to make the step-up to pro-racing. However, it is far less common for an athlete to decide to make such a step when turning 40!
Step forward prolific age-group victor, pro-licence holder, and triathlon coach (Total Tri Training), Chris Standidge.
Standidge's triathlon journey started in 1995 at the age of 14. He progressed to being a member of the GB elite junior squad (racing against athletes such as Tim Don), before he stepped away from triathlon when the reality of working-life took over.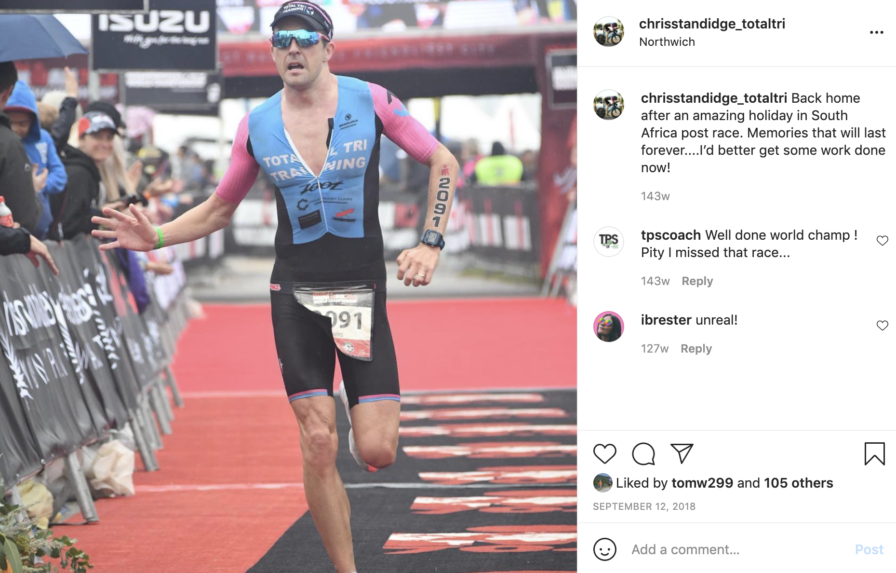 Age-group success
He returned to triathlon in the early noughties and qualified for the GB age-group team for Madeira in 2004. After 15 years of consistency, Standidge collected a swathe of age-group titles, including success:
Such results gave Standidge the confidence to move up to pro-level racing in 2018, at the age of 39 – when most people are stepping back from elite racing, rather than stepping up!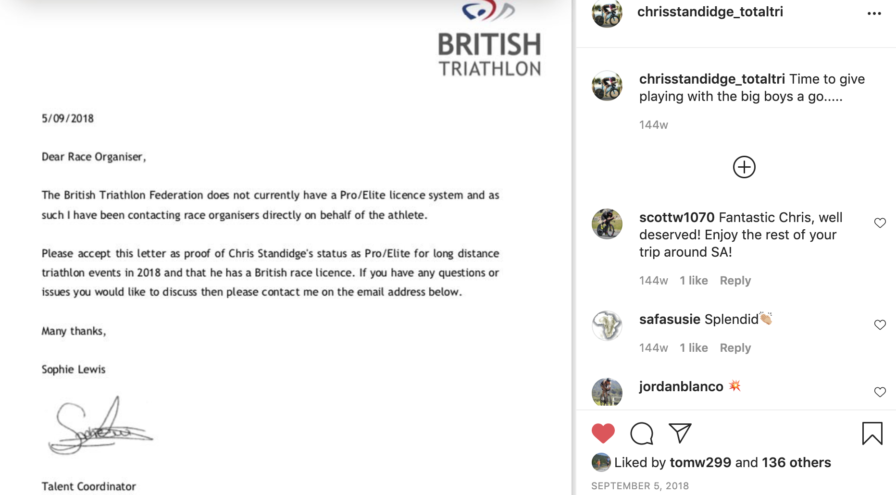 Alongside his racing, Standidge is also a Head Coach at Total Tri Training. In short, Standidge has a unique insight in to the challenges of fighting against the passing of time, as well as the real differences between being at the pointy end of age-group racing and the pro-scene.
When is the right the time to turn pro?
It is an inevitable question, and one it is likely many age-groupers have asked after some success – when should I turn pro? What performances in age-group races show genuine ability to race at pro-level? Further, just because you can obtain a pro-licence, is it necessarily the correct time to do so? Ruth Astle is an example of an athlete that took up pro racing only after winning at the highest age-group level. Standidge took a similar approach, namely that there is certainly merit in achieving all you can in age-group racing before stepping up:
"I hear a lot of athletes talking about racing as a Pro. Many I feel do it too soon, maybe after one good race, or what might have been a lucky break because they were within the % time required by British Triathlon.
"Between 2015 and 2017, I had a number of different performances where I could have taken the Pro Licence having won overall age group IM 70.3 races and been in the mix with the Pros.
"In January 2017, I got some very sound advice which was to go and win a World AG title first and then consider it. 18 months later it happened. Even then, I think if I had been beaten by a number of athletes in other AGs I would have questioned it, but with a second overall and being in the mix for a Top 20 with the Pros, I felt like I had nothing else to prove as an AG'er. I don't feel any additional pressure racing now, and that's a good position to be in compared to not feeling you should be there."
Pro-racing vs AG-racing
For an athlete aged circa 40 years old, Standidge is one of the fortunate and rare breeds that grew up as a triathlete (rather than specialising at one sport and converting to triathlon – see below), which has undoubtedly contributed to his success. I think everyone who didn't swim as a youth would agree!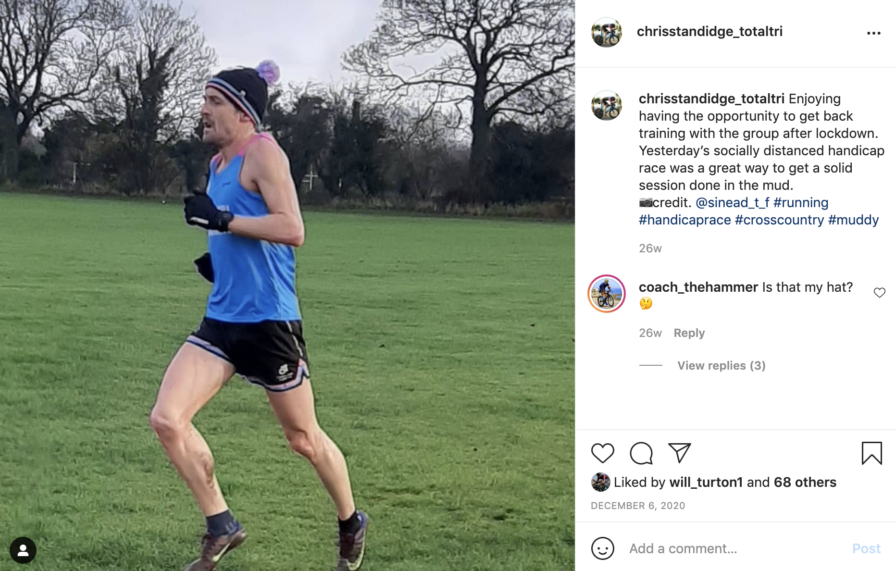 However, Standidge knew that progressing from age-group racing would require him to improve in all areas, but with specific focus on swim and run, due to the higher level of athlete in the pro-races and the differing race dynamics:
"Having come from a triathlon background as a youngster, I was pretty consistent across all three sports. In AG races I would hold a steady effort from the first minute of the swim throughout the whole race, but generally with a big swim and bike and then doing enough on the run. This strategy worked… with my physiology at the time.
"When racing pro, I knew I had to up my game across all three disciplines, but especially the run.
"In essence I needed to be able to lift the ceiling significantly, with a special effort on the run. The swim became more important so that I came out of the water as high up as possible, to make the pace-lines on the bike."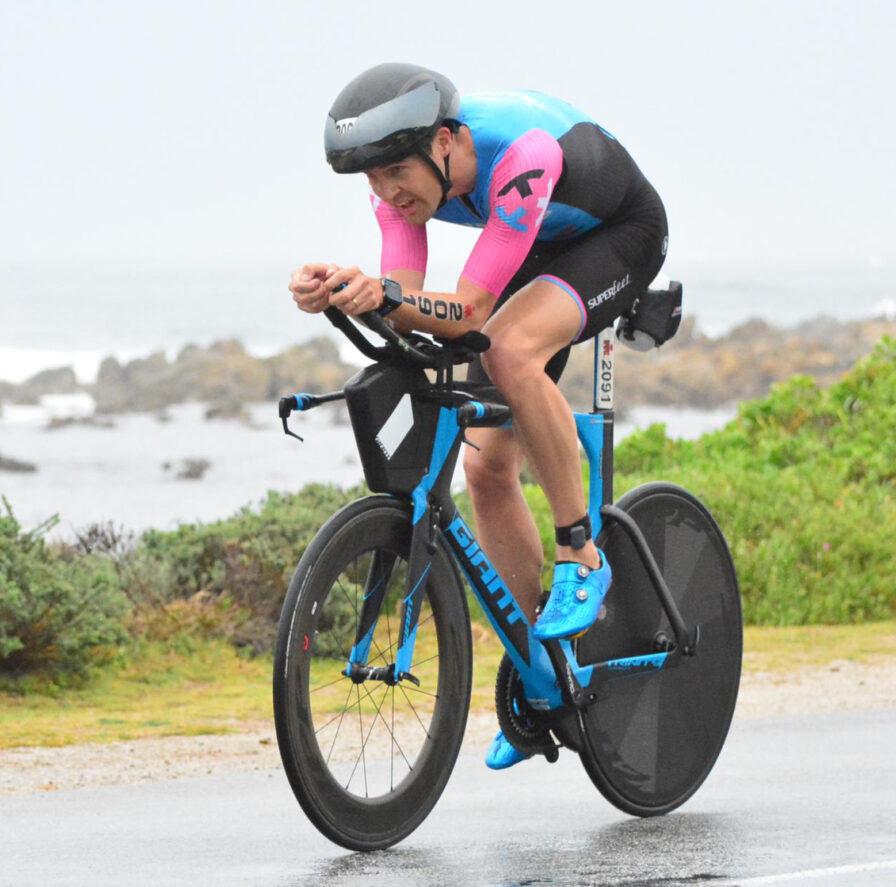 Biking for show, running for dough
Standidge noticed that in particular his run-speed and conditioning were not at the level necessary to be competitive. He explained that he placed substantial emphasis on his run training to bridge the gap:
"The biking took a bit of a back seat in the short term, and my running needed to reach a whole different level."
"You've heard the term, "biking for show, running for dough", well I took this with me as I spent the next two winters running up to 80 miles a week, having joined Sale Harriers and having many much better runners to run with."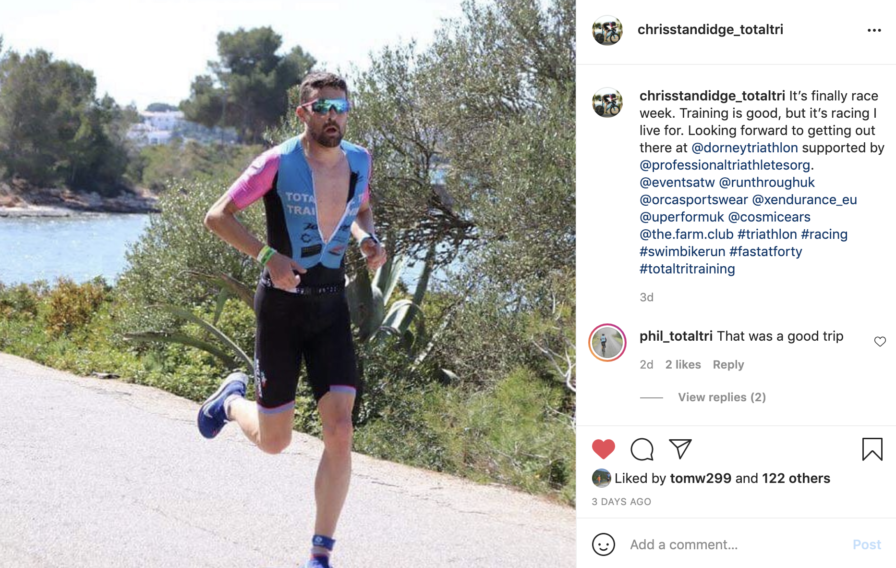 What had assisted Standidge in excelling at age-group racing, namely he had built a very efficient diesel engine that lacked true high-end horsepower, was holding him back. He elaborated:
"The issue I had if I take running for example was: my 5k, 10k and half marathon paces were very similar maybe just 10 secs per mile between each distance. So I started with trying to up my ability over 5k first before converting to 10k and then on to half marathon. The type of training I was doing, was also helping with the surge type of racing that happens in the Pro races, but also setting me up for finishing off races on the run."
As you might expect, the difference between racing as an age-grouper compared to the elites is not limited to the style of racing, it is also simply the level of athlete is higher. That means for a triathlete such as Standidge, his goals have adjusted from winning to competing:
"The big difference is the standard of racing is just a lot higher, and so from getting lots of podiums, I'm now often fighting for a top-10 or so. But I love the battle of racing, and for now it's the right thing for me, to try and get the most I can from myself."
The importance of mindset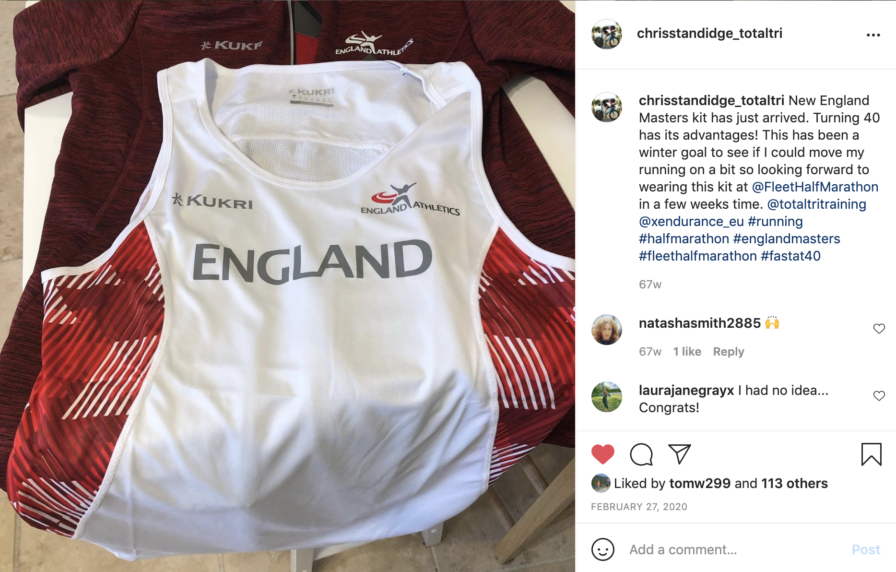 From a third party's perspective, Chris appears to have been making impressive incremental progress year-on-year, and to be continuing to do so even turning 40. This begs the question, what is his secret? For Standidge, the answer has two elements; his own triathlon career trajectory coupled with his knowledge acquired over the years.
He believes that a major reason for his continued progress is down to a change in circumstances and working arrangements that have allowed him to push his physical limits more than he may have been able to previously:
"So far, I've seen no reduction [in performance], but I do have a theory on this. If I had raced as a pro in my 20s and 30s and dedicated my life to the sport I probably would have reached a peak and then there may have been a slight reduction in performance."
"However, having always raced whilst having a full time job, I always believed I was probably operating at 80% of potential. Since racing Pro and dedicating a bit more time (still working just as hard, but on my own terms), then I would say I am now operating at 85-90% of potential.
"For most athletes doing the sport now, I don't think there is a performance drop off until mid 40s. Some of this is mindset. I genuinely believe that if you start saying "but I'm now 40…." then it's a downward spiral. So this doesn't enter my head, I could do more now than I ever have done in my life….and hope to still be winning overall races as I head towards 50. But we'll have to see how that pans out!"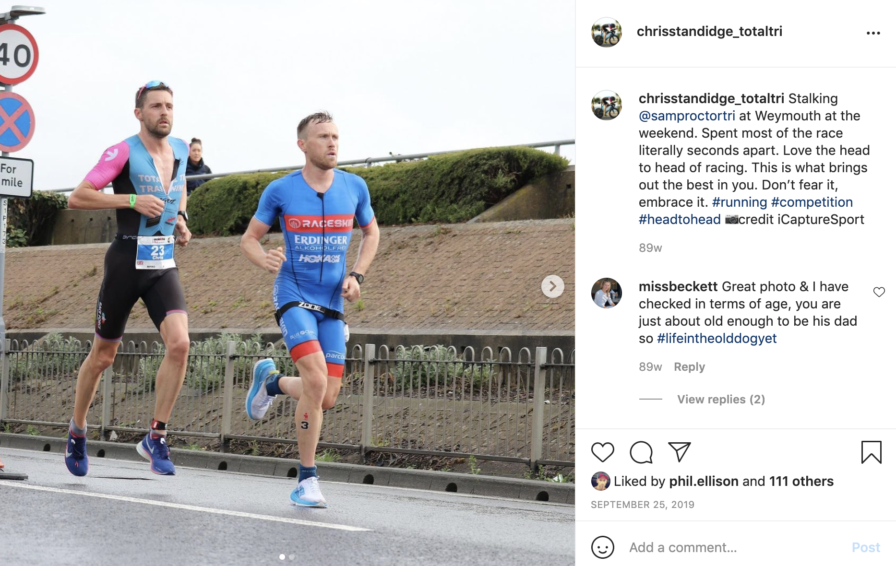 Rome wasn't built in a day
Standidge is the first to acknowledge that his success and progress has not happened overnight, rather 'Rome was not built in a day', seems a more appropriate tag-line. However, the foundations on which his age-group success was built have also been a limiter:
"… It took many years of working out what that [the right formula] was for me. But when I did it just brought consistency in training and consistency in racing. With age, also comes maturity, and learning some of the basic principles I probably look back on and think if only you had done this earlier, then you could have been a better athlete in your prime. Taking recovery more seriously, going easy on easy days, and being fresh enough to go hard when you are meant to be, rather than too fast in the easy sessions and not fast enough in the harder sessions.
"Understanding yourself as an athlete is paramount, and really tackling what is a limiter is massively important for overall growth. For me, 25 years of aerobic training as a triathlete had maybe dulled my top end a bit, so I was pretty good at tempo and threshold work, so raising the ceiling became important for me especially as I moved into the Pro ranks…"
The importance of 'feel'
As mentioned, Standidge entered the world of triathlon in the 90s and there have been many changes in the sport since then, one such change has been technology.
"Technology has moved on massively [since the 1990s] and helping us to train more effectively and race quicker with aero gains and knowledge gained from another 25 years of training and racing. The internet, and social media now allows more sharing of this, so the average knowledge of an athlete is a lot higher."
However, although accepting advances in technology have many positives, Standidge believes some triathletes may have lost/never gained the important ability to train or race to 'feel'.
"[There were] no power meters and no Zwift back in those days [1990s]. HR monitors were a thing, but I do think I developed a good idea of "feel" which has stayed with me throughout my career. This is very difficult to replicate these days with so many gadgets guiding athletes and I do think it's a gap in many athletes new to the sport."
It is not just technological developments that have made athletes race quicker. The advent of triathlon as a sport in its own right, namely individuals are often now triathletes from a young age, has pushed the level of athletic performance, explained Standidge:
"The standard now has changed 100 times over. Back in the 90s, you probably came from one sport as a background and were maybe very average at the other two. Now at the top of AG racing you have to be super strong across all three sports."
Quality not quantity
Despite his continuing success, Standidge acknowledges he is getting older. So, what has he learned and how has he adapted his training to assist him in continuing to race to the best of his abilities?:
"The big thing here is just going easier on the easy sessions, which I think I should have done anyway, so isn't really related to age so much. I think with maturity, you are just more able to judge how you feel. Therefore, whilst I have a plan in the background, I am happy to change it and push back quality sessions if I don't feel ready to do them as I haven't recovered from a previous session. It probably does take an extra day or two to recover from races compared to 10 years ago, but I don't think this necessarily is detrimental to your overall performance.
"I am definitely a "quality over quantity" type of trainer rather than huge volume, and so far I haven't reduced those quality sessions at all. What I am more likely to do is go 8x 4 mins @10k pace rather than 5-6x 4 mins @ 5k pace."
Does age impact training plans?
Standidge has accumulated a lot of knowledge over the years, and as well as allowing him to experiment to find out what works best for him it has given him insight to assist his coached athletes:
"Having had a number of coaches in this time, I've tried many different methods. What I've learnt over the years (as a coach and as an athlete), is that different individuals respond in different ways to stimulus, and finding the right formula is key to getting the most out of an athlete."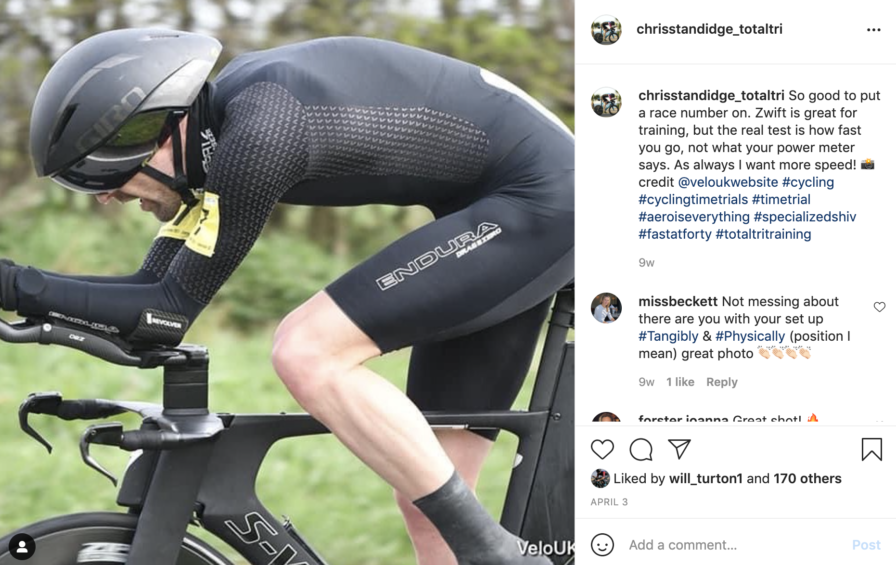 Further, reflecting his belief that you can still excel well beyond the age of 40, Standidge reiterates that age itself is not a main consideration when coaching athletes, rather the individual's 'life' (work, family etc.) is fundamental:
"Up to mid 40s and even 50, age isn't a factor, [rather] more capacity and background. Over 50, [I would prescribe] less running and more swimming and biking as injuries are more common. Reduced amount of speedwork running (and playing it safe), with more tempo / half-marathon paced running rather than flat out 5k pacing. [Also] reduced overall quantity by probably 25% or so as recovery takes that little bit longer. But each case is individual."
Strength and Conditioning
Standidge went on to detail that he has learnt, sometimes the hard way, the importance of maintenance and recovery. In particular, strength training has been a crucial addition along with regular massage to ensure he gets the most out of himself without falling foul to injury:
"[There are two things, first] strength training – I haven't done as much as I would like over the years. When I do it, I feel more resilient at the back end of races (whatever the distance) and less injury prone, and activating the rear chain [of my legs] much better i.e. glutes which takes less pressure off lower limbs.
"[Secondly,] massage – once or twice weekly reduces tightness and potential niggles from developing. I have done this religiously for the last 10 years."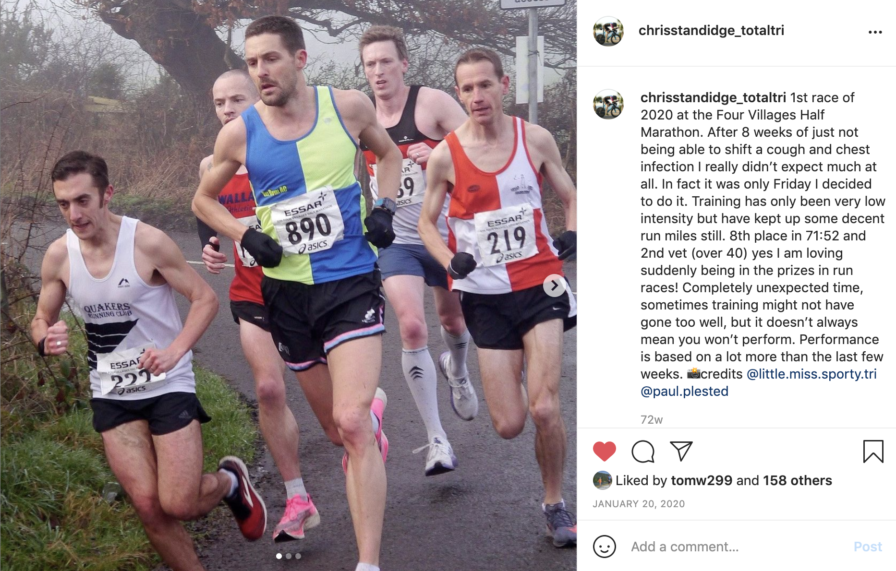 Why are age-groupers getting faster?
Some age-groupers seem to be getting faster the older they get, and it is not unheard of for an athlete over 50 to podium or win an overall race. Standidge hopes to be one such athlete in the future, and he thinks such success is down to three main reasons:
"There are a number of factors going on here:
"[First], you are getting athletes like me who have now been in the sport for 25 years with a full swim, bike, run background. 10-15 years ago athletes of my age had probably been in the sport a lot less time, and therefore not as developed across the three sports. I believe this will continue, and the guys in 10 years time (as I hit 50) will be as fast the 30 year olds. But watch this space!"
"[Secondly, older athletes] know their body better, [have] less ego and more consistency, more willing to take recovery more seriously i.e. go to bed earlier,… The youngsters tend to smash themselves on a key session and then suffer afterwards, they just aren't as consistent.
"[Lastly], generally, the older athlete maybe has more disposable income which they can throw into coaching, treatments, aero testing, fastest kit etc, etc. So this helps to reduce the gap too."
Linked to Standidge's point regarding extra money to spend on triathlon, one area of the sport where athletes are getting faster irrespective of age is cycling. The technology has improved and you simply cannot ignore the importance of aerodynamics if you want to be at the pointy end of the race:
"Biking – has been a big area of improvement. The aero testing and bike fit culture has escalated to a level now where you almost can't be without it if you want to be up there."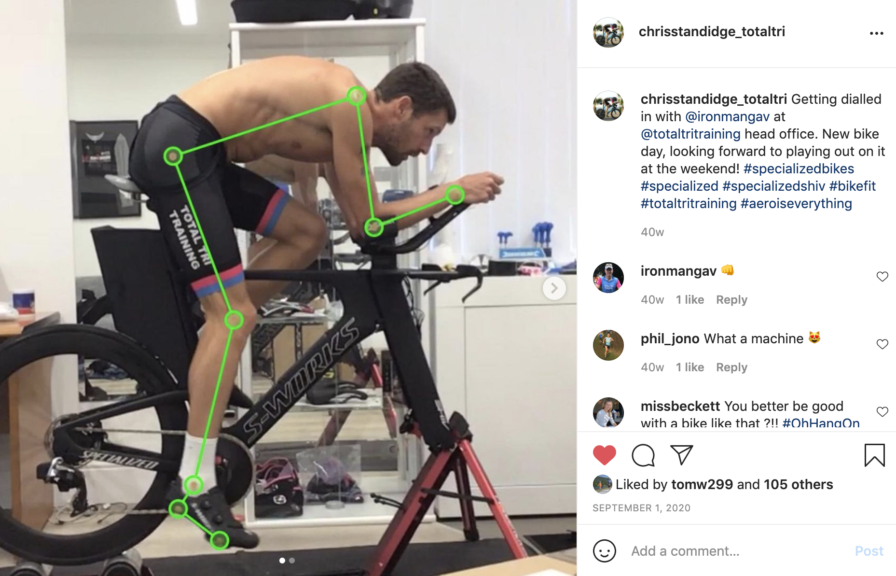 Take easy days easy
Many athletes are guilty of going too hard on what is supposed to be an easier, or recovery, session. The biggest change to Standidge's approach to training has been understanding and embracing the importance of going easy on easy days:
"I've slowed down the easy training – not because I have got older, although its probably even more necessary as you get older. But just because I know the importance of being up for the harder sessions. I just have a very simple way of looking at things. When it's easy I really don't care about metrics at all, other than coming back better than when I started. Volume has probably increased because of the level I am trying to reach, but also I am able to do it because of the easy stuff being done easy rather than top end endurance pace."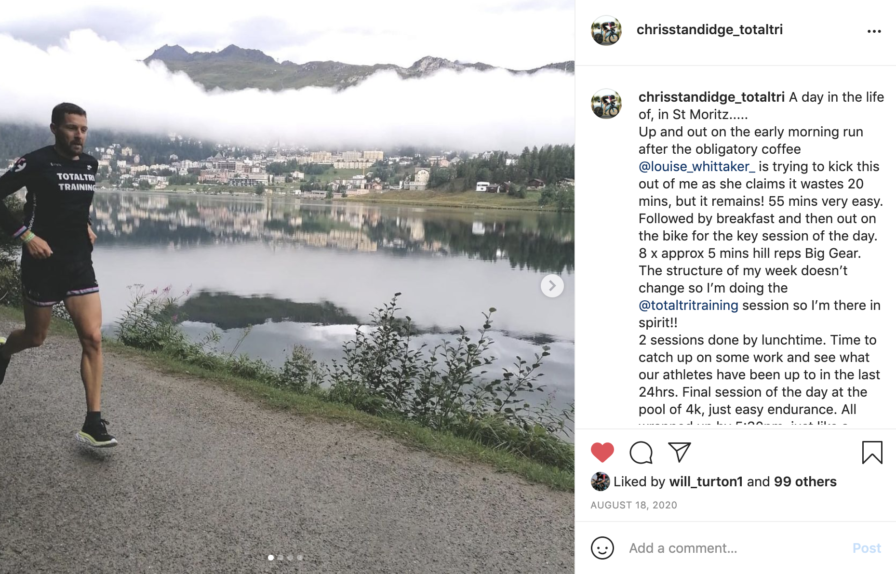 How to get the best out of yourself
With his wealth of experience, especially in the context he is still seeking to compete at the elite level, Standidge was happy to share some tips and recommendations for older athletes looking to continue to get the best out of themselves:
"Prioritise health first. Look after yourself with what you eat and ensure good recovery. A healthy athlete is always going to perform longer term.
"Listen to your body, and be a little more fluid with your plan. If you are feeling overly fatigued going into a hard session or the motivation is just not there (and it's not like you), push back a day or be prepared to let it go. I always say if I'm not motivated that day, I am too tired.
"Don't lose your speed, I think there is a tendency to reduce quality of sessions. Yes running could put you more of an injury risk, but swimming and biking absolutely [keep the quality sessions]. Running tempo is hard enough with a lot of people.
"Do strength training. As you get older, you do lose muscle mass, so a couple of sessions a week. They don't need to be more than 2 x 30-40 mins, [that] is plenty."
Motivation is crucial
It's not all good news though, if you were looking to try to see your name in the results sheet above that of Chris Standidge, rest assured it won't come easy and he expects to keep getting faster!
"…I love what I do, and as long as that continues I will still be there competing. I do genuinely believe I can still get faster so that still gets my appetite going, and I still have a lot more to achieve. I want to go after a fast IM time at some stage, so that might be on the agenda later in the year. I very much see triathlon and racing as creating life experiences and there are many of those still to tick. Plus with an ever growing Total Tri Training contingent, the emphasis will continue to be passing my knowledge on to the next breed of athlete and helping them achieve their goals."
Thank you Chris, we wish you and your Total Tri Training athletes a successful 2021 race season.