This is a preview feature written ahead of WTCS Hamburg 2022. To find out how the racing played out over two days of great action in Germany, check out our in-depth race reports: Flora Duffy wins a thriller | Hayden Wilde impresses again | Young Brits take Mixed Relay victory.
Just two weeks on from some top quality racing in Montreal, the WTCS circuit returns for one of the biggest weekends of the European summer, the Hamburg Wasser World Triathlon Championship Series Hamburg.
This will also be your last chance to watch the top tier of draft-legal racing for a while, as it takes a three month break before returning in October with Cagliari and Bermuda.
Who is (and isn't) racing, schedule, favourites and our podium picks are all here. Don't forget to tune in and watch it all live.
Start time and how to follow live
The port city of Hamburg is one of the most iconic in the sport of triathlon. Hosting Elite level events for two decades now, the Inner Alster lake and the tight city centre circuit (Sprint distance) of the bike and run courses have been an ever-present, as the top tier of racing has gone through it's various naming iterations of World Championship Series / World Triathlon Series / World Triathlon Championship Series since 2009.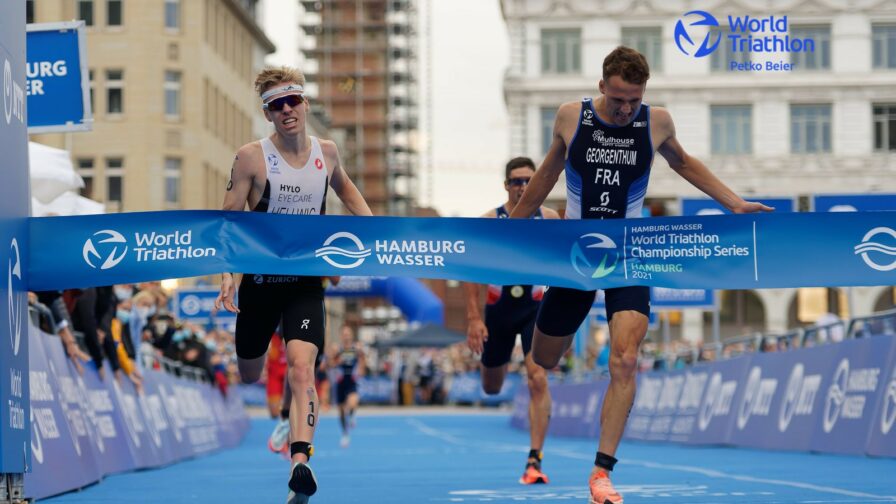 Even COVID didn't (completely) stop play, with a standalone World Championship held in Hamburg in 2020 (individual and Mixed Team Relay), albeit having had to relocate away from its familiar surroundings in the heart of the city.
Last year's race had to be rescheduled to September (which meant an unexpected clash with the Super League Triathlon Championship Series in Jersey), but we are back to normal service this weekend – even if a few top names will be absent.
As with recent events in Leeds and Montreal, we have both individual (Saturday – Sprint distance) and Mixed Team Relay (Sunday) on the schedule.
You will be able to watch all of the action live via TriathlonLive.tv or, if you have access, via the BBC Red Button, BBC iPlayer, BBC Sport website & app.
Elite race start times (local) are;
Saturday July 09: Elite Women – 1335 (1235 UK, 0735 ET)
Saturday July 09: Elite Men – 1535 (1435 UK, 0935 ET)
Sunday July 10: Mixed Team Relay – 1500 (1400 UK, 0900 ET)
Who's NOT racing?
Similar to our approach pre-Montreal, let's start with a look at who is not racing – because that could be quite significant in terms of assessing prospects this weekend.
The biggest names absent are Georgia Taylor-Brown (GBR) and Cassandre Beaugrand (FRA). Currently ranked #1 and #3 in the Maurice Lacroix WTCS Rankings, they have had a win and a silver each over the last two races in Leeds and Montreal, with GTB also winning in Yokohama too.
With the year-end rankings being a 'best four results plus the Championship Final', Georgia already has two wins and two second place finishes to her name, so is in prime position. With the Commonwealth Games coming up at the end of the month and a successful 2022 so far, she can afford to make that her focus and lose little to nothing by skipping Hamburg.
With further WTCS options coming up in Cagliari and Bermuda later in the season, she could yet arrive in Abu Dhabi with maximum points, were she to win both of those.
No Sophie Coldwell either (as expected, it was never in her plans for this season) or Leonie Periault (FRA).
The highest-profile name absent for the men is Olympic silver medallist and Montreal winner, Alex Yee. While he doesn't have the same points status as GTB (though has won both WTCS races he's finished), that Commonwealth Games target on home soil is surely going to be his primary focus this month.
No Pierre Le Corre (FRA) either, who was so impressive when winning over the 70.3 format this past weekend.
Elite Women
While Leeds didn't go to form (and neither did her 70.3 plans either), a few weeks on from Roundhay Park and hopefully with any lingering COVID-related issues resolved, Hamburg could provide a perfect setting for Flora Duffy to return to winning ways. She only has three scoring races currently, so will move up the WTCS rankings anyway, even with a moderate results. Having won in 2017, she has previous success in Germany to call on – and never starts with the aim of a moderate result!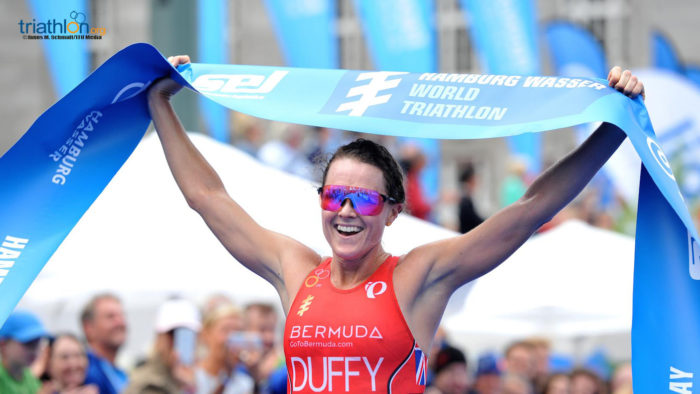 Bib #1 this weekend goes to Great Britain's Beth Potter. I'd been writing for months that Potter would make a WTCS podium this year, and she did that with third place in Montreal. Bearing in mind who is not racing this year in Hamburg, adding another medal this Saturday feels like it would be pretty short odds, given her progress and form.
One name to watch for this weekend – and absolutely to follow leading into Paris – is the 2021 U23 World Champion, Emma Lombardi (FRA). Fourth in Yokohama (her first WTCS start), Emma was part of the World Championship winning French Mixed Relay team in Montreal. She pushed Beth Potter pretty strongly earlier this year in a European Triathlon Cup event in Quarteira and recently dominated a French Grand Prix event too. In my eyes, she's the real deal and I'm pretty sure will feature in the French Olympic team two years from now.
My final name check here has to be for a combination of home advantage and 'horses for courses'. Laura Lindemann has a host of Junior and U23 World titles on her C.V. and is also the defending Hamburg champion. Her last seven WTCS individual races in Hamburg have yielded 1st / 3rd / 7th / 2nd / 3rd / 9th / 7th, so expect another strong performance again.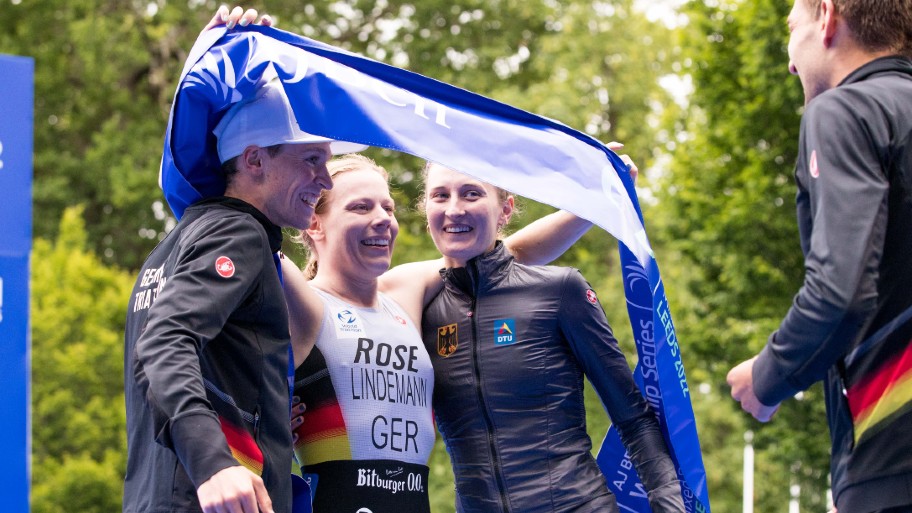 My prediction? The top four in the order that I've previewed them above, Duffy to bounce back to race winning form.
Whatever happens, the absent Georgia Taylor-Brown will still retain her position at the top of the rankings as she can't be caught, even if second placed Beth Potter tops the podium. That will be one less post-race podium presentation to do!
Elite Men
With fewer of the big names in the men's standings absent, racing should perhaps follow a more expected pattern.
Favourite has to be Hayden Wilde (NZL). He's notched 2nd / 1st / 2nd in his three WTCS starts in 2022 and has only been beaten this year in top tier competition by the absent Alex Yee. Combine that with the tight, city centre course in Hamburg – pretty familiar territory for a Super League Triathlon veteran – and it's difficult to place the favourite tag anywhere else.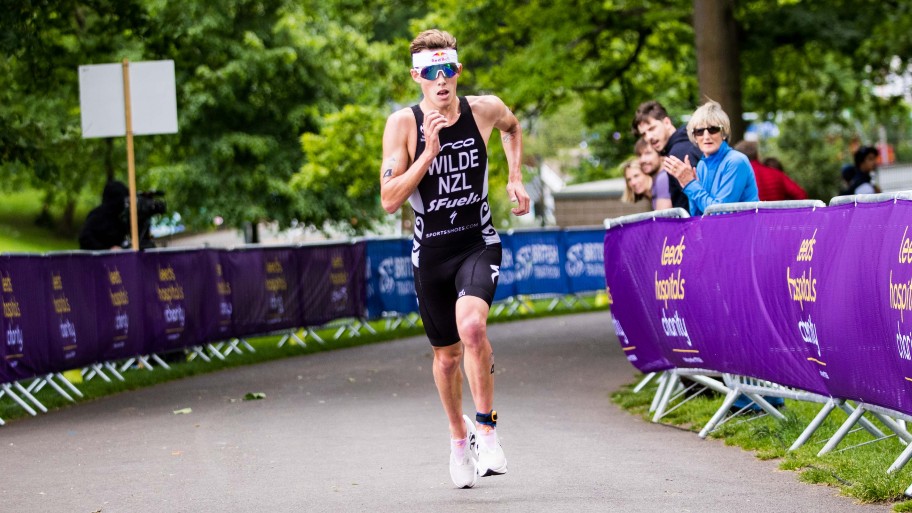 Rankings leader, Leo Bergere has been the king of consistency with seven podiums from his last eight WTCS starts post Tokyo 2020. He's also finished 3rd / 3rd / 5th in his last three individual races in Hamburg, and I feel as if he's a far more accomplished athlete than he was 12 months ago. The field is a far stronger one this year however.
If you follow form, then 8th (Leeds) and then fourth (Montreal) shouts that you can't overlook Abu Dhabi 2021 winner, Jelle Geens (BEL). He's bounced back well from early season injury, and at his best is one of the very best runners in the sport. A 4th (2020) and 3rd (2019) provide further evidence that he races well in Hamburg too. Geens certainly has a top finish on his mind, ""My goal is to finish on the podium after having such good races, but not the luck to reach the podium. So for this weekends race there is only one goal: Full send on the podium!"
Plenty of German interest in the men's race too, with 2021 winner, Tim Hellwig, plus Lasse Lührs and Lasse Nygaard Priester. They impressed with 3rd and 5th respectively in Leeds, before joining forces the next day as part of the winning German Mixed Team Relay squad.
I have to go with Hayden Wilde as my pick for the win, with Jelle Geens and Leo Bergere rounding out the podium in what will surely be some very close racing.
Recent Hamburg Winners
2021: Tim Hellwing (GER) / Laura Lindemann (GER)
2020: Vincent Luis (FRA) / Georgia Taylor-Brown (GBR)
2019: Jacob Birtwhistle (AUS) / Non Stanford (GBR)
2018: Mario Mola (ESP) / Cassandre Beaugrand (FRA)
2017: Mario Mola (ESP) / Flora Duffy (BER)
2016: Mario Mola (ESP) / Katie Zaferes (USA)
Mixed Relay in Hamburg (all World Championship events)
2020: Team France
2019: Team France
2018: Team France
2017: Team Australia
2016: Team USA
Prize Money: What's on the line?
As with each round of the World Triathlon Championship Series (Championship Finals aside), there is a prize purse of $150,000 to be raced for on the day in Roundhay Park in the individual event. This is paid 20-deep, with the winners collecting $18,000.
1. $18,000
2. $12,000
3. $8,000
4. $6,000
5. $4,900
6. $4,100
7. $3,400
8. $2,800
9. $2,300
10. $1,900
11. $1,600
12. $1,400
13. $1,300
14. $1,200
15. $1,100
16 to 20. $1,000 each
The Mixed Team Relay on Sunday in Hamburg will also provide a further prize pot as part of the Mixed Relay Series, with $50,000 being allocated to the top 10 teams as follows:
1. $12,500
2. $10,000
3. $7,500
4. $5,000
5. $4,000
6. $3,500
7. $3,000
8. $2,000
9. $1,500
10. $1,000