This is a preview feature written ahead of WTCS Yokohama. You can read how the events actually unfolded in our post-race reports, which saw a British double as Georgia Taylor-Brown took the win and Alex Yee out-kicked Hayden Wilde on the finish straight.
The 2022 World Triathlon Championship Series is back this weekend with the long-running WTCS Yokohama kicking-off the 2022 racing season on Saturday.
That said, this isn't actually the start of the 2022 Maurice Lacroix WTCS Ranking process. With the 2021 rankings ending (with World Championship titles for Kristian Blummenfelt and Flora Duffy) in Edmonton last August, the post Grand Final 2021 events in Hamburg and Abu Dhabi actually started the 2022 points collection.
Start times and how to watch Yokohama live
For those of us based in Europe, last Saturday's timings for the Arena Games Triathlon Finals Singapore and the IRONMAN World Championship could hardly have been more perfect.
It's only fair to the rest of the world then that if you want to see the action from Japan live, you'll have to interrupt standard sleeping hours!
ELITE WOMEN: Start time 10:16 local on Saturday 14 May. That's 02:16 in the UK, 03:16 CET and 21:16 Eastern Time (Friday night)
ELITE MEN: Start time 13:06 local time on Saturday 14 May. That's 05:06 in the UK, 06:06 CET and 00:06 Eastern Time (just gone midnight, Saturday morning)
As always it's a Standard distance race in Yokohama. Two laps of 750m in the Port of Yokohama, nine laps on the bike and then four run loops of 2.5km each to finish.
(There is currently a forecast of heavy rain, which may see the bike course amended in order to avoid the most technical section, for safety purposes).
You can watch the race live on BBC Red Button, BBC iPlayer and the BBC Sport website and app, or via World Triathlon's (subscription) service, TriathlonLive.tv.
Elite Women
For the most part, we're at a 'not much form to go' so early in the season, but that that is no reason to doubt the prospect of Olympic and World Champion, Flora Duffy, defending Yokohama champion, Taylor Knibb, Olympic individual silver medal winner, Georgia Taylor-Brown and Cassandre Beaugrand – to name just four.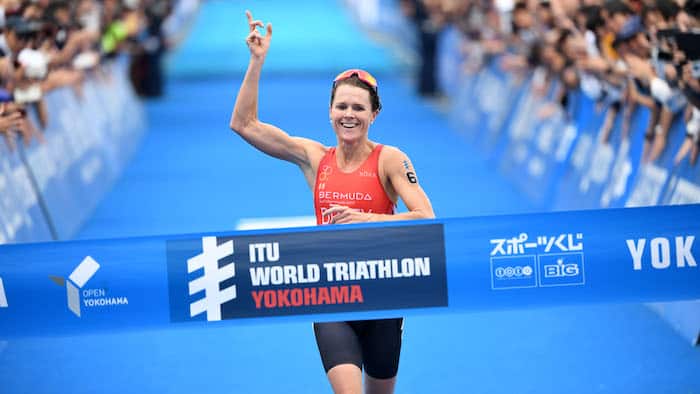 You can surely add Maya Kingma and Taylor Spivey – third and fourth 12 months ago – into the mix, along with former World Champion, Non Stanford, and the newly crowned Esports World Champion, Beth Potter.
No Jess Learmonth (injury) or Katie Zaferes (maternity) could reduce the firepower in the front swim group, while the forecast heavy rain could also play a part on the bike, favouring those with high confidence in their bike handling.
In stark contrast to the Elite Men's history (details below) in Yokohama, a European woman hasn't won here since Lisa Norden in 2012. Flora Duffy has raced twice and won both. Taylor Knibb won her only start, 12 months ago. If you follow form lines and history, that's perhaps a solid place to start in terms of picking a winner. With both being highly skilled on the bike, adverse weather could potentially enhance their prospects too.
Elite Men
While 2021 champion Kristian Blummenfelt has been busy with more success at IRONMAN, there's no shortage of top talent on that start list.
Morgan Pearson (3rd), Alex Yee (4th), Vincent Luis (6th), Marten Van Riel (7th), Leo Bergere (8th) and Jonas Schomburg (10th) all race, meaning that the majority of the top-10 from last year will start.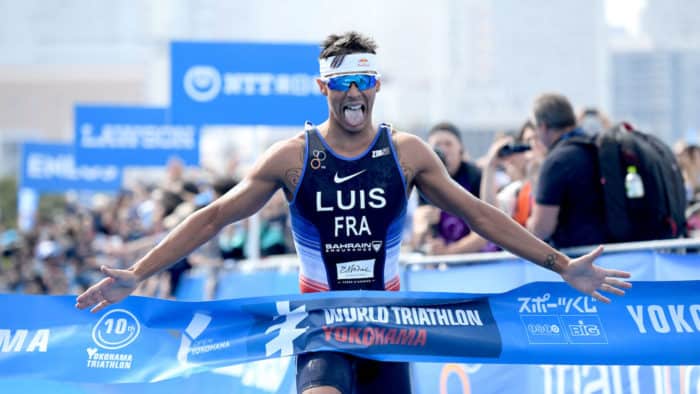 Absent last year, but sure to be making his mark this time around is Hayden Wilde. He's already got four wins from four starts in 2022. WTCS is a big step up from those, but as Olympic bronze medallist, he's well qualified to take on anyone.
Van Riel looked incredible at 70.3 Dubai, then was seemingly off the pace at touch in his two Arena Games outings.
Yee improved during the Arena Games series, taking the Esport World Championship title after second place results in both London and Singapore. It's difficult to read too much into that format, but back in draft-legal mode and with the longer run – and some solid swimming displayed, a winter focus of his – I'd perhaps make him a slight favourite.
That said, as the first major draft-legal event of 2022, I certainly wouldn't be putting my own money on it…
You can click here for the full start listings.
WTCS Scoring for 2022
There are a further seven events scheduled during 2022, with the World Champions being based on a "best four results, plus the Championship Finals' basis. Regular WTCS events score 1000* points for the winner (reducing by 7.5% for every position), with the Championship Finals earning 1250.
(* The WTCS Ranking's criteria also indicates that – for the 2022 events only – Sprint distance points will be 75% of the value of Standard, with the Eliminator format (Montreal), at 87.5% the value of standard. Thus, winners getting 750 and 875 points, respectively).
There are some further complications – a Continental Championship event (e.g. European Championship) can score (at a lower level – 400) – but you can probably rule that out in terms of its impact on the very top tier of athletes by the time we arrive in Abu Dhabi. Here are the 2022 WTCS events:
Yokohama: 14-15 May (Standard)
Leeds: 11-12 June (Sprint)
Montreal: 25-26 June (Eliminator)
Hamburg: 9-10 July (Sprint)
Cagliari: 7-8 October (Sprint)
Bermuda: 5-6 November (Standard)
Abu Dhabi (Championship Finals): 23-26 November (Standard)
Current Rankings
With just Hamburg and Abu Dhabi in the books – and many of the top athletes racing the Super League Triathlon Championship Series Jersey when Hamburg was rescheduled – here are the current top positions:
ELITE WOMEN
1. Summer Rappaport (USA) – 1143
2. Laura Lindemann (GER) – 1113
3. Flora Duffy (BER) – 1000
4=. Georgia Taylor-Brown (GBR) – 925
4=. Nicole Van Der Kayy (NZL) – 925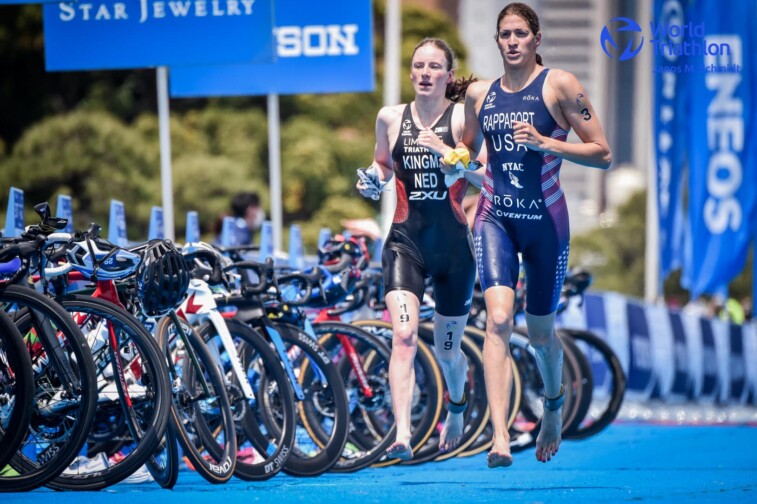 ELITE MEN
1. Antonio Serrat Seonane (ESP) – 1464
2. Tim Hellwig (GER) – 1424
3. Leo Bergere (FRA) – 1219
4. Lasse Hygaard Priester (GER) – 1037
5. Jelle Geens (BEL) – 1000
Yokohama history
2021: Taylor Knibb (USA) / Kristian Blummenfelt (NOR)
2019: Katie Zaferes (USA) / Vincent Luis (FRA)
2018: Flora Duffy (BER) / Mario Mola (ESP)
2017: Flora Duffy (BER) / Mario Mola (ESP)
2016: Gwen Jorgensen (USA) / Mario Mola (ESP)
2015: Gwen Jorgensen (USA) / Javier Gomez (ESP)
2014: Gwen Jorgensen (USA) / Javier Gomez (ESP)
2013: Gwen Jorgensen (USA) / Jonathan Brownlee (GBR)
2012: Lisa Norden (SWE) / Joao Silva (POR)
2011: Andrea Hewitt (NZL) / Joao Silva (POR)
2009: Lisa Norden (SWE) / Jan Frodeno (GER)
Prize Money in Yokohama
There's a total prize purse of $150,000 on offer in Japan, paying down to 20th position:
1st – $18,000
2nd – $12,000
3rd – $8,000
4th – $6,000
5th – $4,900
6th – $4,100
7th – $3,400
8th – $2,800
9th – $2,300
10th – $1,900
11th – $1,600
12th – $1,400
13th – $1,300
14th – $1,200
15th – $1,100
16th – $1,000
17th – $1,000
18th – $1,000
19th – $1,000
20th – $1,000