Team Jenkins (Jinx Sport) Monthly Column
ITU Triathlon World Champion in 2008 and 2011, Helen Jenkins has also represented Great Britain at the last three Olympic Games.
Since then, she's had a child (Mali), had to go through major spinal fusion surgery (2018), and in 2019 she and her husband, coach and Olympian himself, Marc Jenkins, welcomed their second child (Max) into the world. Family life, time to move on, racing days over and time to reflect back on a great career? Absolutely not! Helen returned to racing in February 2020 at IRONMAN 70.3 Dubai.
Each Month, Helen and Marc give us their separate and individual takes on the past month, as they strive for their next success in the sport they love.
Here's their latest update, which covers the the first part of 2021, another period of lockdown – but one that has allowed a time to reflect, an increase in fitness (for Helen, at least!) and even some racing…
You can find previous updates here:
Aug 2019 | Sept 2019 | Oct 2019 | Nov 2019) | Dec 2019 | Jan 2020 | Feb 2020 | Mar 2020 | Apr 2020 | May 2020 | June 2020 | July 2020 | August 2020 | Goal Setting Special | Nov/Dec 2020 + Winter Riding Special |
---
Helen Jenkins
One of the great things about writing these blogs with the team at Tri247, is it really forces me to look back and reflect on recent weeks. Reflection is something I forget to do, especially when life is busy, you're in the middle of a pandemic and trying to juggle kids/training/life. Reflection can also be uncomfortable; looking at yourself and challenging why you made a decision, what could be improved and really questioning things.
When I look back over the last weeks, I realise how far I have come with training. At the start of November, I was struggling with my back after the surgery and infection. Since then, I have put together some really consistent training in December and January and It feel like it's starting to pay off and I can see some good fitness coming through.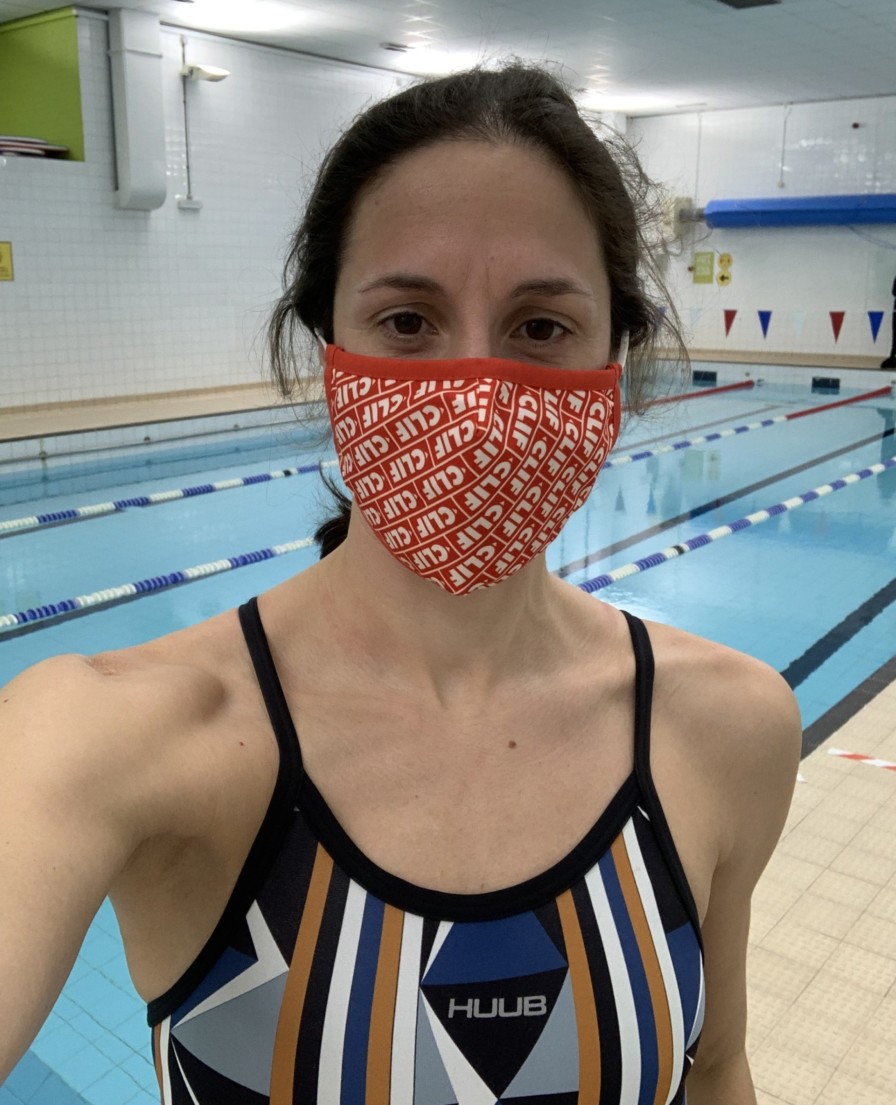 I am lucky to be able to swim with the Welsh Triathlon Squad in Cardiff. I actually feel guilty saying I am swimming, as I know how many people are missing it so much, including all the guys at Bridgend Swim Club and I miss the fun we have in training there. I am swimming three times a week as doing any more sessions, taking into account the extra travel to training and managing life with the kids at home all the time, is too much. I made the mistake in the first lockdown of trying to train too much and exhausted myself as there is no down time with a three-year-old and one year old at home all the time.
Running is consistent again. I'm not setting the world alight in terms of distances and hours of training, but as I know from previous years, if I can run consistently for four hours of running a week, I improve a lot. Cycling is improving too; I am not super fit but I am starting to do regular bike sessions and the watts are creeping up.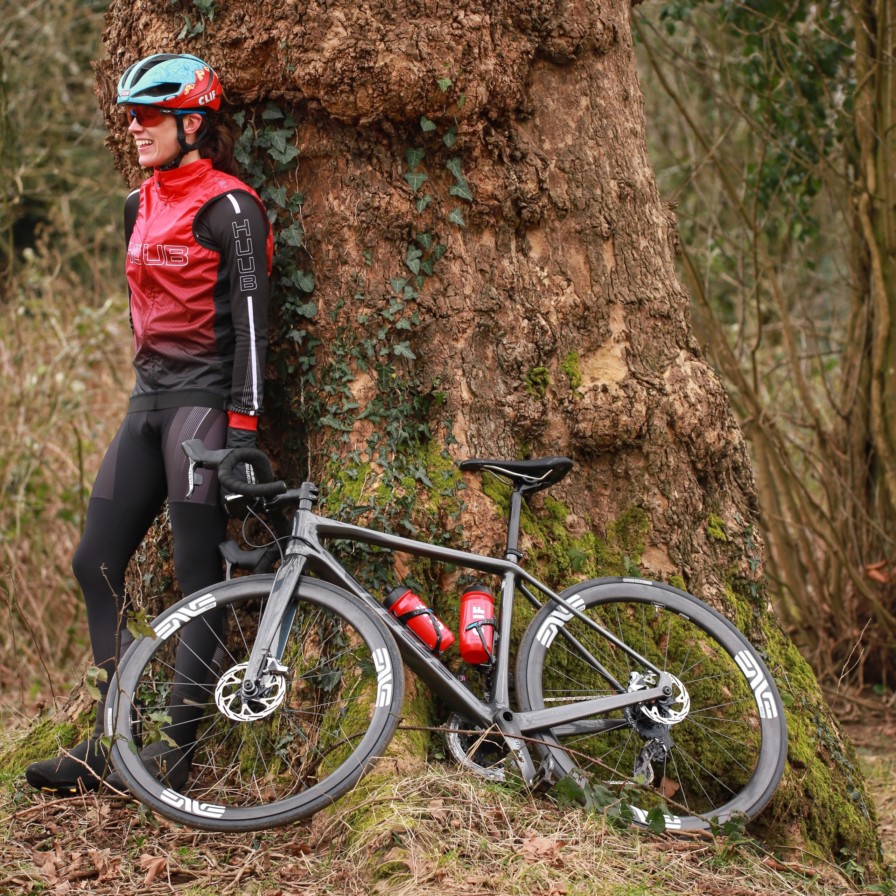 Considering my cycling is progressing I was unsure whether the decision to take on the Zwift Pro Tri Series in February would be a good idea!
The lure of doing some competitive racing and the chance to line up against some of the best women in the world was too much. So, for the last two weeks I found myself nervously preparing for the races. The format for the series is a hilly bike time trial, a run of around 5k and finishing with a criterium race. There is a short break in-between each race. It is so different to racing when you never leave your own home. My pre-race prep has been bedtime duty with the kids until around an hour before the start. The races went pretty well and overall, over the three races I was 8th in week one and 9th in week two. I am never going to be super happy with coming 8th/9th but for where my fitness currently is, I was happy with the power readings that came up on my Stages Dash, as I pushed hard and that I ran well. The fact that my power and run speed went up between week 1 and 2 showed progress is being made.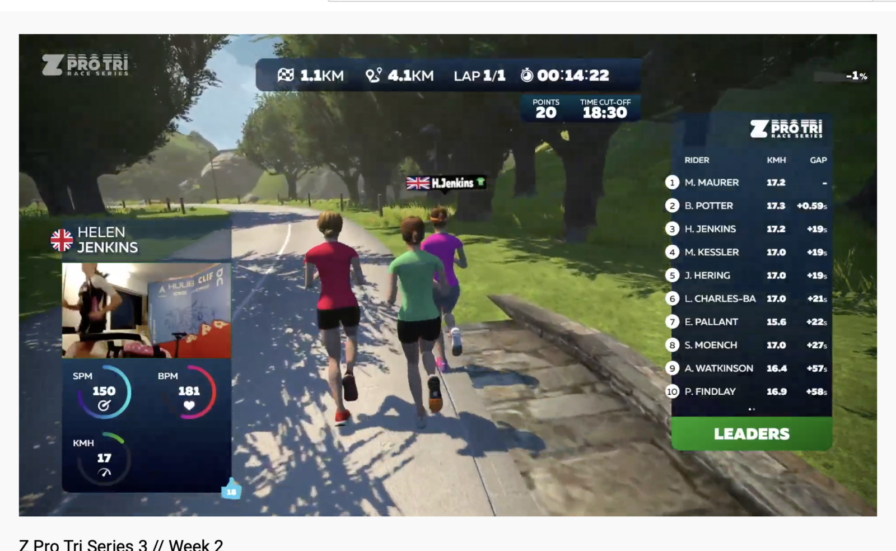 It is important to take the positives and not compare to other athletes as everyone is on a different path and level of fitness. It is so easy to compare with virtual racing, it is there in black and white on results; the power, the watts per kg. Racing in real life is very different and although I love the virtual races – I do most of my training indoors at the moment – I look forward to a real-life race soon! I hope to keep improving through the next two races in the series.
That is the positive side of the reflection – I am motivated, training for races, still unsure as where or when they will be, but I will try and get as fit as I can and be ready when something comes up that is viable.
The hard part of the last few weeks has been managing the lockdown and family life. It is really tough. We always have perspective. We are in a privileged position, we have a good size house, a garden, places to walk and play with the kids locally, a park close by. But it is still not easy – we miss seeing friends and family and Mali misses school and her friends so much.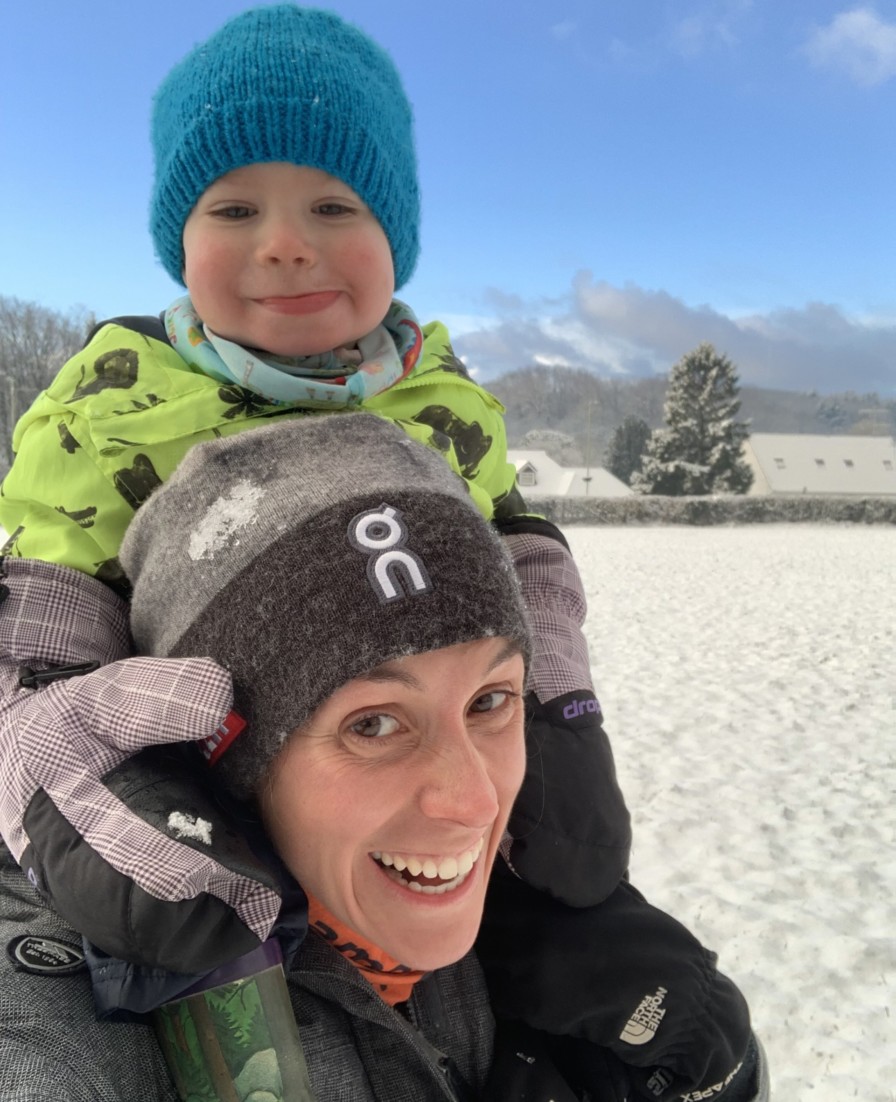 Marc has not competed as an elite athlete since 2011 but is always motivated as he loves training and being fit. You'll often find him on the pull-up bar in the garden. A massive part of his enjoyment of training is training with friends at swimming. So, it is really hard to see him unmotivated and not bothered to train. he gets on the bike everyday but he will tell you that is to balance his chocolate consumption!
He takes on a lot more of the childcare when I am training more and out of the house swimming, which as any parent can tell you, a three- and one year old on your own is not that easy, especially when you can't really take them anywhere or do anything with them. So as much as I am loving feeling a bit fitter and motivated, I really feel for everyone who isn't.
It has been almost a year of pandemic and the fatigue is getting to most of us. Thank you so much to all the key workers, I can't imagine the strain of a year of this. I hope there is light at the end of the tunnel.
Take care everyone
Marc Jenkins
This is more of a challenge than lockdown #1 and the summer. Our friends are struggling with motivation and the desire to go train and kids don't seem motivated to do a lot, but then what can they do? If, like me, you are less than inclined to hop on the bike or put your shoes on and get out the door, everyone is in similar positions and lots are feeling the same.
Helen on the other hand is more than keen and willing to get her shoes on. That's the major difference, she has a goal, she is aiming to race as soon as she can, fitness is coming back and with the series of Zwift racing she is keen to get into a bit more shape over the next four weeks. Even if you don't have a specific race goal, to think you will do an event at some point over the next few months will hopefully help you get the kit on and make that first step to do some training.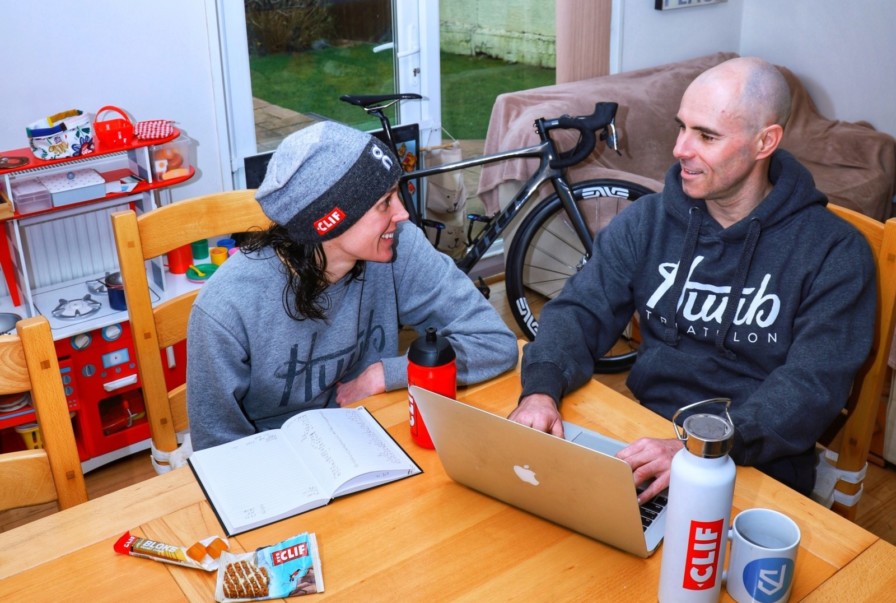 We discussed the races that were appearing on the short and long-distance calendar and saw ITU (now World Triathlon/WT) races appear in March in Florida. We thought this was a good idea to aim for. Helen has spent most of her career doing this, it would be less of a stress on her body and she could recover and race with a shorter turn around with less risk than a 70.3. Helen's swimming is at a level that would make her competitive in the shorter races and in five weeks' time she would have been able to hang with anyone on the bike and run strong. This wasn't to be though and a few days ago the WT section of the races were postponed, and WT have announced no racing until May 1st at the earliest, so for that WT calendar again it's sit back and wait.
Travelling still appears to be very complicated and difficult, if it's even possible, and this is not something at this stage we are willing to risk if there is a chance of quarantine on either side of the trip. There isn't a huge amount to be gained from racing at the moment with these kind of risks in place so the next few months become a challenge of managing training and not going too crazy. If racing and travel does start back soon then we have a later season rather than an early one.
It Looks like Mali will be able to go back to school late February. She thinks school is finished at three-years-old… we drove past this week and she said, "That's my old school, I used to love school". I'm not sure how much longer she will have a love of school for but at the moment it's positive.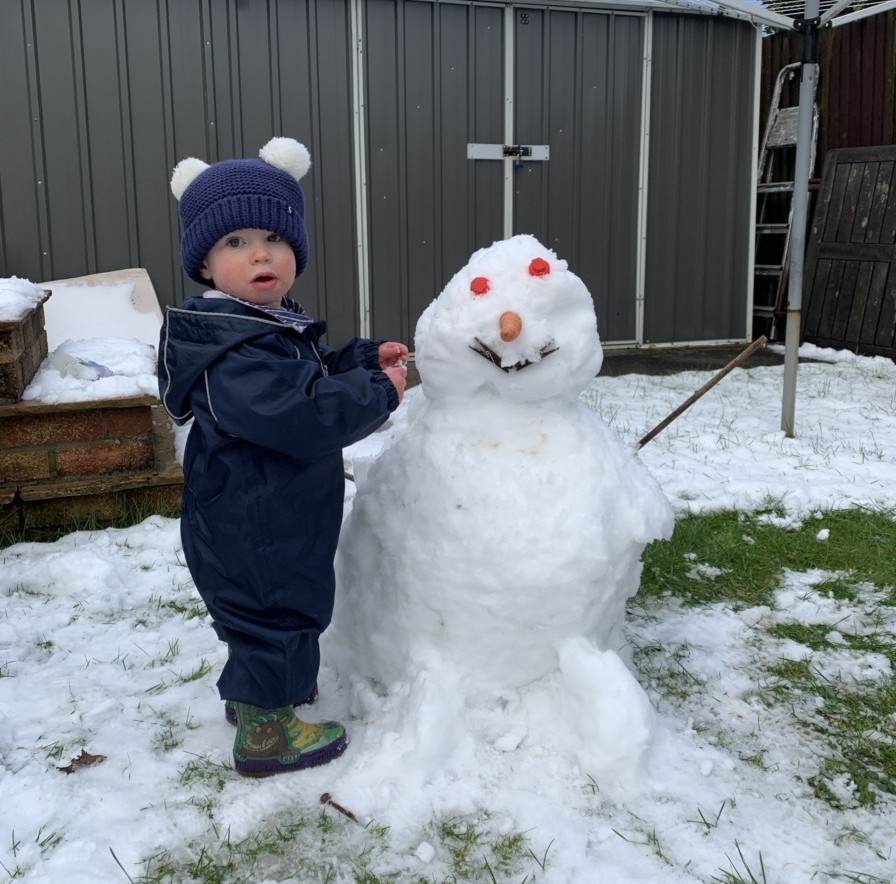 Stay healthy everyone and if there is a moral here today, it's be more Helen and have a goal, be less me who is accepting his expanding waistline until lockdown is over!!!
All the best TRI247 readers