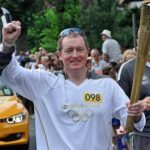 John Levison
Chief Correspondent
TRI247's Chief Correspondent, John has been involved in triathlon for well over 30 years, 15 of those writing on these pages, whilst he can also be found commentating for events across the UK.
John Levison is an experienced triathlon writer, analyst and event commentator who has been a key member of the TRI247 team for more that 15 years now. Previously Editor of the leading UK-based triathlon publisher, he now holds the title of Chief Correspondent. 
Having studied Banking and Finance at Loughborough University from 1990 to 1994, it was at the renowned sports-focused venue that John's triathlon journey began, when he joined the University triathlon club on arrival. 
An 'enthusiastic amateur' athlete, John raced in triathlon events over a 25-year period across all distances, including four iron-distance finishes and representing the Great Britain Age-Group team in 2001 (Fredericia, Denmark) and 2008 (Vancouver, Canada). In running, he also achieved a sub three-hour marathon clocking in London in 2002. 
After a career in finance and banking in London, working for British Airways, Barclays and Union Bank of Switzerland, John joined TRI247 shortly after its launch. He has a strong background in event reporting, interviews, analysis, opinion and colour features. He is renowned for his attention to detail, and extensive knowledge on the history of the sport. 
John was a key part of the TRI247 team that won the 220 'Triathlon Website of the Year' award for six consecutive years, and listeners of the MX Endurance podcast voted John the Triathlon Media Person of the Year in 2021. 
John's knowledge and passion for the sport has also seen him become one of the most familiar voices at major triathlon events through his commentary work, both on-site announcing and livestream broadcast. This has included every major World Triathlon Series event in the UK since 2010 (London, Nottingham, Leeds, Sunderland), two Commonwealth Games (Glasgow 2014 and Birmingham 2022), the 2018 Glasgow European Championships, the 2015 Baku European Games in Azerbaijan and many more.  
His livestream and broadcast clients have included the BBC, IRONMAN, Challenge Family and Europe Triathlon, covering all distances and formats of the sport, including paratriathlon. 
In addition to event commentary, John has hosted many awards dinners for both British Triathlon and Europe Triathlon, hosted Q&As at Triathlon Shows and was the MC for the British Olympic Association triathlon team announcement ahead of Rio 2016. He was the subject of an extended interview with the IMTalk podcast in June 2023.