ERDINGER Athlete of the Month – October 2016. And the winner is… "The Postman"!
Last month we announced Michael Smallwood as our ERDINGER Athlete of the Month, presenting him with our award and recognition for September 2016.
It's now time to reveal the recipient of our selection for the month of October 2016.
There's just no getting away from it… the month of October in the world of triathlon is dominated by one word: KONA! From the biggest coverage of the IRONMAN World Championship we've ever attempted, the results of the British athletes there were always going to be a key factor in determining where our award would go this month. 12 months ago we selected Lucy Charles based on her result in Hawaii, and once again it is to the biggest race in the sport that we turn to for inspiration. That said, our selection also has a significant element of "lifetime achievement" attached to it as well. Read on to find out why, and who we have selected…
As we've said from the outset, picking a winner for this award can be based upon a range of factors including (but not limited to!):
Outstanding performance at one race,
Consistent performances over a number of events,
Recognition of an athlete's efforts over many months, years…or even decades in some cases!
Overcoming setbacks, challenges or obstacles.
We have a long list of people here that we would be massively pleased to present this award to… but we have to select just one, from the many very worthy potential recipients.
Please do continue to keep your nominations coming in through the year, it really is appreciated and they are all reviewed. Read on to find out this months winner…
October 2016: Alison Rowatt
A member of Team Freespeed Skechers Performance, Alison Rowatt to my mind really is "The Postman" of Age-Group racing in British triathlon, because, just like the postman… she always delivers! I've been using that term to describe Alison for several years now – and I mean it as a genuine compliment to her consistent excellence, time and time again. Thankfully, it hasn't proven to be a curse.
Collecting the Umeke award in 2013 & 2015
In Hawaii this year Alison secured her third podium Umeke in four attempts on the big island, finishing second in the F35-39 division, to add to two previous second place finishes in the F30-34 category. Over those three races she has also been second, first and second in terms of 'fastest British Age-Group female' too, again demonstrating her remarkable consistency.
The collection continues in 2016
However, Alison's triathlon year and indeed career extends beyond just her results in Kona. Let's look at 2016 in aggregate:
May: IRONMAN 70.3 Barcelona – 4th overall (including Pro's), 35-39 Winner, fastest AG'er overall
July: IRONMAN Switzerland – 12th overall (including Pro's), 35-39 Winner, second fastest AG'er overall
August: Scottish Middle Distance Championship – WINNER
October: IRONMAN World Championship – Second, 35-39.
An ERDINGER Shower at the Scottish Middle Distance Championships
Alison has also excelled at the IRONMAN 70.3 World Championships too, winning Gold (F25-29) in 2010 and Silver (F30-34) last year in Austria.
Don't think these results come easy… the Kona recovery area this year!
How does she do it? "With an incredible work ethic which has to be seen to be believed!", her partner Fraser Cartmell tells me. It's not been an easy year either, with major surgery around Christmas 2015 meaning little exercise until early Spring, all around a full-time job. A very worthy winner of this award? Absolutely. Congratulations Alison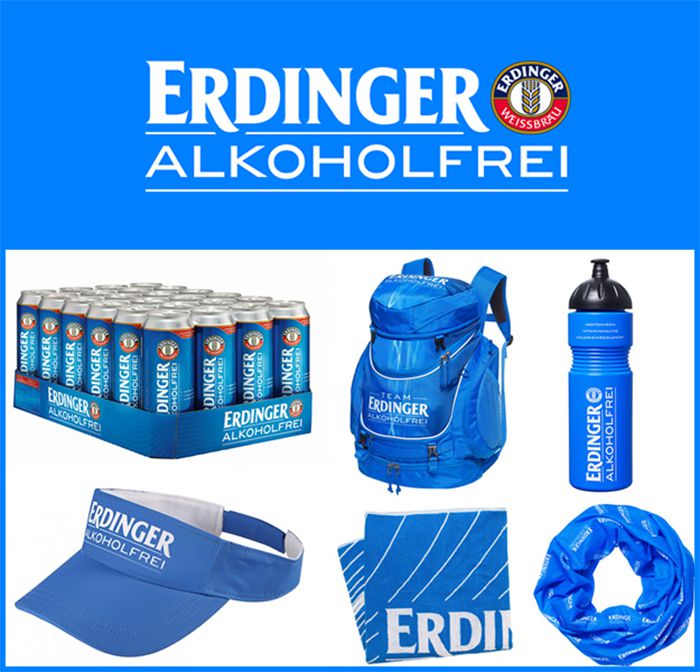 We are delighted to make Alison Rowatt our ERDINGER Alkoholfrei AOTM for October 2016. Alison will also receive these great prizes courtesy of ERDINGER Alkoholfrei:
1 x 24case ERDINGER Alkoholfrei Cans
2 x Water Bottles
1 x Rucksack
1 x Visor
1 x Multifunctional Scarf
1 x Small Towel
Help us find the Athlete of the Month for November 2016! – #AOTM
We want YOU to help us identify an Athlete of the Month candidate each month through 2016!
Perhaps you have got a friend, rival or club-mate who you feels deserves recognition for their efforts – as well as some tasty cans of ERDINGER Alkoholfrei plus some great prizes? The criteria is up to you – they may be the fastest, have recovered from injury, have sacrificed their own performances from others, shown consistency… anything you think is worthy of recognition!
How can I nominate someone?
Simple – two really easy options:
Simply email [email protected] with who you would like to see recognised and a brief note on why, or,
If you are on Twitter, use the hastag #AOTM and tweet us @tri247 and let us know when you have seen a noteworthy performance, or have someone you would like us to recognise!